At least 49 people are feared dead after a mass shooting in New Zealand. Here's what we know so far:
Shootings occurred at two mosques in the city of Christchurch
49 people are believed to have been killed, the country's prime minister has said, with women and children among the dead. At least 42 more were injured, two critically, including a 4-year-old child
It is the deadliest shooting in New Zealand's history
Four people, three men and one woman, are in custody. A man in his 20s has been charged with murder
He was named as Brenton Tarrant, 28, from Australia, in media reports in his home country
Gunman livestreamed the shooting on social media and a right-wing 'manifesto' was posted online – part of it cited the Finsbury Mosque attacker, Darren Osborne
He is reported to be an Australian-born "extremist, right-wing, violent terrorist" who idolised US extremist movements
He was described by one witness as white, blonde and wearing a helmet and a bulletproof vest
Improvised explosive devices were also found in a vehicle stopped by police
The Bangladeshi cricket team, due to play New Zealand tomorrow, narrowly escaped the massacre
Police said officers were searching a property in the south east of the country following the shooting, and had evacuated people in neighbouring homes
The Queen said she was "deeply saddened by the appalling events" while PM Theresa May described the attack as "despicable".
The massacre by at least one gunman during Friday prayers in the city of Christchurch is the country's worst ever mass shooting and has left the international community reeling.
Messages of condolence have poured in from across the globe after the incident, confirmed as a terror attack by the country's prime minister Jacinda Ardern.
Theresa May said she had been in contact with Ardern "to express the UK's deepest condolences" at the "horrifying" attack.
"To target Muslims as they were attending their place of worship is despicable," the PM said in a statement.
"And our thoughts and prayers are with the people of New Zealand, with the families and friends of those who have died in these attacks and with all those who have been injured. The UK stands ready to support New Zealand however we can."
The Queen said she was "deeply saddened by the appalling events", adding that: "Prince Philip and I send our condolences to the families and friends of those who have lost their lives."
Police Commissioner Mike Bush has taken to Twitter to issue an update on events as Saturday morning dawned in New Zealand.
He confirmed that the death toll stood at 49, with 42 injured. Two of those injured are in a critical condition, including a four-year-old who is being transported from Christchurch to the country's specialist children's hospital Starship in Auckland.
Bush said a 28-year-old man will appear in Christchurch District Court charged with murder. This is expected to be before 11pm GMT on Friday.
Two others remain in custody, and police are still trying to "build a picture of any of the individuals involved and all of their activities prior to this horrific event".
He added: "There is no guarantee the risk is limited to Canterbury and we need all New Zealanders to be extra vigilant.
"Police is aware there are distressing materials related to this event circulating widely online. We would urge anyone who has been affected by seeing these materials to seek appropriate support."
He said there will be a heightened police presence at community events on Saturday "for safety and reassurance".
Commons speaker John Bercow confirmed MPs in Westminster would hold hold a minute's silence at 11am in honour of those killed on Friday, while Neil Basu, the National Policing lead for counter terrorism in the UK, said officers would be "stepping up reassurance patrols around mosques and increasing engagement with communities of all faith, giving advice on how people and places can protect themselves".
The police chief added: "We are monitoring events in New Zealand closely and send our condolences to all those affected.
"We stand together with all our communities and partners here in the UK and overseas, and will continue to work with them to counter the threat no matter where it comes from.
"Together with our intelligence partners we continually monitor the varied threats we face, including to and around places of worship and specific communities across the country, to ensure we have the most appropriate protective security measures in place to keep people safe."
Ardern said New Zealand had been placed on its highest security threat level and that the four people in police custody held extremist views, but had not been on any police watchlists.
She described those arrested as one principal gunman, two associates and one person not directly connected to the attacks.
The shooter was named as Brenton Tarrant, 28, from Australia, in media reports in his home country.
Police said IEDs – improvised explosive devices – were also found with a vehicle they stopped.
The PM said 30 people were killed at the Al Noor mosque, the city's main mosque, and another 10 at a mosque in the suburb of Linwood.
"This is one of New Zealand's darkest days," she added.
Video footage widely circulated on social media, apparently taken by a gunman and posted online live as the attack unfolded, showed him driving to one mosque, entering it and shooting randomly at people inside.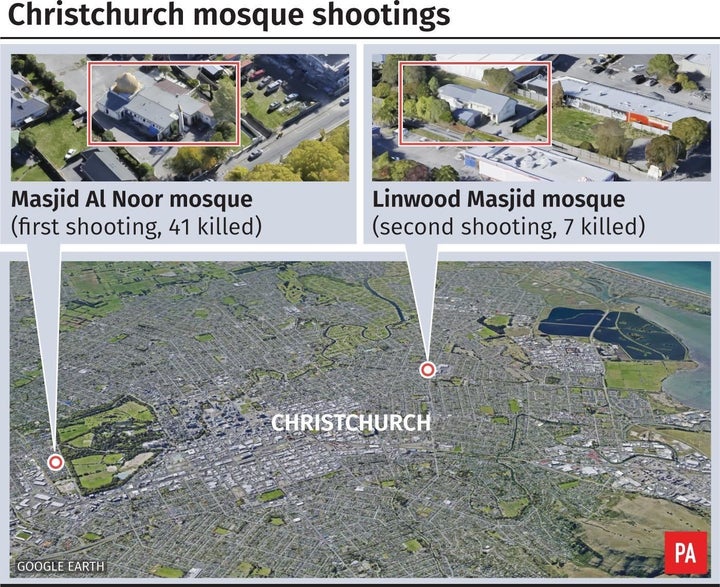 He said he was not a member of any organisation, but had donated to and interacted with many nationalist groups, though he acted alone and no group ordered the attack.
At one point he says: "There wasn't even time to aim, there was so many targets."
Worshippers, possibly dead or wounded, lay huddled on the floor of the mosque, the video showed. Reuters was unable to confirm the authenticity of the footage, which appeared to have been captured on a camera strapped to the gunman's head and also showed red petrol canisters in the back of his car, along with weapons.
The man in the video also encouraged viewers to "subscribe to PewDiePie", a controversial YouTube star who has since tweeted to distance himself from the attacks.
One man, who said he was at the Al Noor mosque, told media the gunman was white, blond and wearing a helmet and a bulletproof vest. The man burst into the mosque as worshippers were kneeling for prayers.
"He had a big gun...he came and started shooting everyone in the mosque, everywhere," said the man, Ahmad Al-Mahmoud. He said he and others escaped by breaking through a glass door.
Radio New Zealand quoted a witness inside the mosque saying he heard shots fired and at least four people were lying on the ground and "there was blood everywhere".
Women and children were reportedly included among the dead.
Another witness, Mohan Ibrahim, escaped one of the attacks by climbing out of a window, he told the BBC's Victoria Derbyshire programme.
"It was 10-15 minutes of continuous shooting, it was so loud," he said.
Ibrahim said he scaled a wall at the back of the mosque and later saw a man who was "very badly injured" being tended to by police and medical staff.
The Bangladesh cricket team was arriving for Friday prayers when the incident occurred but all members were safe, a team coach told Reuters.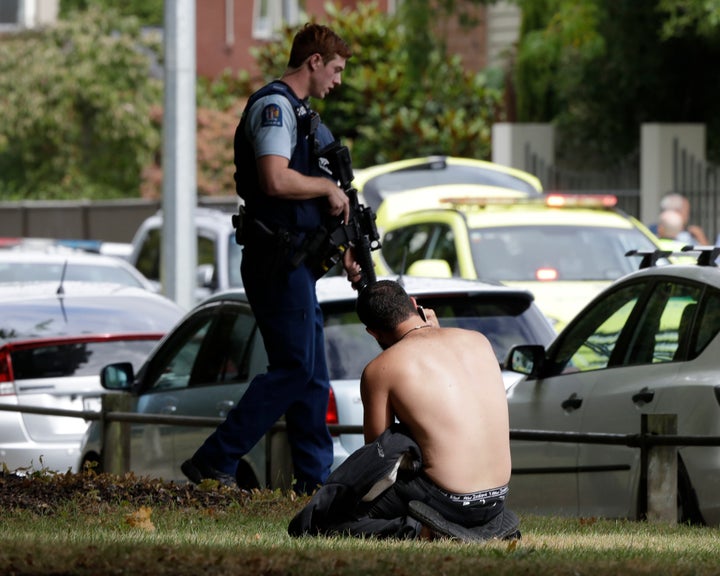 During a news conference, Australian prime minister Scott Morrison described the alleged shooter as an "extremist, right-wing, violent terrorist" and said one of the men in custody was believed to be Australian.
The suspect, whose identity has not been confirmed, appears to have publicly posted a 74-page manifesto to Twitter and the online forum 8chan, in which he declared his hatred for Muslim immigrants in Europe and idolised US extremist movements.
Part of it cites "Darren Osbourne" – an apparent reference to Darren Osborne who drove a van into a crowd of worshippers leaving Finsbury Mosque in June 2017.
It reads: "I support many of those that take a stand against ethnic and cultural genocide. Luca Traini, Anders Breivik, Dylan Roof, Anton Lundin Pettersson, Darren Osbourne etc."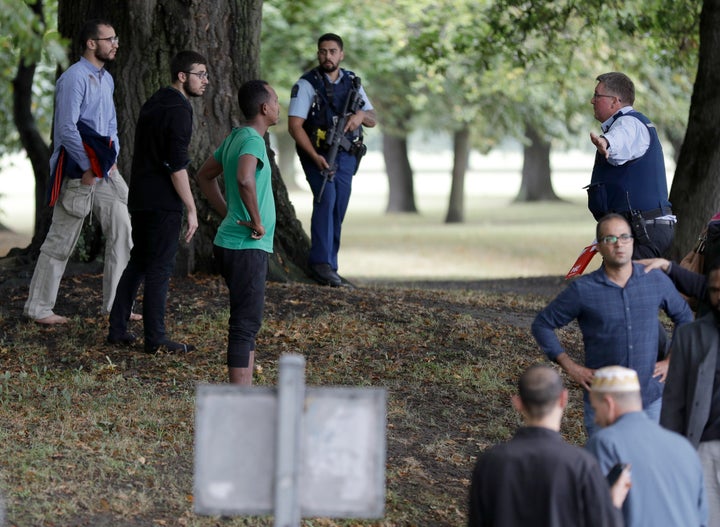 All mosques in New Zealand had been asked to shut their doors, police said. They also confirmed officers were searching a property in the south east of the country following the shooting, and had evacuated people in neighbouring homes.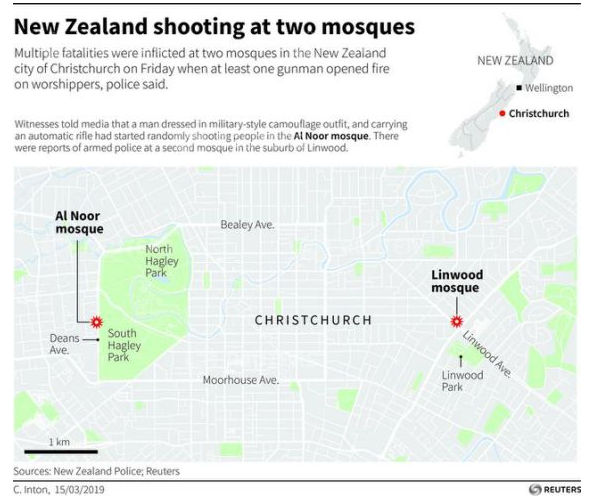 London Mayor Sadiq Khan called the news "heartbreaking" and said "London stands with the people of Christchurch in the face of this terror attack".
Theresa May's de facto deputy, Cabinet Office minister David Lidington, said the attacks highlighted the need to "stamp out" Islamophobia.
He told BBC Radio 4's Today programme: "On behalf of the whole British government, I'm sure that the whole British people would want to share the sense of shock and grief that must be felt throughout New Zealand today.
"Our hearts go out particularly to the families of those who've lost people in New Zealand and also feelings of strong solidarity with prime minister Ardern and her government in New Zealand."
Home secretary Sajid Javid said he was "heartbroken", while Labour leader Jeremy Corbyn said his party "stand(s) in solidarity with the Muslim community".
Political and Islamic leaders across Asia also expressed their disgust.
"Indonesia strongly condemns this shooting act, especially at a place of worship while a Friday prayer was ongoing," foreign minister Retno Marsudi said in a statement.
This article has been updated throughout.