More than half a billion disposable cups have been purchased by the NHS in England over the last five years, new figures show.
Based on the latest population estimates, the 500 million cups are the equivalent of 11 disposable cups for every person currently living in England.
The data, obtained through Freedom of Information requests by the Press Association, comes amid rising concern over the environmental impact of single-use throwaway cups.
Greenpeace UK said the figures demonstrate "just how out of control our relationship with single-use plastic has become."
One London NHS trust, Guy's and St Thomas', bought almost 30 million cups over a five-year period, with more than 6.2 million purchased in one year alone. The population of London is 8.7 million people.
Cups made of plastic, foam and paper are used across the health service from waiting rooms to wards, and for hot drinks, cold drinks and dispensing medicines. A total of 223 NHS acute, mental health and community provider trusts were asked to supply information on the number of disposable drinking cups they had purchased in each year for the last five years.
Of those contacted, 196 responded, but six have been omitted from the data due to discrepancies within their responses. Twenty seven trusts – including some large acute hospitals – are yet to respond, and 16 said they did not hold the information requested.
Over five years 14 trusts purchased more than 10 million cups each – with some even reaching this figure in four years or less.
Justin Madders, Labour's shadow health minister, said: "This is a staggering example of waste in the NHS.
"The NHS plays an important role in securing a sustainable future for generations to come and I hope the Secretary of State will intervene to ensure the health service is not shirking its responsibilities.
Madders said implementing targets to reduce waste was a "necessary start".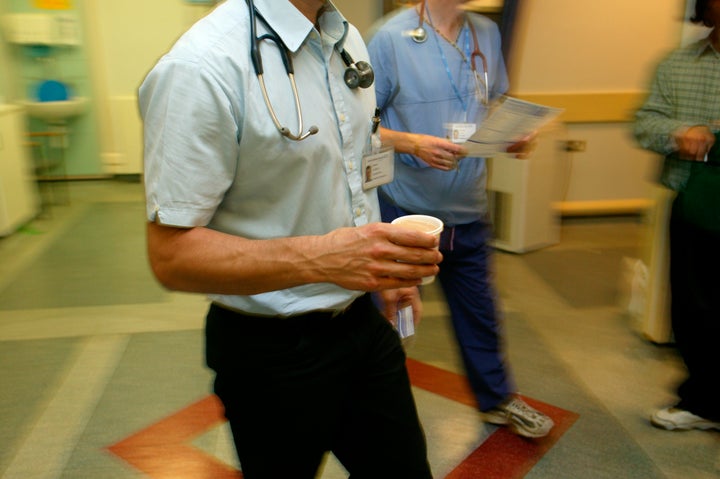 While some disposable cups can be readily recycled, others are considerably harder to recycle – such as plastic-lined coffee cups or polystyrene.
In some settings there are clinical reasons behind the use of single use cups – such as avoiding the use of glass in some mental health wards.
Earlier this year England's chief medical officer, Professor Dame Sally Davies, called on the NHS, one of the world's largest employers, to cut its pollutant footprint.
A number of hospitals have reintroduced china cups, while others have made significant pledges to reduce their uses of disposables.
The news comes as it was also revealed that many government departments cannot provide information on the number of disposable cups they are purchasing.
Of 20 Whitehall departments contacted by the Press Association, only seven gave any information about the numbers of disposable cups purchased over the past five years.
A government spokesman said that it is "committed to reducing its own use of single-use plastics".
Improvements that have been made to NHS cup use

Barts Health NHS Trust more than halved the number of disposable cups purchased since it changed its policy - in 2016/17 it purchased 107,096 disposable drinking cups and in 2017/18 this figure had been slashed to 48,240.
Liverpool Community Health NHS Trust, which purchased 40,000 disposable cups in 2017/18, said that during 2017 it recycled 150,168kg of waste, which saved 66,227.27kg of carbon, or the equivalent of 57.67 trees.
Royal Brompton and Harefield NHS Foundation Trust said that the vast majority of cups that it uses are recyclable.
Leeds Teaching Hospitals NHS Trust said that eligible cups are recycled, adding: "If the cup is not recyclable it will be diverted from landfill and go to create energy in the form of refuse derivable fuel."
Dorset Healthcare University NHS Foundation Trust has a campaign to remove the use of single use plastics across the trust - including plastic cups.
Commenting on the figures, Louise Edge, senior oceans campaigner at Greenpeace UK, said: "We all know we're using far too much throwaway plastic, but these huge figures demonstrate just how out of control our relationship with single-use plastic has become.
"It's time for the government to step in and help suppliers find viable solutions."
A spokesman from Guy's and St Thomas' NHS Foundation Trust said: "Guy's and St Thomas' is one of the biggest trusts in the country and includes a large dental hospital where a high number of plastic cups are used in a clinical setting. The figures provided also include all disposable cups used and sold in the Trust's many catering outlets.
"As an organisation, we are committed to providing the most sustainable healthcare services possible. We have a number of initiatives which aim to reduce the number of disposable cups that we use."