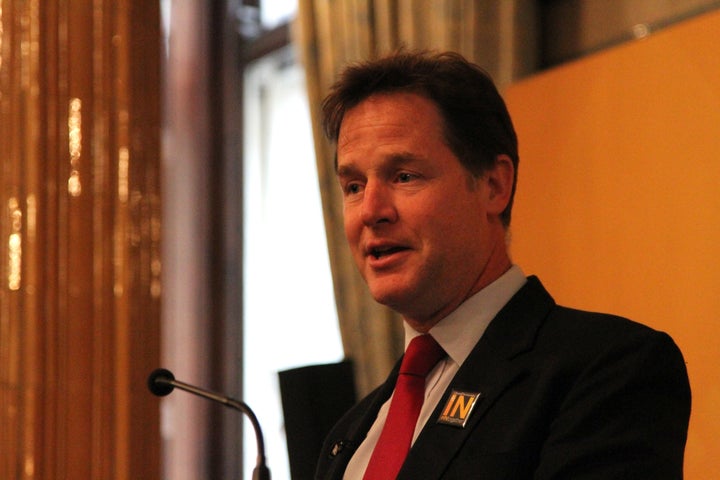 Nick Clegg today claimed George Osborne's threatened "punishment beating Budget" ahead of the EU referendum even made him briefly consider voting Leave as it was so "spectacularly misguided".
The former Deputy Prime Minister made the comment as he unveiled the first in a series of briefing papers aimed at flagging up the challenges of making Brexit work.
The Lib Dem MP – who is the party's spokesman on Brexit – argued millions of people backed Brexit as a way of "giving the status quo a kicking", but their futures are now in the hands of free-market "zealots" who have no solutions to problems around affordable housing and social care cuts.
Clegg also blasted the new International Trade Secretary, Liam Fox, for "charging round the world" looking for deals with other countries without first sorting out how a post-Brexit UK will interact with the EU.
Speaking in Westminster this morning, the Sheffield Hallam MP described "George Osborne's so-called punishment beating budget" as "spectacularly misguided", and said: "To say to people 'If you don't do as I say I'm going to whack up your taxes or cut your public services further' – even I felt when I heard that I'm slightly inclined to vote out - for a millisecond.
"It was a willfully abrasive thing to say to lots of people on low or middle incomes for who the scars of 2008 are still very much there."
Recounting conversations he had with voters in South Yorkshire, Clegg said voting Leave "was perceived as a straight-forward way of giving the status quo a kicking for a lot of people."
Clegg claimed that those motivated to vote Leave because of anger over austerity and cuts to public services will be left disappointed by the eventual conclusion of the UK leaving the EU.
He said: "If you listen to the Goves and the Foxs and the others of this world it seems to me that their whole ideological standpoint is that the UK would do better by emulating low tax, low regulation, particularly Asian economies, around the world and see the EU as an impediment to that.
"I genuinely think it will come as quite a shock, and of course this wont happen quickly, this will take years, but it will come as quite a shock to a lot of Leave voters that they are now in the hands of an ideology which, in my view, won't do anything to answer these kind of social and economic insecurities which I believe drove a lot of people to vote Brexit in the first place."
Turning to how to move forward with Brexit now the country has voted to leave, Clegg argued the priority for the Government should be to establish how the UK will trade with the EU, and what World Trade Organisation [WTO] terms would act as fall-back option.
Clegg criticised Fox's tactics, and said: "I think he's starting at the wrong end of the telescope as he's charging round the world saying 'I'm going to strike all these deals.'
"The reason he's getting pretty short shrift and diplomatic niceties is they are saying: 'Hang on a minute we don't even know what your commitments are with the WTO or what the arrangements are with the EU, so we'll do it' – as I think [US Trade Representative Mike] Fromen said in diplomatic language – 'We'll do it at the appropriate time' – which basically means 'go to the back of the queue'.
"I think they'll clock up a huge amount of air miles but it's not a strategy, it's displacement activity to pretend that all is well."