Scotland's First Minister Nicola Sturgeon has urged Americans not to vote for Donald Trump, declaring she was "horrified" by his remarks about women and the allegations of harassment against him.
Sturgeon became the first foreign government leader to slam Trump over the sexism claims, which have plunged his campaign for US President into turmoil and seen a poll surge for rival Hillary Clinton.
Trump's defence that his talk of groping women was just 'locker room' talk had made the situation even worse, the Scottish National Party leader said.
Sturgeon told Sky News: "I'm horrified not just by the comments he has made or in some cases the things he's reportedly done, but also the dismissal of that kind of language and those kind of attitudes as just 'locker room banter'.
"That is really misogyny at its worst and I think we've all got to stand up against that."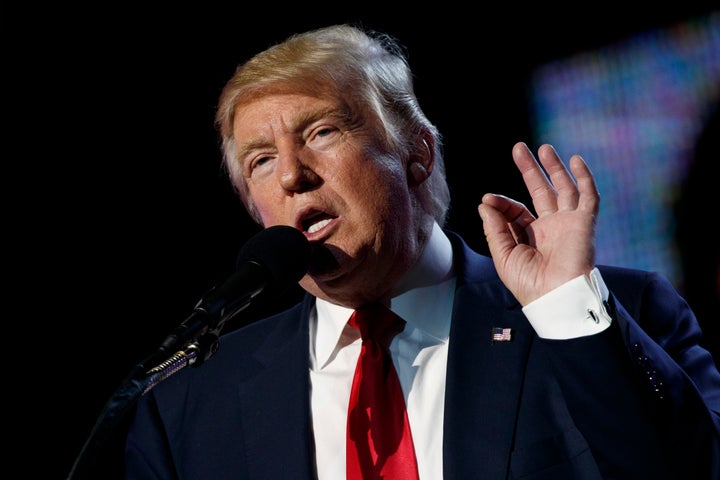 Sturgeon admitted that it was a breach of convention to one head of a government to intervene in another country's election, but said she felt strongly about the issue given America's global leadership role.
"It's not usual for politicians in other countries to comment on elections in other countries. And certainly not for leaders of governments to do so.
"This is America's election, it's up to America how it votes. but how America votes, who is the President of America has implications for the rest of the world.
"So I'm not going to try and beat around the bush here. I hope America doesn't elect Donald Trump. I hope it elects Hillary Clinton. I also think it would be a really good moment to see America elect its first female president."
On ITV's Peston on Sunday programme, Sturgeon added: "Would I be proud if Donald Trump became President? No.
"As the first woman first First Minister of Scotland, what would make me proud is to look at America electing the first female President of America."
"I've been horrified as many people have been by many of the things Donald Trump has said in this campaign, and things he has said previously".
Trump tried to turn the tables on Clinton overnight, suggesting that she had been "pumped up" by drugs before the second TV debate and calling on her to take a drugs test before their final head-to-head session next week.
But former Scottish First Minister and SNP leader Alex Salmond hit back on BBC Radio 5 Live, saying "Donald Trump doesn't need mind altering substances to appear delusional".