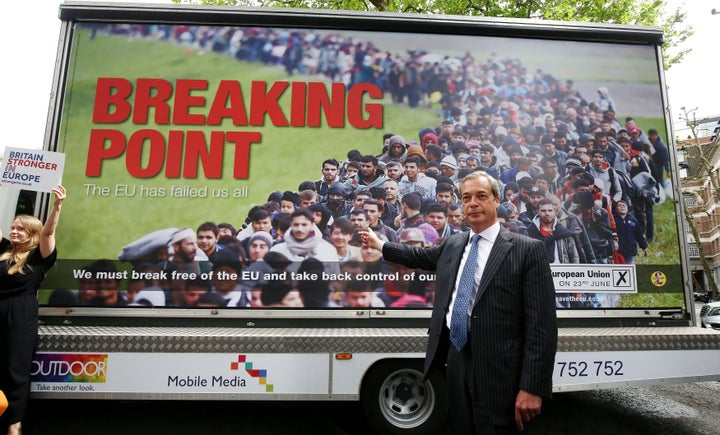 Nigel Farage has repeated his claim there would have been no row over one of this Brexit campaign posters had Labour MP Jo Cox not been killed.
"When I launched the poster there was no controversy at all," the Ukip leader told LBC this morning.
"What we are seeing here is the prime minister and 'Remain' campaign trying to conflate the actions of one crazed individual with the motives of half of Britain who think we should get back control of our borders and do it sensibly and I think it's quite wrong the way it's being done."
Last week Farage unveiled a pro-Brexit billboard that showed a queue of refugees and claimed the United Kingdom was at "breaking point".
It has been attacked by politicians on both sides of the campaign, including Vote Leave's chair Michael Gove who said it made him "shudder".
Today former Conservative Party chairman Baroness Warsi said the poster convinced her to switch sides from 'Leave' to 'Remain'.
"Are we prepared to tell lies, to spread hate and xenophobia just to win a campaign? For me that's a step too far," she told The Times.
George Osborne said the poster was "disgusting" and compared it to Nazi propaganda.
And David Cameron told BBC Question Time it was an "irresponsible" attempt to "frighten people".
Asked on LBC whether Cameron was a "political opportunist" for tweeting a link to the last article written by Cox before she died, Farage said: "I think there are 'Remain' camp supporters out there who are using this tragic death to try to give the impression that this isolated horrific incident is somehow linked to arguments that have been made by myself or Michael Gove or anybody else in this campaign and rankly that is wrong."
However Farage told BBC Radio 4's Today programme his poster was "unfortunate timing".
"When we saw that we immediately withdrew the poster because we understood that it was a day for everybody to go quiet and be silent," he said.
The Ukip leader also yesterday suggested Cox's death could damage the 'Leave' campaign.
"I think we have momentum," Farage said. "We did have momentum until this terrible tragedy. It has had an impact on the whole campaign for everybody.
"When you are taking on the establishment, you need to have momentum. I don't know what's going to happen over the course of the next three to four days, but (this was) the action of one person with serious mental issues. What we saw was an act of terrorism."