Brexit Party leader Nigel Farage has given a speech at a Donald Trump rally in America where he hailed the US president as "brave".
The former Ukiper was with a group of Republican politicians attending Trump's rally in Goodyear, Arizona with only six days until election day.
At the event on Wednesday, the president described the Brexit campaigner as the "king of Europe" before calling him to the stage.
"He's a very non-controversial person, right?," Trump joked. "Very shy."
Taking the microphone, Farage responded to Trump that he was neither – not "compared to you".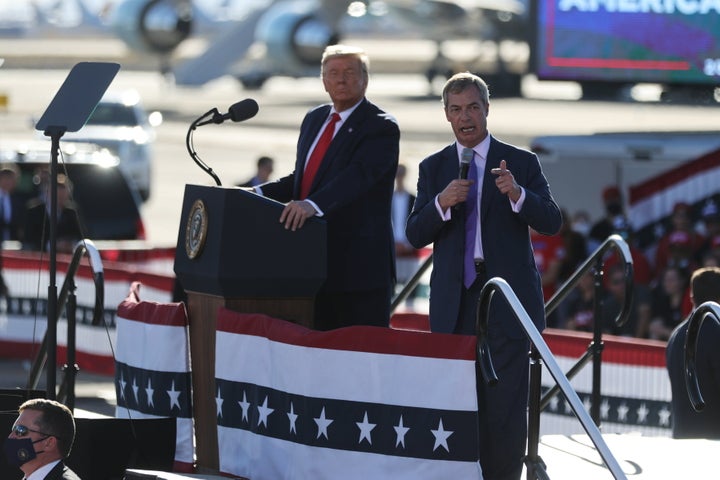 Farage went on: "Four years ago, I was honoured to come to America to bring the Brexit message ... the message that you can beat the Establishment
"That is what Donald Trump did.
"He beat the pollsters. He beat the media. He beat all the predictions. And here's the worst bit, they've never forgiven him for it."
The former Ukip leader added: "Four years of the Russia hoax, four years of a false impeachment.
"Most human beings under that barrage would have given up.
"This is the single most resilient and bravest person I have ever met in my life!"
Trunp's impeachment trial ended without first hearing from witnesses or examining new documents, even though some Republicans agreed the president had done exactly what he was accused of.
He was acquitted by a Republican-dominated Senate.
Trump pressured the president of Ukraine to investigate a political rival – his now presidential rival Joe Biden – ahead of the 2020 election and blocked Congress in its efforts to investigate his actions.
Farage went on to heap praise on Trump for having the "guts" to fight for the nation state, for patriotism and against globalism.