Nigel Farage got a bit of a cuddle on BBC Daily Politics on Friday.
German journalist Katrin Lock has launched the 'Hug a Brit' social media campaign in an attempt to persuade the British to vote to remain in the EU at June's referendum.
"We wouldn't just ambush people," she reassured the Ukip leader and presenter Andrew Neil. "There isn't a hug squad going out at night."
Lock added: "It is only consensual hugs and no Brits have been harmed."
Invited to hug Farage by Neil, Lock obliged.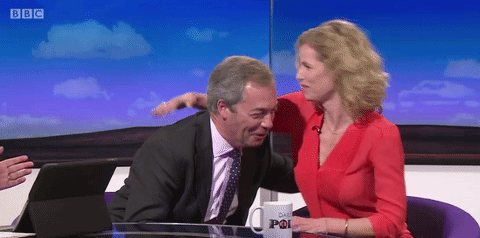 Neil pointed out Lock may have a bit of a tough time persuading reserved-Brits to engage in random hugging.
"The British are famously not a very huggable nation we are not very tactile, unlike many of our european neighbours."
Farage told the programme Jean-Claude Juncker, the president of the EU commission once tried to hug him. "I am sorry old boy, but I am a bit old-fashioned about that sort of thing," he told him.
Popular in the Community