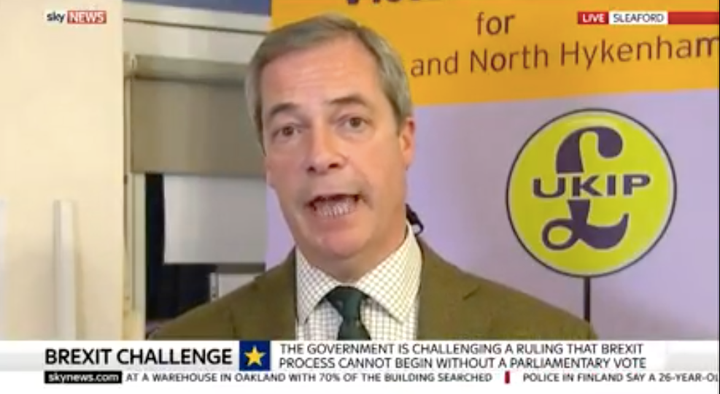 Nigel Farage has hit out the media class for mocking Ukip - as he stood in front of a party sign mis-spelling the constituency it is trying to win in a by-election.
But many political journalists watching the interview were more interested in the typo on the poster supporting Ukip's candidate in Sleaford and North Hykeham, Victoria Ayling.
Ukip has been at pains to argue how it is now a major threat to Labour in the north of England.
While Sleaford and North Hykeham in Lincolnshire was Tory-held until MP Stephen Phillips quit over disagreements with government policy, it is an area where Ukip will look to make gains.
Asked about whether he was disappearing from the political stage after stepping down as leader, Farage said:
"Right now, I'm in Lincolnshire. There's a by-election taking place on Thursday this week and I'm here campaigning. I haven't run for the hills. I haven't disappeared, never to be seen again. I'm still very much supporting Ukip."
When asked to reflect on his achievements, Farage responded:
"I'd like my tenure to be viewed as having taken a fringe, tiny political party, mocked, laughed at and derided by every single one of you. And I took it being a mainstream political party whose view were absolutely what the people of this country were talking about."
Yet it makes major spelling mistakes on key campaign material ...
Popular in the Community