The murder of the 84-year-old priest, named as Jacques Hamel, was also filmed, she said.
French president Francois Hollande said that the two knife-wielding men who killed Hamel during a hostage situation at the Church of the Gambetta in Saint-Etienne-du-Rouvray, Normandy, claimed allegiance to so-called Islamic State.
Sky News reported that Isis claimed the attack was carried out by two of its "soldiers".
Hollande described the incident as a "vile terrorist attack".
One hostage was seriously injured and is in a critical condition.
One person has been detained in the investigation into the attack, French prosecutors said. The two attackers were shot dead.
A spokesman for the Paris prosecutor's office, which oversees investigations involving terrorism, said the person had been detained but gave no details on the identity or location, the Associated Press reports.
A government spokesman said that a bomb disposal unit is checking that there are no hidden explosives in the church and surrounding area.
Reports that one of the attackers was on the French government's terror watchlist is likely to raise questions about the effectiveness of the security services, which have been placed under growing scrutiny following recent terror attacks.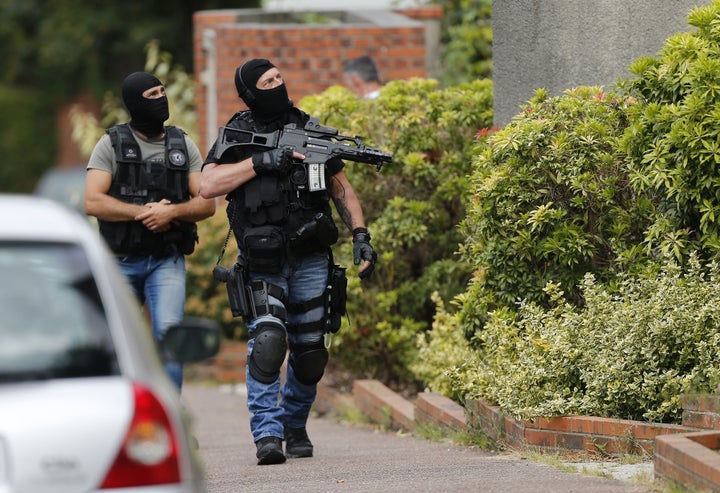 French Prime Minister Manuel Valls expressed "horror at barbaric attack on church".
The case is being handled by anti-terrorism prosecutors.
A priest, two nuns and two worshippers were taken hostage by the armed men at about 10am local time (9am UK time).
Speaking at the scene of the attack, Hollande said France should "use all its means" in its war against IS.
France has launched air strikes against the militant group in Syria and Iraq.
"We are put to the test yet again," Hollande said. "The threat remains very high."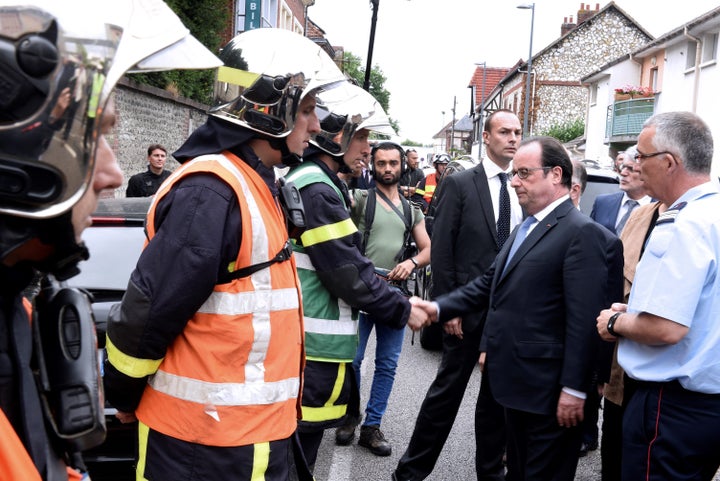 British prime minister Theresa May said "the terrorists will not win".
She said: "I think what is necessary is for us all to work together.
"We stand shoulder-to-shoulder with France, we offer them every support we can in dealing with this issue and this threat that they and the rest of us are facing.
"But of one thing I think we are absolutely clear and that is the terrorists will not prevail.
"They are trying to destroy our way of life, they are trying to destroy our values.
"We have shared values and those values will win through and the terrorists will not win."
Related