Hen and stag dos can be a great source of stress for all involved. Finding a destination, date and a budget that suits everyone – not forgetting nailing down the fine details – can turn a celebration into a complete and utter ordeal.
According to one recent study, the average spend on a hen or stag do is £507 per person - possibly unsurprising, given the tradition of a night out with pals has evolved into week-long breaks abroad. But for the couples featured in 'Not The Royal Wedding', HuffPost UK's series following the journeys of people getting married on the same day as Prince Harry and Meghan Markle, low-key pre-wedding parties were the way to go.
If you'd like to follow their example, here's what our bride and grooms to be learned about having fun while not bankrupting their guests on their stag and hen nights. Party organisers, take note.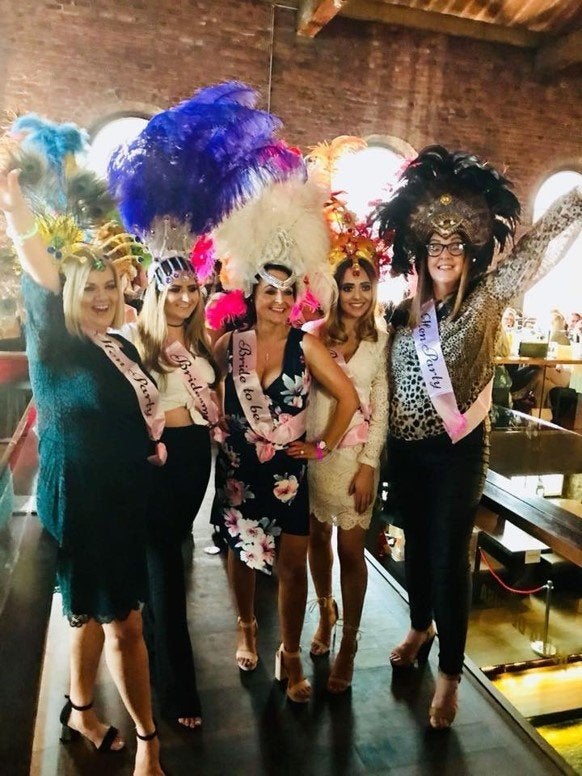 1. Invite the people you know and love (but not too many).
For all of our couples getting married on 19 May, the winning formula included inviting fewer than 20 people to their pre-wedding parties. Choosing your nearest and dearest means you're more likely to have a night to remember. Julie Spencer, 48, who went to Liverpool City Centre for her hen says: "Being with all my friends and family was the most exciting part."
2. Choose a fun activity to bond over before the boozing.
Even picking one activity to do in the day before the drinks start flowing will get people talking and bonding over something you love. Think about what the whole group might enjoy: you don't want to go cocktail making if everyone's a draft beer drinker, nor head to go-karting if people would much prefer to be putting their feet up at a spa. Michael Yunus, 31, headed off to the unassuming town of Crawley, West Sussex, with eight friends for his stag do. "We did off-road quad biking where everyone was covered in mud, shooting plates in mid-air, and archery," he explains.
Julie started her hen night with a salsa dance afternoon tea, which the group followed with an evening at the German Bierkeller with a live Oompah band; meanwhile husband-to-be Gary Miller, 50, headed off for a game of crazy golf with 14 pals, followed by a meal at a Japanese restaurant and some drinks in local bars.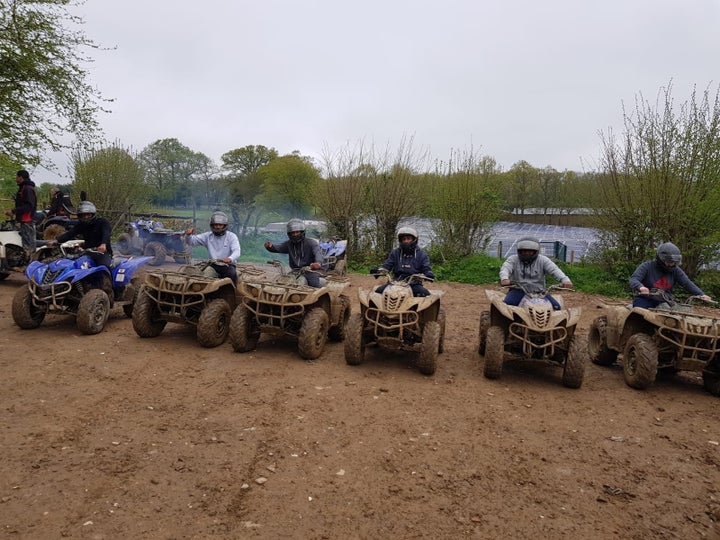 3. If you've asked someone to organise it, trust them.
Despite originally not feeling that excited for his stag, Mike put his trust in close friend and best man Moe to organise everything. It was the best decision he could have made. "It definitely wasn't your typical stag do but Moe knows me so well that he went for something different," he says.
His bride-to-be Alexia Zetty, 27, is yet to go on her hen do, which will take place down the road in Brighton on 12 May. Her maid of honour and bridesmaids are organising the event - which should be interesting, considering they're from Seattle and don't know the area. "Other than the city and hotel we are staying in, I don't know anything and my bridesmaids are keeping it that way," she says. "I'm just excited to have all my close friends together."
Rachel Sutton, 27, is also celebrating on the 12th – and is similarly unaware of the details. All she knows is that she's going to Leeds. "To be honest, I'm most looking forward to having the time off work," she jokes.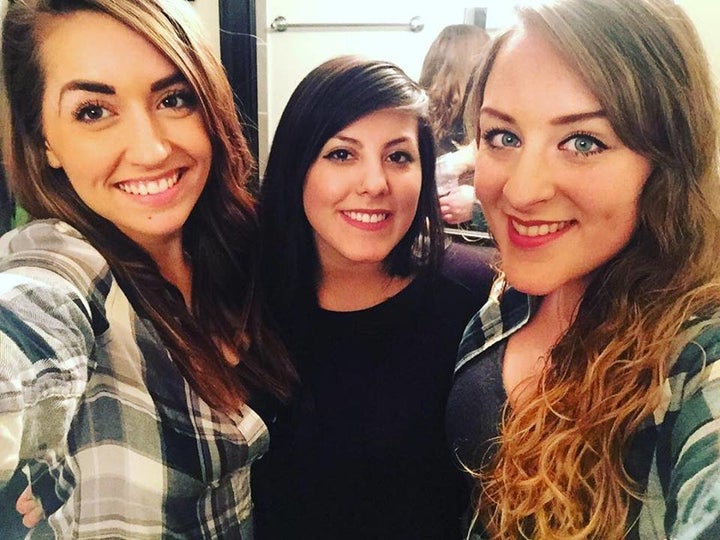 4. Head to a hen and stag hotspot.
You don't have to go abroad to enjoy a lively atmosphere. It seems three of our couples took inspiration from the most popular stag and hen destinations in the UK. Rachel's bride-to-be Emma Tretton, 26, is also heading to Leeds, which is the 10th most popular destination; Julie and Gary chose Liverpool, which ranks 7th; and Alexia's choice of Brighton came in 6th.
The most popular destination is Bristol - with Newcastle and Bournemouth in close second and third.
5. Don't be afraid to roll with tradition.
Emma, who let her bridesmaids take the steering wheel, headed to Leeds over the Easter bank holiday. It was a typical hen do with sashes, personalised bags, L-plates and a cocktail making masterclass to boot, followed by a night out hitting local gay bars. Julie also took the opportunity to don some novelty glasses and a 'bride-to-be' sash.
Sure, those added extras sound a little cheesy - but there's a reason why we've loved them for decades. It makes the evening one to remember. Plus once the drinks are flowing, that tiara will look fabulous.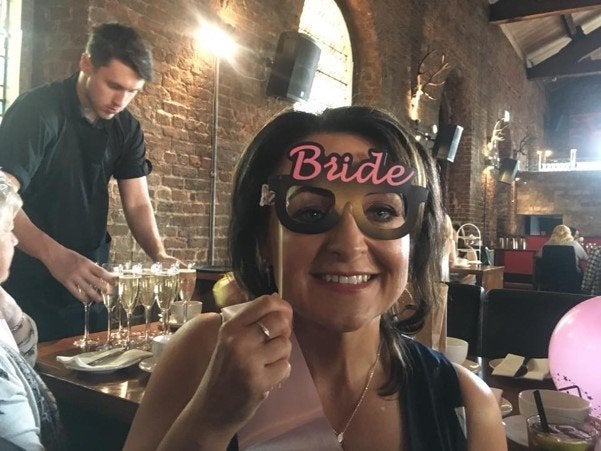 6. Let your hair down with your friends.
Hen and stag dos inevitably involve alcohol, which is almost always where some of the most ridiculous/memorable moments stem from. Although Emma (sensibly!) didn't want to spill all the beans on the specifics of her drunken night out, she did mention that her cousin fell off stage during an interval at a cabaret. "It was hilarious," she laughs.
Meanwhile Julie managed to enter a competition to find the person best at blowing a brass instrument. Faced with a tuba - her opponent was given a mere trumpet - Julie got stuck in. And, against the odds, she won!
7. Remember what it's all about.
It can be easy to get caught up in the details, the stress, the organising and the planning, but ultimately the hen or stag do is a moment to enjoy your brilliant friends, so try not to sweat the small stuff.
Speaking about what he was most excited about when it came to his stag do, Gary says: "Being a step closer to the wedding." Aww. Thankfully he doesn't have long to wait. We'll be catching up with them along with the rest of our 'Not The Royal Wedding' couples next week, where we'll be finding out how they're feeling with just one week to go until the big day.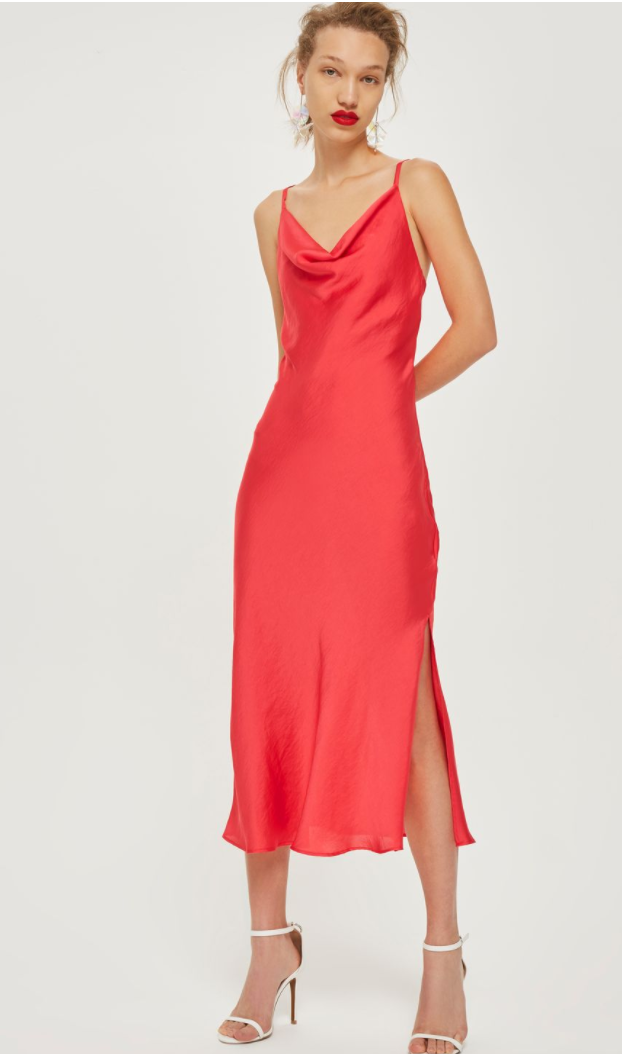 10 Dresses Under £50 To Wear To A Summer Wedding