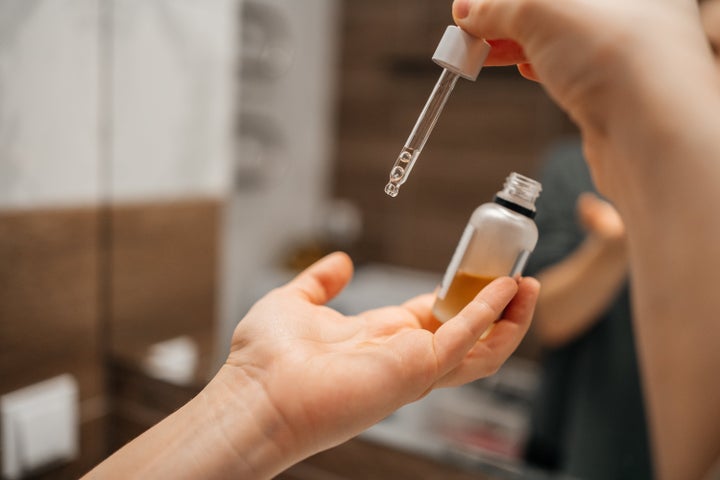 With flawless influencers and celebs holding us to astronomically high beauty standards, it's easy to feel like maybe you need a little tweak here or bit of filler there. And there's definitely nothing wrong with that, if it makes you feel better about yourself. Botox isn't going anywhere soon – after all, an estimated 900,000 facial injections of Botox are carried out every year in Britain.
But some younger women on TikTok are kicking back against injectables, as shown by the 200 million searches on TikTok for 'Notox', the trend that has beauty lovers saying no to Botox and yes to alternative tools and skincare for achieving enviable lift and glow.
"Notox is all about looking for non-invasive forms of ageing; like medical-grade skincare and skin tightening treatments, that can replicate the effects of Botox, but without the cost, pain and downtime," explains Amanda Azzopardi, advanced nurse practitioner.
"Nowadays, people are moving away from cosmetic procedures, and are looking for skin treatments, products or devices that give a nice smoothing and tight. It's also important to note that whilst Botox paralyses muscles, Notox is all about relaxing the muscles and reducing the tension caused that causes wrinkles," explains Amanda.
Why is this trend taking hold at this particular moment in time? A mix of reasons, says Amanda. "There are many factors that play into why there is has been kickback. Dermal fillers and Botox have long been a go-to solution for women who are looking to reserve the signs of ageing. Now? Women are going needle-free and instead, are buying products and devices that can give similar effects.
"Another reason is due to the negative effects. Both Botox and Fillers have seen a dramatic increase of complaints due to a rise of non-medical people doing the procedure, thus causing botched effects and dissatisfaction among patients."
How to achieve the look of Botox without injections?
Botox can give you a lovely lifted look, smoothing out lines and sometimes even adding a radiance to the skin. Is it even possible to achieve all this without getting injected? Definitely, says Dr Radmila Lukian, dermatologist and anti-ageing specialist: "Ultherapy is a non-surgical, non-invasive procedure that uses ultrasound technology to tighten and lift the skin. It can target the neck, chin, brow, and décolletage area."
Skin peels and radio frequency are gaining popularity, too, from celebrity fans like Julia Fox and Kim Kardashian sharing how much they love the treatments. Dr Lukian promotes these treatments, too: "Chemical peels can help reduce the appearance of fine lines and wrinkles, while also assisting in the production of collagen and improving overall texture.
"You could also try Morpheus8, a minimally invasive cosmetic procedure that combines micro-needling and radiofrequency energy to target the deep layers of the skin. It's designed to stimulate collagen production and promote skin rejuvenation, resulting in a tighter and more youthful-looking skin.
"EMFACE is the latest facial treatment that targets both the facial skin and muscles at the same time. The two energies, synchronized RF and HIFES, are emitted simultaneously to treat the skin and muscles.
"As a result, facial wrinkles and lines are reduced, muscles are better-toned and the whole face is naturally lifted. All this is achieved without needles and in just 20 minutes."
What are some products you can use at home?
Even going without Botox, which can cost hundreds up to thousands depending on how revered your injector is, in-salon alternatives such as Morpheus8 and chemical peels can be just as expensive. So what about if you want good skin and also want to survive the cost of living crisis at the same time? There are some easy at-home tools you can use, suggests Dr Lukian: "In terms of skincare tools on the market, home skincare devices, such as Gua Sha and NuFace can provide some benefits, such as improved blood flow, lymphatic drainage, and skin firmness.
"These devices work by applying pressure to the skin and underlying tissues, which can help reduce puffiness and create a lifting effect. However, it is important to keep in mind that the results of these devices may vary depending on your individual skin type, tone, and elasticity and results are usually minimal."
So, whether you're Team Botox or all about the au naturale look, there's all sorts of choices on the market if you want to make the most of your skin. Now, go get that glow!