Clutching the hand of an elderly woman as she succumbed to coronavirus, nurse Victoria Meynell felt an overwhelming sense of emotion at being able to comfort the patient in her final moments.
Victoria, 38, a cardiac nurse at the British Heart Foundation, was one of thousands of people who responded to a rallying call for people with clinical skills to return to the NHS frontline in the fight against Covid-19.
Those who had left the service in recent years were asked to "stand up, step forward and save lives" and within weeks, more than 10,000 people had responded.
Victoria, who used annual leave to return to the frontline, was just 90 minutes into her first shift on a hospital ward in 10 years when she encountered the woman who was in her nineties and dying of coronavirus.
Knowing that visiting restrictions meant her family could not be with her, Victoria made being with the woman her priority and was with her when she passed away.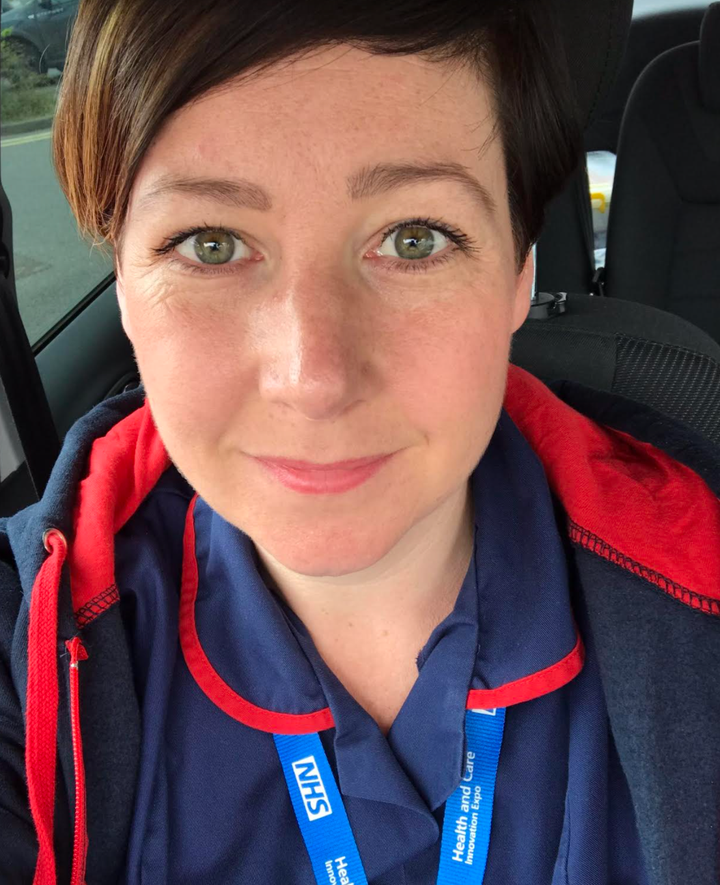 "I sat with her and talked to her and held her hand and showed her dignity and respect while she was dying," Victoria told HuffPost UK.
"For her to have ended her life alone would have been heartbreaking and it was an honour to be with her in her dying moments, particularly as none of her family could be."
"For her to have ended her life alone would have been heartbreaking and it was an honour to be with her in her dying moments."
The biggest realisation for Victoria was the severity of the pandemic and what NHS staff were having to face countless times a day.
"I realised that if I was having to face a coronavirus death just 90 minutes into my first shift, this is what hospital staff must be facing many times a day," she said.
Victoria, a mum-of-three, qualified as a nurse in 2005 and worked on a coronary care unit looking after people with acute heart problems, before turning to research and then joining the BHF.
But despite the fact that it had been a decade since she'd worked on a hospital ward, Victoria told HuffPost UK that when it became clear the coronavirus situation was escalating, she felt the "adrenaline kick in" and wanted to help.
Since returning to work at a hospital in the West Midlands in early April, she has been doing shifts ad hoc on weekends and days off while still holding down her full time job.
"I did feel like a bag of nerves when I entered the hospital for the first time," she said. "It was daunting and I felt mixed emotions as I wanted to help but knew I would be rusty in many ways.
"I was assigned to a Covid-19 ward straight away and was kitted out in all the personal protective equipment (PPE) including a gown, visor, face mask, gloves and a hair cap.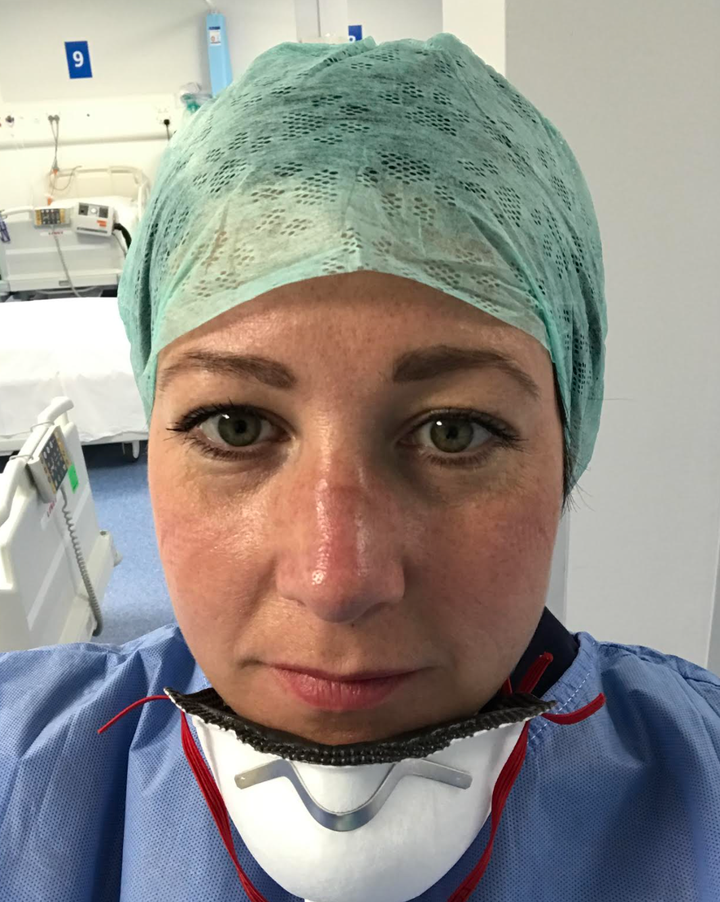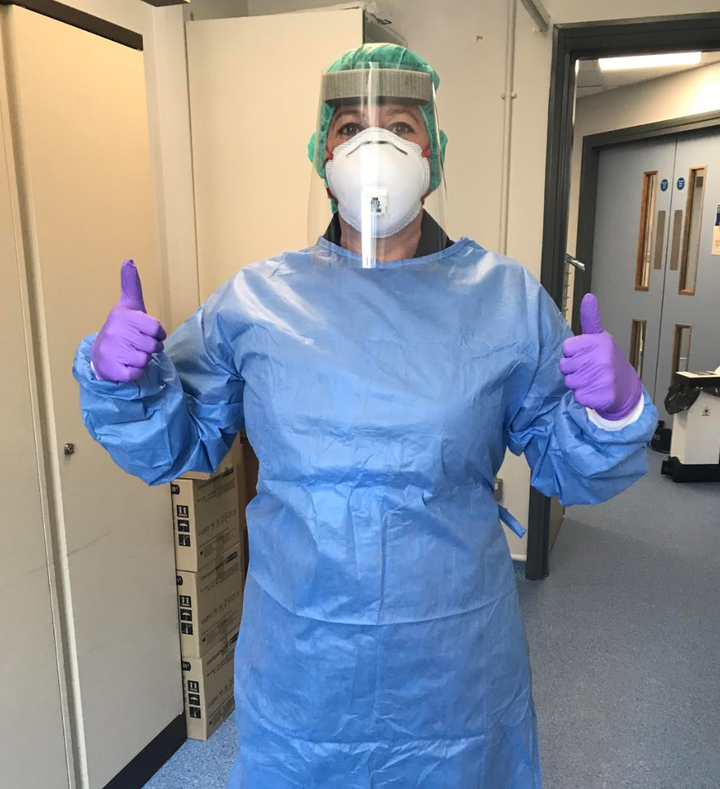 "It had been so long since I had been on a ward and I suddenly went back at this completely crazy time and the reality of the situation hit.
"I took over from a nurse who explained all the patients on the ward had tested positive for coronavirus. They were mainly elderly patients with complex health needs and many of them had Do Not Resuscitate care plans in place so their treatment would not be escalated to intensive care if they deteriorated further."
Victoria said she did fear passing coronavirus on to her husband and three children, and took precautions such as undressing at the front door and putting all her clothing in the wash and disinfecting any handles and surfaces.
"Even though we were in a time of crisis, everyone pulled together and people adapted so incredibly to the challenging situation."
But she says that her anxieties melted away when she was actually in the hospital and the sense of camaraderie and the feeling of "we are all in it together" made her feel heartened and resilient.
"Even though we were in a time of crisis, everyone pulled together and people adapted so incredibly to the challenging situation," she said.
"It felt good to know I was making a difference – particularly to individuals and the enjoyment comes from knowing you have helped people and working together to make sure the NHS didn't get overwhelmed.
"But I felt the real heroes were those who do this job in the hospital every day and it was heartening to see their attitude and the way they kept going."
Vanessa Smith, a senior cardiac nurse at the British Heart Foundation, also responded to the call for help.
The 34-year-old approached her manager and asked if she could take a two-month secondment from her role. She is now working at Imperial College Healthcare NHS Trust.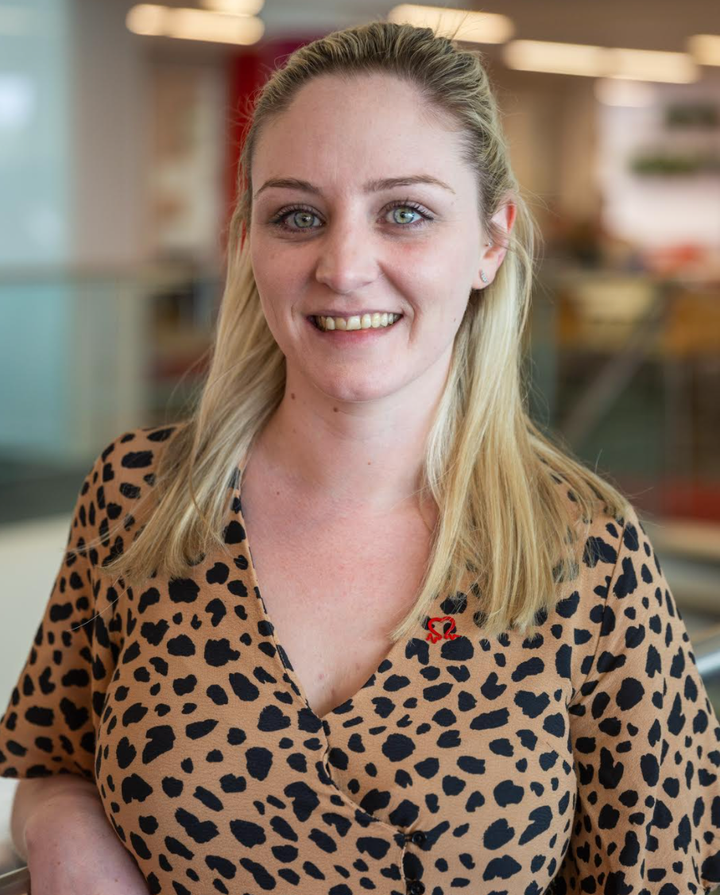 She told HuffPost UK: "It felt right to offer my help by going back to the wards and putting my clinical skills to use."
Vanessa had previously worked at the hospital before joining the BHF and was still in touch with her former colleagues. When she realised how busy they were, she knew she wanted to do her bit.
Her role at the BHF involves making sure the information booklets published by the charity are medically accurate and patient friendly. So it did feel daunting to return to the frontline at a time of crisis.
"It was exciting jumping straight back into the deep end, but I also felt anxious as I knew I would be looking after some of the poorliest patients with Covid-19," she said.
"We wore PPE to fully protect ourselves but the hoods made it difficult to hear and for the patients and staff to identify us so we had our names written on the hoods.
"All the extra layers and tight face masks made it very hot so we had to rotate every few hours so we could have breaks to drink water and have food."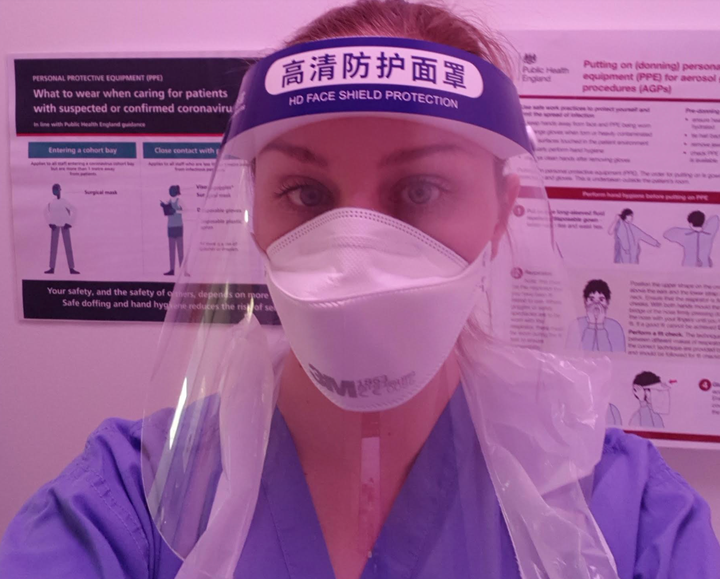 Within a day of beginning her shifts, Vanessa was looking after an elderly gentleman who was coming to the end of his life.
Vanessa told HuffPost UK she helped set up a Skype call with the patient's family so they could be with him at the end virtually, while she was with him in person.
"I brushed the gentleman's hair so he looked nice for his family and chatted to him and held his hand and made sure he was comfortable." she said.
"We set up the Skype call so his family could be with him towards the end and say their goodbyes and so that he could hear their voices before he sadly passed away."
"His family were there virtually at the end while I was there with him physically holding his hand. Luckily, he had a peaceful end and wasn't alone."
Vanessa said the hardest part of the pandemic is seeing people die without their family there.
"I've seen some of the lows of people losing loved ones too soon due to this virus. But I've also experienced the feeling of relief and joy for patients whose health has improved and hopefully they will get to return home," she said.
"I've seen first-hand how much this virus can affect people who were previously independent and working."
Vanessa said her time on the wards has been tiring due to the long shifts and huge emotional impact, but said it had been great to support fellow staff.
"Everyone is still smiling and giving the best possible care to patients despite feeling anxious themselves in the surreal times we are living in," she said.
Chloe MacArthur, 34, told HuffPost UK she has no dependents – no children to homeschool or dogs to walk – so felt it was her duty to return to the NHS frontline.
She qualified as a nurse six years ago and had experience caring for patients in a specialist intensive care unit. She also works for the BHS, primarily on the heart helpline.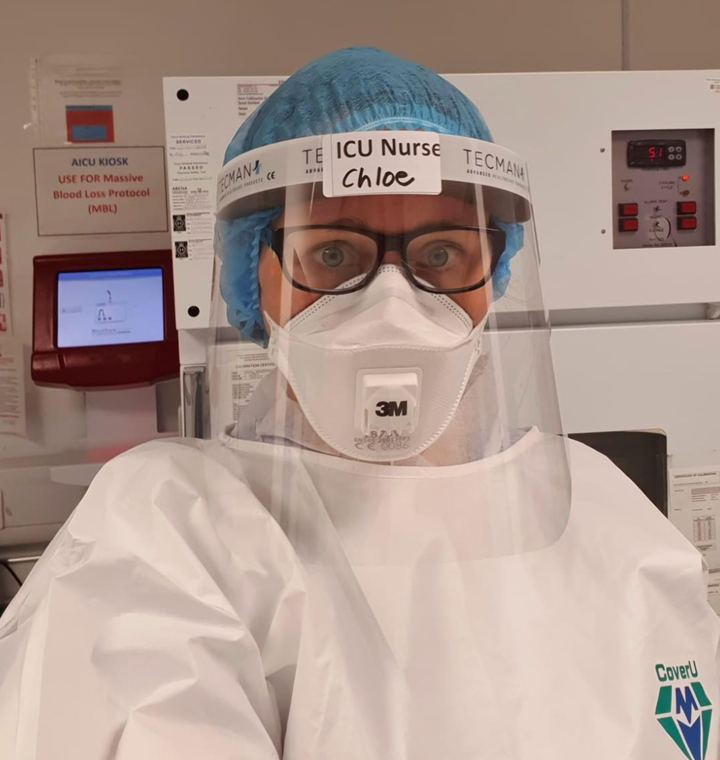 Chloe has returned to do shifts at her former hospital Royal Brompton and Harefield Trust in Chelsea and has been looking after Covid-19 patients. She says it has brought home the enormity of the situation as her daily life hadn't changed too much during lockdown.
"When someone is very sick, usually being there for them and holding their hand is the only thing loved ones can do for them. But at the moment, that is something they can't do."
"Approaching the hospital was quite unnerving," she said. "It was eerily quiet instead of there being a hive of activity in the reception area.
"When someone is very sick, usually being there for them and holding their hand is the only thing loved ones can do for them. But at the moment, that is something they can't do.
"It makes me think about how distressing it must be for loved ones at home waiting for news about their critically unwell husband, wife, brother or grandmother, unable to hold their hand while they sleep."
She added: "Whether they are in intensive care or on the wards, they are more than just Covid patients.
"They are people who are loved and missed and it is a privilege to be able to look after them."
Nicola McQueen, chief executive officer of NHS Professionals, an organisation that supplies temporary staff to the NHS, said: "We were really pleased to be one of the routes for nurses to return to the frontline during the Covid-19 pandemic.
"We saw a fantastic response to our recruitment campaign: 'Stand up, Step forward and Save Lives'.
"I'd like to thank all of those who stepped forward to lend their support and for their continued and ongoing commitment."
Ruth May, chief nursing officer for England, said: "The whole nation is indebted to these incredible nurses, doctors and other healthcare staff who have answered their country's call and played a vital role as the NHS has worked through the greatest challenge it has ever faced.
"Although we are now through the first peak, the NHS will continue to require compassionate, caring and expert individuals so if you have been inspired by their efforts over the last few months, please consider a career in our health service."
The British Heart Foundation has launched an online coronavirus support hub to provide information for people living with heart and circulatory diseases in these difficult times. To find out more, visit www.bhf.org.uk