We've launched Gym Buddies, an online fitness community to help you make lasting changes towards a healthier lifestyle. Sign up for daily motivation straight to your inbox, whether complete beginner or seasoned pro looking for a new challenge.
Two brothers are set to row 3,000 miles across the Atlantic to prove extreme challenges can be achieved on a vegan diet.
Jude Massey, 18, and Greg Bailey, 27, will set off from Gran Canaria on 18 January with a view to arriving in Barbados (or somewhere nearby) in 10 weeks time.
The pair will row an unsupported boat and their only protection from the elements is a water-tight cabin at the rear. They will not stop along the way. Instead, they will take it in turns to continuously row for weeks on end, sleeping for two hours at a time, alternating rowing shifts - all while consuming dehydrated vegan meals and snacks.
"Doing this row on a vegan diet is a way to prove to people that you can do extreme challenges and get all the nutrients you need through a plant-based diet," Jude, who has followed a vegan diet for just over a year, told HuffPost UK.
"There's no lack of protein or other nutrients. It's a great way to challenge people's opinions on traditional English diets and extreme athlete diets."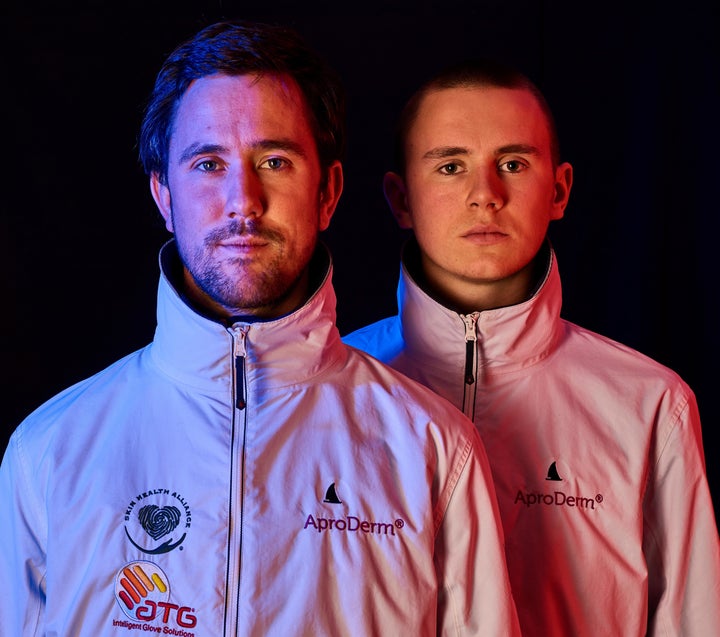 Jude, who works in a bar in his hometown of Lymington, and Greg, a junior doctor working in A&E, came up with the idea to row the Atlantic in October 2016, shortly after the loss of Jude's father and Greg's stepfather, Peter, to skin cancer.
"We really want to do something to be productive and get ourselves out of this grief whirlpool," Jude explained. "We wanted to demonstrate to people how to be sun-safe in a really extreme environment."
The pair aim to raise £100,000 in their father's memory, which they hope will fund less invasive ways of treating the disease. This is a matter particularly close to their hearts as their father's 16-year battle with skin cancer left him severely disfigured and lacking confidence, so much so that he wouldn't leave the house.
"He had huge amounts taken out of the left side of his forehead and as I grew older, more and more [skin and tissue] was taken from his forehead because the skin cancer had come back and spread," Jude explained.
"He was totally disfigured by the time I was around 12. He'd had his left eye removed, he had a good chunk of his skull removed and he was left with no confidence, living very unhappily."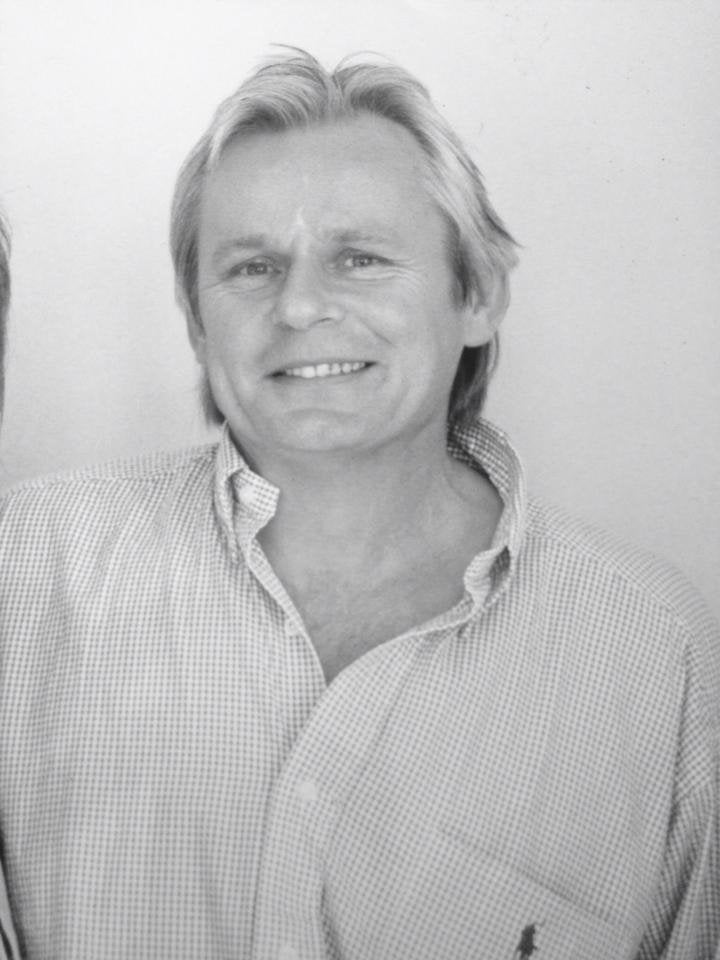 In memory of their father, the brothers want to educate others about the importance of sun safety by rowing the Atlantic - where sun cream, UV-protected clothing and a specially-designed canopy offering shade will protect them from the sun's harsh rays.
But they also have a side mission: to prove that a vegan diet isn't lesser than one involving meat.
While rowing the Atlantic, the pair will eat three dehydrated vegan meals a day - dishes like chilli non carne, spinach dhal and porcini mushroom risotto.
"It's like space food, there's no water in it and you add hot boiling water," Greg, who is a vegetarian but will be following a vegan diet while on the trip, explained.
His brother Jude added: "The meals taste absolutely incredible and you don't get that heaviness that you would with consuming dehydrated meals with meat. So it really helps with your energy levels."
The boat has a filter built into it which will transform sea water into drinkable water. The pair will also eat snacks designed to give them as many calories as possible for energy. These will include dairy-free chocolate raisins, dairy-free millionaire shortbread, a big bag of mixed nuts, MCT oil (a derivative of coconut oil which is high in fat content) and Trek protein vegan bars.
The only supplement they will need to take is vitamin B12.
It's taken a grand total of 11 months for the pair to get "from nothing to where we are now". Training has consisted of mainly open-water rowing - every day in Gran Canaria since early December and less frequently before that in their hometown of Lymington, Hampshire - and also a lot of stretching.
Another, perhaps more enjoyable, part of prep is eating pizza and other foods. The pair have tried to gain around two stone before the challenge, because they'll undoubtedly be burning a hell of a lot of calories onboard.
"People think that being in the gym is the best thing you can do, but it doesn't build all the core muscles that you'll need from a rocking boat moving backwards and forwards and side-to-side, you're just on a steady machine in an air-conditioned room," Greg explained.
"With all of the environmental factors such as strong winds and big waves, there's nothing better than actually going rowing."
The pair have spent a lot of time on the boat in preparation for the adventure, as even tasks like cooking meals on the gas stove while being hit by waves take practice. And big waves will likely hit their boat. The pair have already had to delay their departure by a couple of days due to rough conditions - but once they're out in the ocean, there will be no turning back.
If they are hit by hurricane conditions, Greg and Jude will stop rowing, pack up any loose items on the deck, release a power anchor (a parachute device which prevents the boat from drifting too far off course) and will wait the storm out in their shared water-tight cabin at the back of the boat.
"The boat can capsize quite easily, so in those circumstances we would stay in the back cabin together which is sealed. With that, you can survive anything," Greg explained. "The guy who trained us has done a lot of ocean rowing and he was hit by four hurricanes on his first Atlantic trip. He's still rowing."
For the majority of people, the idea of a boat capsizing may seem pretty, but the brothers insist it's nothing to worry about as the watertight cabins at the front and back act as "buoyancy tanks", bringing the boat back up to the surface.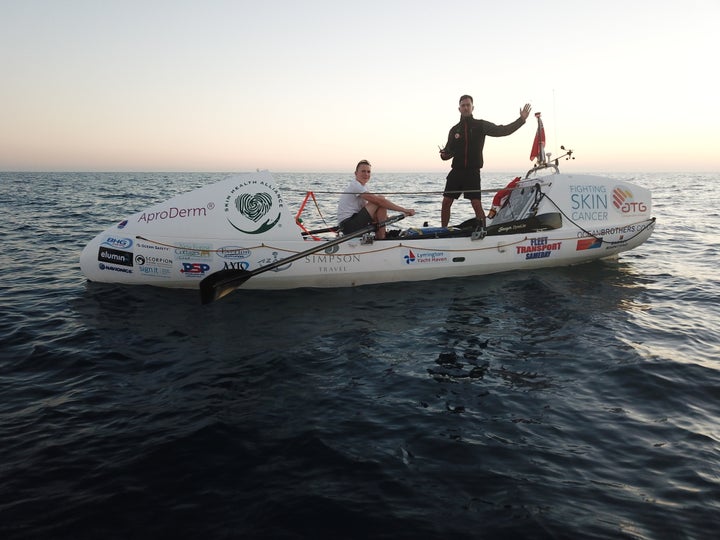 If the pair manage to successfully arrive in Barbados, they will have not only raised an incredible amount of money for charity and proven that vegan diets can sustain a person through extreme times, but 18-year-old Jude will also become the youngest man to ever row an ocean.
They will undoubtedly have to overcome many challenges to get to this stage, both physically and mentally.
"Most ocean rowers say ocean rowing is 90% mental and 10% physical," Jude explained. "So it really is preparing for that social isolation for two to three months onboard."
To help keep their minds in check, the pair will practice meditation and mindfulness every day while onboard the boat.
"Hopefully that will pay off during the crossing," Jude said. "It really is just a mental battle the whole way across and you have to understand what your demons are, recognise them and almost deflect them out of your mind.
"Greg and I have spent the past year together intensely, so we can tell the warning signs about each other's mood and when things are going wrong - that's really useful.
"Honestly though I have no idea what it's going to be like when we get out there, it's going to be a real shock to the system."
Related