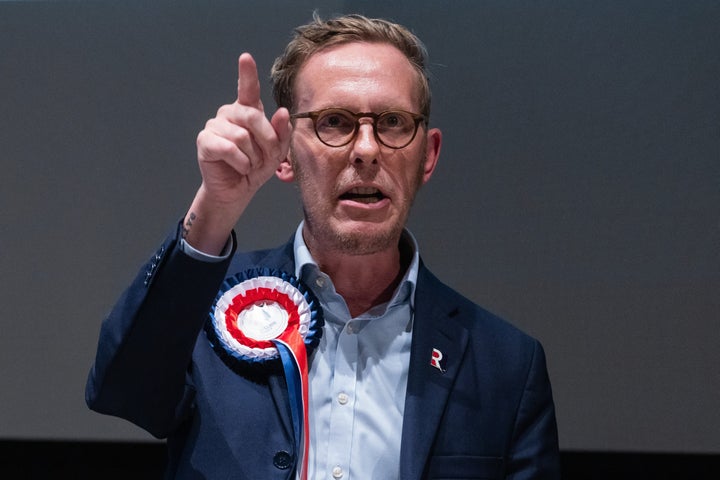 GB News has formally suspended Laurence Fox after he went on a jaw-dropping rant about a female journalist live on air, triggering a wave of complaints.
The actor and founder of the Reclaim party slammed Ava Evans, the political correspondent for digital outlet JOE, on Tuesday night.
Speaking to host Dan Wootton, he said: "We're passed the watershed, so I can say this. Show me a single self-respecting man who would like to climb into bed with that woman ever."
During his 45-second rant, Fox claimed that Evans has been "spoon-fed oppression" and suggested the gender-pay gap is not real.
Evans shared the clip in question shortly after the broadcast, along with the caption: "Laurence Fox just did a whole speech on GB News on why men apparently won't shag me?"
She added: "I feel physically sick."
Social media was immediately flooded with support for the journalist, as the clip went viral – in less than 24 hours, it had been viewed more than 7.4 million times.
GB News issued a statement on X (formerly Twitter) on Wednesday morning announcing Fox's suspension.
It read: "GB News has formally suspended Laurence Fox while we continue our investigation into comments he made on the channel last night.
"Mr Fox's suspension is effective immediately and he has been taken off air.
"We will be apologising formally to Ms Evans today."
GB News also issued a statement just before midnight on Tuesday, shortly after the controversial segment aired, confirming they were launching an investigation into the matter.
It read: "Comments made tonight on GB News by Laurence Fox were totally unacceptable.
"What he said does not reflect our values and we apologise unreservedly for the comments and the offence they have caused.
"We have launched an investigation and will be apologising to the individual involved."
Wootton also apologised on Tuesday night, posting on x: "Dear @AvaSantina I think you're brilliant … I apologise for what was said during the course of my show and should have done this immediately on air. This is not what our channel is about."
The following morning, he posted again, saying: "I want to reiterate my regret over last night's exchange with Laurence on GB News. Having looked at the footage, I can see how inappropriate my reaction to his totally unacceptable remarks appears to be and want to be clear that I was in no way amused by the comments."
The segment in question was supposedly a response to Evans' appearance on BBC Politics Live on Monday, when she spoke about men's mental health.
Hours after that, she responded to her own TV appearance, posting on X: "I was a little rash on my anti-minister for men comment which I do regret and am actually very interested in a brief for a minister on young men's mental health."
Notably, Wootton did not intervene during Fox's rant, only referring to Evans' follow-up posts towards the end of the discussion for "a touch of balance" – and then concluded that Santina is a "very beautiful woman".
On Wednesday morning, Ofcom also said: "We can confirm we've received a number of complaints about comments made by Laurence Fox on GB News last night.
"We are assessing these complaints against our broadcast rules and will publish the outcome as quickly as possible."
This is far from the first time the station has come under scrutiny.
GB News has already breached Ofcom rules three times since June 2021, when it first launched.
Fox responded to the backlash on Wednesday morning, saying in a post on X that it's unfair to blame Wootton for things he said.
"I stand by every word of what I said," he added, later concluding: "I won't ever apologise to the mob."
Here's a look at some of the reactions flooding social media since the interview aired last night: