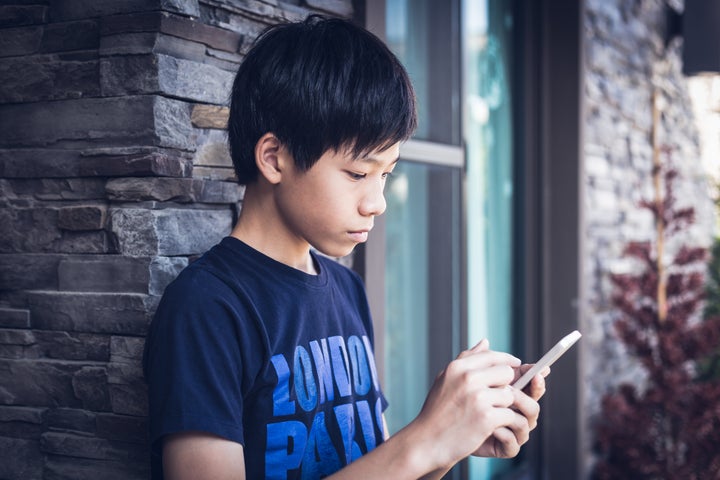 More than a third of teenage boys have either sent or received racist or homophobic content online, with campaigners warning the views could be normalised.
A poll of 11 to 18 year olds last month revealed 36% of boys shared controversial memes - an image and caption designed to go viral - "poking fun" at slavery, rape and marginalised communities.
Some 20,000 students across state and independent schools were surveyed in the research by the Headmasters' and Headmistresses' Conference (HMC) and wellbeing agency Digital Awareness UK.
Among the girls surveyed, 17% said they sent racist or homophobic memes. Meanwhile, almost three-quarters of boys and girls said they have seen an offensive meme on a private group chat.
Four in 10 boys said they see the offensive images everyday, compared with 16% of girls.
Emma Robertson, co-founder of Digital Awareness UK, said: "Offensive memes are the source of much upset and anxiety amongst the people we work with. They are also contributing to the normalisation of racism, sexism and homophobia.
"Memes can be entertaining, comical and creative, but when they poke fun at serious issues such as slavery, rape and marginalised communities you've crossed the line."
The findings come as the coalition is launching a Tech Control campaign to encourage young people to spend their time online responsibly.
Half of the teenagers polled said they were on their phones after bed, while 57% of respondents said they have accounts that their parents don't know about.
Samantha Price, head of Benenden school win Kent, said: "We need to keep working with our teens to understand the risks of the online world.
"They need to know that whilst they can run rings around adults – parents and teachers – online, they do still make mistakes and might place themselves in vulnerable positions. Whilst recognising their online world, schools like ours are working hard to try to close the knowledge gap between adults and children when it comes to social media."