After their first gold medal on day two, Team GB had high hopes on day three of the Rio Olympics for more. But while there was no more gold to add to the medal cabinet, there was plenty else to talk about...
Rio 2016 Day Three Highlights
Tom Daley and Dan Goodfellow won bronze men's 10m synchro platform event - but to be honest, from the way they reacted you'd have though they'd won gold. The pair were so thrilled at their result that they ended up falling in the pool as they celebrated. Some newspapers, however, seemed to forget that this was a pairs event and left Goodfellow off their covers.
There was another bronze for Team GB, this time from Ed Ling in the men's trap shooting. He beat Czech David Kostelecky 13-9 to win his first Olympic medal.

Brit James Guy was left disappointed in fourth place in the 200m freestyle. The world champion was beaten by 0.26 seconds.

It was so near yet so far for our women's rugby 7s team. After some convincing victories in the early stages of their event, they lost out 25-7 in the semi-final to New Zealand before being beaten in the bronze medal match 33-10 by Canada. This left them in fourth place.

It was also fourth place for the Team GB men's gymnastics team. After sitting in third place for some time, they were pushed out by China in the penultimate phase, the parallel bars. Some people genuinely tried to blame this loss on Louis Smith's hair. More about that later.
Not Exactly Top Of The Crops
If there's one sport that requires two people to contribute equally then it's synchronised diving.
Fail Of The Day
Chinese swimmer Sun Yang tried to celebrate his gold medal victory in the 200m men's freestyle by throwing his cap into the crowd.
It did not quite go to plan. Awkward...
Most Controversial Hairstyle Of The Games So Far
The men's gymnastics team were pushed out of the top three by China in the parallel bars stage of the gymnastics final - but while most would argue this was down to a better performance, others had a more controversial idea.
Now I'm no gymnastics expert, but I'm not ENTIRELY sure that's how it works...
Death Stare Of The Games
Michael Phelps is pretty much the GOAT when it comes to swimming (that's Greatest Of All Time not an actual farm animal) - but we think we've figured out why he's so successful.
*Arguably it may also be down to a gruelling training programme and incredible skill.
Most Pointless Job At The Games
It must be great to be involved in the Olympics, helping to put on the greatest event Rio has ever seen...right?
This lass doesn't quite seem to feel like she's being that useful though...
The Picture That Shows Why The Olympics Is For Everyone
This brilliant shot of Egypt's Doaa Elghobashy attempting to avoid the block of Kira Walkenhorst from Germany in volleyball says much about why people love the Olympic Games.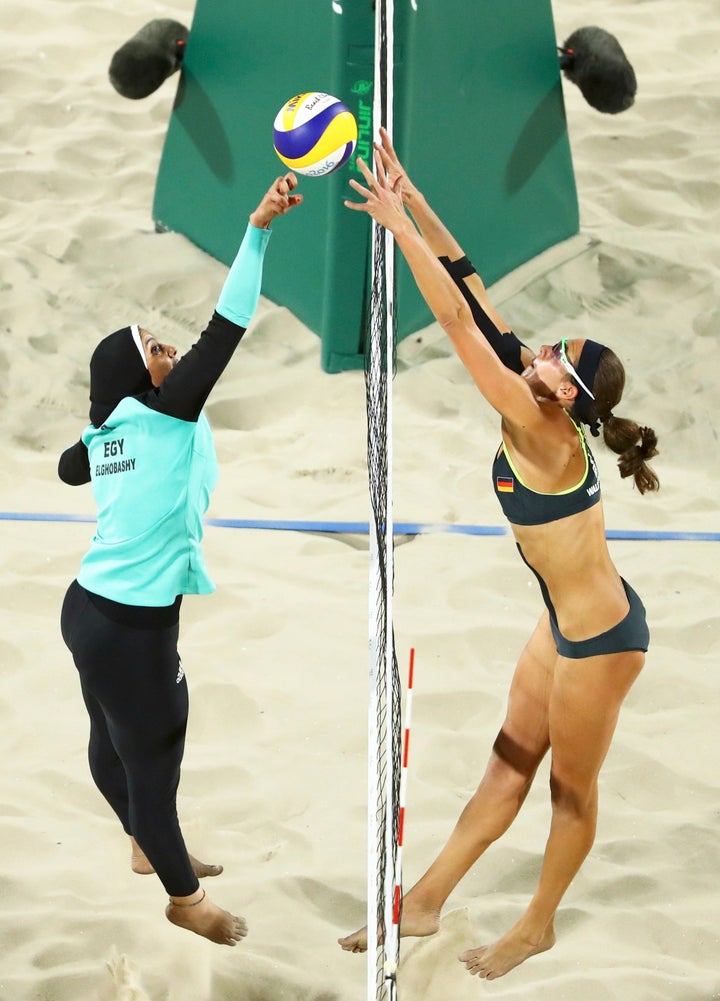 On Sunday night, Egypt made its debut in the Olympic volleyball as its women's doubles pairing of Elghobashy and partner Nada Meawad took to Copacabana beach.
Their uniform - long-sleeved shirts and trousers - was in stark contrast to the bikinis worn by their opponents. But their presence was the manifestation of attempts to widen participation in the sport.
The international volleyball federation relaxed uniform regulations before the London Games to welcome countries discouraged from taking part because of their customs or religion. As a result, more countries took part in the qualifying rounds - which the Egypt team emerged from, though they lost to Germany in Rio.
Read the full story here.
Medal Table At Close Of Day Three
Team GB Ones To Watch On Day Four
Giles Scott is a favourite in the sailing, which will kick off from 5pm.

Swimmer Siobhan-Marie O'Connor will be hoping for a medal in the women's 200m individual medley at 3.29am tomorrow morning.

David Florence will take part in the canoe slalom from 5.30pm.

Tonia Couch and Lois Toulson compete in the women's synchronised 10m platform final around 8pm.
The Best Of The Rest
The women's team gymnastics final is taking place from 8pm.

Superstar US swimmer Katie Ledecky will take part in the 200m freestyle final in the early hours.

South African swimmer Chad Le Clos will be competing in 200m butterfly final after 2am, which also includes Michael Phelps. Keep an eye out for his father Bert, who became somewhat of a sensation after his effusive interview with Claire Balding at London 2012 about his son's performance. He is in Rio supporting Chad despite undergoing cancer treatment.

Other events taking place are: archery, artistic gymnastics, basketball, beach volleyball, boxing, canoe slalom, road cycling, diving, equestrian events, fencing, football, handball, hockey, judo, rowing, rugby 7s, sailing, shooting, swimming, table tennis, tennis, volleyball, water polo and weightlifting.
We'll be rounding up the win, fails and funniest moments of each day at the Rio 2016 Olympics. You can find it online or sign up for the Daily Brief email here.
Related