Day seven saw Team GB storm ahead to third place at the Rio Olympics, thanks to medals aplenty.
There's lots of drama to catch up on...
Rio 2016 Day Seven Highlights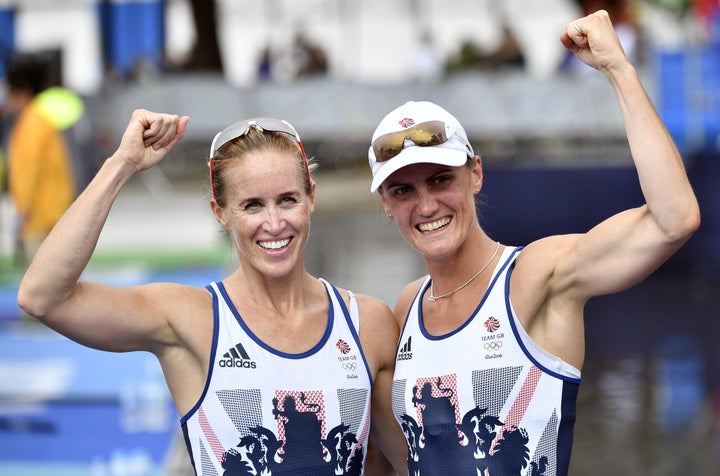 They were quickly followed by Team GB's men's coxless fours team. Alex Gregory, Mohamed Sbihi, George Nash and Constantine Louloudis continued Great Britain's dominance in the event, bringing home gold from a fifth successive Olympics with a time of 5:58.61.

Britons Jessica Ennis-Hill and Katarina Johnson-Thompson ended in first and fourth place respectively going into today's heptathlon events.

Jazz Carlin became the first British athlete to win multiple medals in Rio, adding 800m freestyle silver to the silver she won in the 400m freestyle earlier in the games.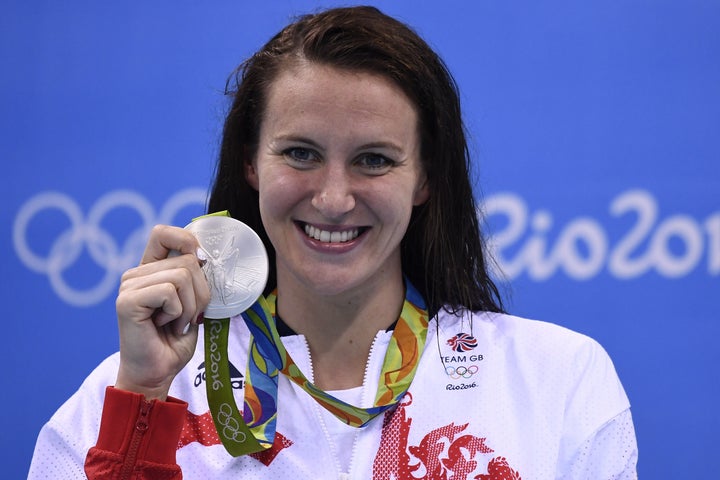 Bryony Page became the first GB athlete to ever get to a trampoline final - and then thrilled fans by going on to win silver.

GB's dressage team didn't manage to hold onto their gold title from London 2012 but still came away with a silver.

GB windsurfer Nick Dempsey has a second successive Olympic silver medal guaranteed in the sailing, even with one race to go.
London 2012 gold medal long-jumpers Greg Rutherford gave everyone a nasty fright when he fouled his first two attempt in qualification. He thankfully recovered to make it through to the final.

Andy Murray and Heather Watson lost lost mixed doubles quarter-final to India's Rohan Bopanna and Sania Mirza. In the men's singles there was more success, however, with Murray beating USA's Steve Johnson. He will play Japan's Kei Nishikori in the semi-final.
Best Podium Reaction Of The Games
While the strains of 'God Save The Queen' waft over the podium, medal-winning athletes usually use the moment for quiet reflection.
Expletive Of The Day
Team GB athlete Martyn Rooney delivered a brutal review of his failed attempt to make the Olympics Games' 400m final, conceding that he "ran like a dick".
Using Anglo-Saxon language he later apologised for, the European champion turned the air blue after only finishing fifth in his heat in Rio - with his time not good enough to secure a fastest losers' slot.
He later apologised for his language.
Tattoo Of The Games
Swimming legend Michael Phelps gave birth to #PhelpsFace after throwing shade at his main rival for the 200m butterfly, South Africa's Chad le Clos.
Now the 'death stare' has become a work of art by Livia Tsang, a Canadian tattoo artist.
Commentator Fail Of The Day
A Canadian commentator handed victory in the men's 200m medley on Thursday to Ryan Lochte - despite the fact it was Michael Phelps who took Olympic victory.
A rather confused Elliotte Friedman "got my lanes mixed up" and covered the entire race hailing it as a historic win for Lochte.
Because You're Just Focussing On Other Things...
Australian footballer Lisa De Vanna's mind was clearly on the game when she tried to grab a drink during her team's match against Brazil...
Medal Table At Close Of Day Seven
Team GB Ones to Watch On Day Eight
Greg Rutherford in the long jump at 12.50am on Sunday morning.

Mo Farah in the 10,000m, beginning at 1.25am on Sunday morning.

Jessica Ennis-Hill in the heptathlon 800m finale at 2.53am on Sunday morning

The rowing eights finals start at 3.04pm.

The women's team pursuit takes place at the velodrome from 8pm.

Cyclist Becky James, 2013 world champion, is taking part in the keirin. The final will take place fat 9.33pm.

Fran Halsall is taking part in the women's 50m freestyle. The final is at 2.03am on Sunday morning.

The Team GB's women's hockey women face the US in hockey at 22:00.
The Best Of The Rest
Jamaica's Usain Bolt will take part in his first 100m sprint in the first round of the men's competition at 4pm.

Two-times Olympic gold medallist Shelly-Ann Fraser-Pryce, also from Jamaica, will be defending her title in the women's 100m at 2.35am on Sunday morning.

We'll be rounding up the win, fails and funniest moments of each day at the Rio 2016 Olympics. You can find it online or sign up for the Daily Brief email here.