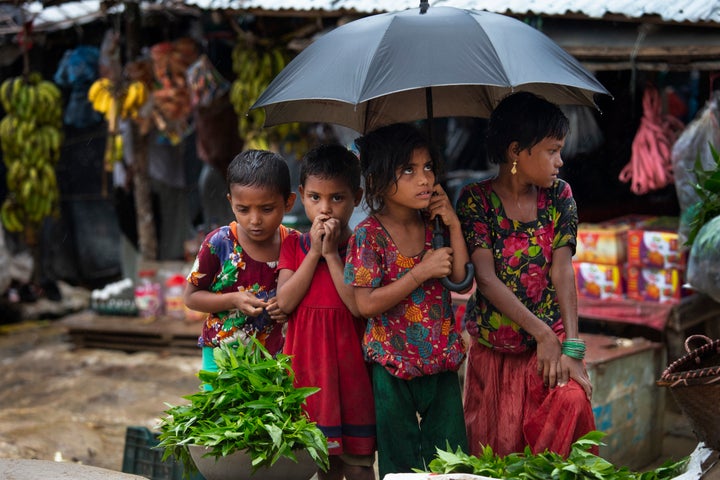 This weekend marked a year since violence in Rakhine State saw a huge upturn and resulted in hundreds of thousands of people being forced to leave their homes. This was not a one off and is the culmination of years of increasing tensions and disproportional response from the government and military. The August report from the International Organisation for Migration estimated that since the violence began a year ago, 706,000 Rohingya have fled Myanmar and arrived at Cox's Bazar in Bangladesh.
Almost a year since Mark Field, Minister for Asia and the Pacific, acknowledged that what was happening in Rakhine State "looks like ethnic cleansing", there has not been sufficient action to address the needs of the million Rohingya refugees in Bangladesh nor bring those responsible to justice.
Earlier this month, the US Treasury imposed sanctions on "four Burmese military and Border Guard Police (BGP) commanders and two Burmese military units for their involvement in ethnic cleansing in Burma's Rakhine State and other widespread human rights abuses in Burma's Kachin and Shan States." There is also the initial report from the UN Independent International Fact-Finding Mission on Myanmar. This report recommended "referring the situation to the International Criminal Court or alternatively by creating an ad hoc international criminal tribunal" to ensure Myanmar are held accountable for crimes under international law including genocide, crimes against humanity and war crimes. The report also acknowledged failures of the United Nations as a fully and sufficiently address human rights concerns.
With these, as well as other forms of international pressure and interest, Britain has an opportunity to show strong leadership. The new Foreign Secretary has the potential to make a serious attempt to have an impact on the ground for the hundreds of thousands of internally displaced people and refugees due to the actions of the Myanmar military.
There are three things that need to happen. First, provide the immediate humanitarian necessities required to support the basic needs of refugees in Bangladesh, and those who have fled their homes in Rakhine State but remain in Myanmar. Second, invest in the future of the refugee Rohingya in Bangladesh including the children and young people. Finally, conduct a review of policy in how the British and international organisations work with Myanmar going forward, including the specific situation inside northern Rakhine state and the potential for repatriation of Rohingya without facing imprisonment or violence.
The government must also learn from the mistakes leading up to this crisis, ensuring it doesn't require a humanitarian crisis before Britain sits up, takes notice and acts.
Heavy rainfall for the past months during the monsoon have contaminated water and left sanitation in a poor state with 39,012 households across Cox's Bazar being identified as being at risk of flood and landslide. Despite the hard work of the many humanitarian, International and non-governmental organisations as well as the substantial help and assistance from the local hosts; basic services are still stretched and cannot meet the huge needs of the refugees.
A UNICEF report published last week showed that there is a real and present danger of a 'lost generation' of over half a million Rohingya children who have fled from Myanmar. They call for strong, quality education with a particular focus on ensuring women and girls have access. This is the kind of development we set out in 'A World for the Many not the Few', ensuring people's basic needs are met but also something that is supportive and enabling; allowing people to reach for and achieve their potential. This includes areas such as education but also necessitates continued alertness to current and potential risks such as exploitation and trafficking which can particularly affect young women and girls.
With the British government leading on Myanmar at the Security Council, it is vital that those responsible for crimes against humanity, human rights violations or war crimes are brought to justice. But this alone is not enough. We must advocate for a positive and long-term strategy to support those affected in both Myanmar and Bangladesh. Rohingya deserve to live and grow with the same protections and rights as any other community.
Preet Kaur Gill is the Labour MP for Birmingham Edgbaston