Three years ago, emergency medical technician Dan Farnworth arrived at a scene that changed his life - a child who had been abused was critically unwell and his team had to act fast.
"We had no time to prepare and were instantly thrust into a battle to save the child's life," Dan recalls. But his team couldn't save the child, who tragically died later in hospital.
The injustice and horror of the incident left Dan spiralling into despair. He had vivid flashbacks and struggled to sleep due to nightmares. "There was this sense of impending doom, like something bad was about to happen. I became scared to leave the house. It was like being in a hole and the world was passing by above my head. But I didn't know how to get out."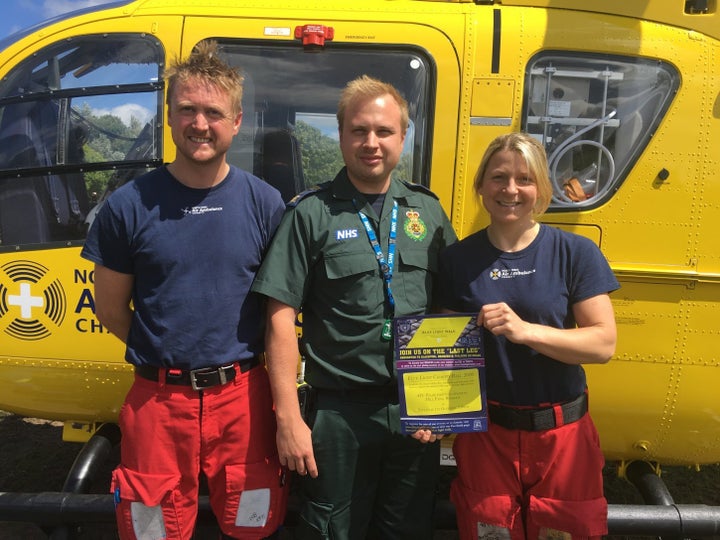 Dan was initially afraid to ask for help, incase anyone thought he was incapable of doing his job, but eventually he contacted his friend and colleague Rich Morton, who replied within minutes: "I'm on my way round, put the kettle on." This visit marked the start of recovery for Dan: "Rich helped me understand that it's okay to feel like this. I already knew what I had to do, but needed someone to help me along the way to seek support."
He spent a total of five months off work and attended counselling following a diagnosis of post traumatic stress disorder (PTSD). He calls it "post traumatic resilience" however, adding: "It's made me a stronger person, a better clinician at work and makes me want to help others."
When he returned to work he decided to share his story with others and was overwhelmed by the number of fellow emergency service staff who came forward and admitted they had also struggled with their mental health. It didn't take long tor realise the sad truth: "There's not enough support out there for people struggling with their mental health, especially in the emergency services."
So Dan and Rich decided to do something about it, creating Our Blue Light, a large network of emergency services colleagues - police officers, NHS staff, firefighters, paramedics - who come together to discuss health and wellbeing. "We try and come together to create solutions to common problems," he says.
They've already helped hundreds of people including one firefighter based in Preston who suffered badly with depression and anxiety. He began engaging with Dan and Rich, and has since helped to raise awareness of mental health among firefighters and is supporting other colleagues too. Dan believes this focus helped the firefighter with his own mental health.
The organisation, which Dan and Rich run in addition to juggling full-time jobs, has held walks from the east of England to the west of the country in order to raise awareness. "We called in at every police station and ambulance service along the way to raise awareness," says Dan.
The pair received an award for being 'mental health champions' at the NHS Heroes Awards, which took place on 14 May and aired on ITV on 21 May. The awards, hosted by Paul O'Grady, honoured "the incredible medical staff and also the dedicated work of porters, cleaners and of course the army of volunteers without whom the NHS could not function".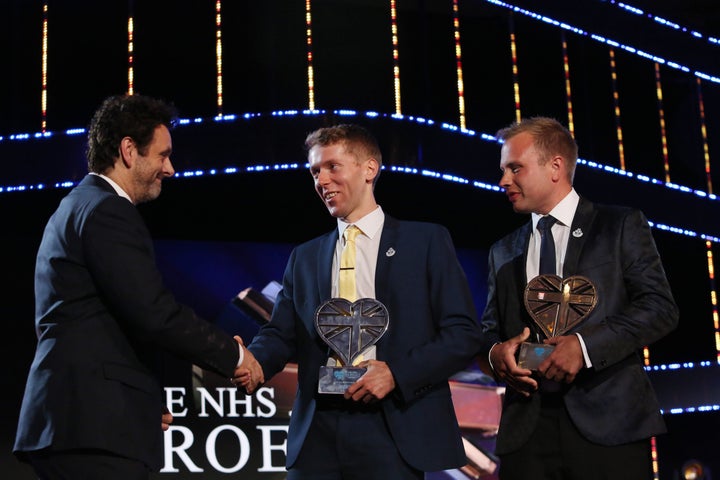 Prince William, Sir Elton John, Dame Shirley Bassey, Boy George and Amanda Holden were some of those who paid tribute to the life-changing work of NHS staff and volunteers.
Dan says it was "amazing" to receive an award, adding that there were some "amazing stories and amazing people" at the ceremony - one of those is Betty MacIntyre from Scotland who won an award for being a 'hero nurse'. The 70-year-old worked for the NHS for over 50 years and is the longest serving midwife in Scotland. Errol McKellar, 59, from London won the 'hero volunteer' award. The garage mechanic survived prostate cancer and now offers male customers a 20% discount if they get their prostates checked. He has advised 3,000 people about the disease and 46 men have been diagnosed as a result.
"There wasn't a dry eye in the room," Dan recalls.
He and Rich both hope to get Our Blue Light registered as a charity this year. "We aspire to be able to support colleagues by signposting and raising awareness, but also providing early intervention support," he says. "We also want to support the families of emergency staff too."
He says people don't tend to think the emergency services, people who wear uniform, are impacted by traumatic events and poor mental health. "But it's uniform, not a suit of armour," he adds.
'The NHS Heroes Awards' aired on ITV on 21 May at 8.30pm.
HumanKind is HuffPost's celebration of kindness, featuring people who do incredible things for others or the planet – transforming lives through small but significant acts. Get involved by joining us on Facebook or telling us about the people who you think deserve recognition for their kind works. You can nominate them here or share your personal story by emailing natasha.hinde@huffpost.com.