You're reading Here, Try This – our month-long plan encouraging you to try something new every day.
With so many of us working from home right now, the chances are you're probably sick of staring at the same four corners all day, every day.
So, why not spruce them up? Repainting your home, even a single wall, is a simple way to bring some pizzaz to your life. And whether you own a place or rent, you'll be surprised at what can be achieved – check out the Instagram account @ColourfiedHomes for ideas, as well as Medina Grillo's How I Rent video series, which champions renters who decorate.
But while there's plenty of inspiration online, it can feel scary committing to a new colour scheme in practice. Something about splashing paint on a wall feels permanent – what if I get it wrong? – when in fact it's anything but.
But don't feel limited by current trends. Here's a guide to tapping into your own colour personality and some DIY tips for brightening up your space in no time.
Plain, boring walls – begone!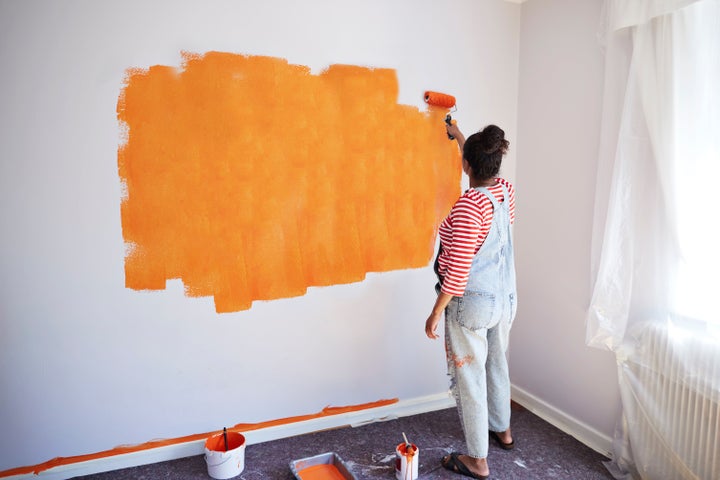 Think through your space
Colour is such a powerful tool, it's understandable why so many struggle when it comes to choosing the right one. Get it wrong and the colour will shout at you when you enter the room; nail it and you won't be able to resist the urge to stroke your walls every time you walk past.
For the colourphobes out there, Claire Matthews, a colour consultant at Dulux, recommends working out the purpose of a particular space before you begin.
"Knowing how you're going to use that space will help determine the colours that you should go for. It also comes down to looking at your existing fixed elements such as carpets, hardwood flooring, doors, windows, ceilings and skirting boards, as well as furnishings to see if they compliment one another," she explains.
"Next, evaluate the light of the room. If it's a bright, airy room with plenty of natural sunlight opt for bright, colourful tones. For dark spaces stick to warm, neutral colours such as pale greys, blues and yellows, which give the illusion of a bigger room for maximum lightening effect."
Testing is always worth it
Browsing paint swatches can be overwhelming. If you're undecided on colours, pick up some tester pots. Paint your options onto white paper and stick them up on your wall with masking tape, standing back to see which one looks best. Make sure to check at different times of day and take the whole room into account. The same shade can look totally different depending on levels of natural and artificial light.
Even once you've broadly picked a colour, you'll be surprised by how distinct brands and shades of it can look. This is because most paint colours have an undertone – the result of blending more than one paint together. Even a basic white can have undertones of blue, green, pink or yellow – and this can have a big impact on the finished effect.
The easiest way to work out the undertone is by comparing your choice of white, say, to the whitest white on the swatch. You'll also see the difference when you test different shades next to each other on the wall, as both light and fixtures – floorboards, doors and furniture – will draw it out.
Paint company Lick offers cheaper peel-and-stick paint samples in place of traditional tester pots. "Our ethos is making decorating easy," lead colour specialist Tash Bradley tells HuffPost UK. "The stickers are on a special fabric that our paint sticks to and it's a complete 100% true colour match."
In regular times, Bradley recommends taking samples with you when furniture shopping, too, "to see if the colour goes with your new sofa, rug or cushions".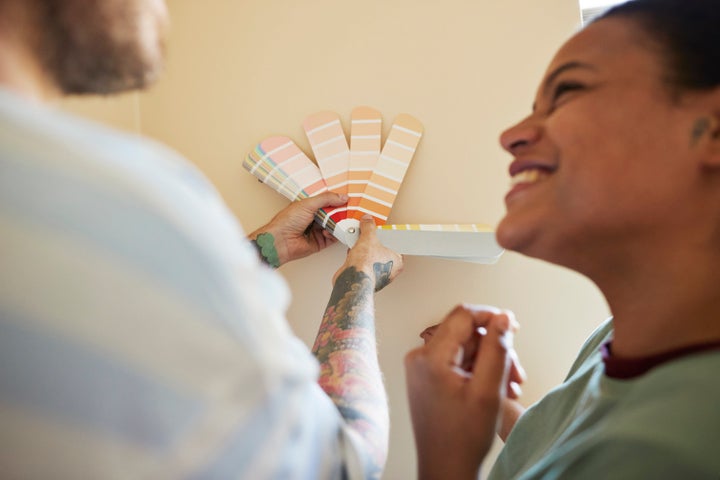 Pick the colour that's right for you
Your perfect shade might be something bold and beautiful. But even a lick of brilliant white can have a bigger impact than you might think.
"People are naturally drawn to certain colours. There might be a reason why you love or hate those colours," says Bradley. "Having an intense solid colour can be amazing and work in some cases. If you walk into a bright yellow room, you're going to know about it and it's visually stimulating."
But trust your instincts. "At the moment, I'm really into warm neutral tones such as off-whites, beige, soft pink," she says. "These background colours give way for you to introduce a bright blue sofa, lots of green plants and a bright print on the wall. You don't have to bring bright colouring on the walls. Having colourful soft furnishings is [also] a really lovely way to introduce colour into a home."
Prep your space and surfaces
Before you pick up your roller, plan your mode of attack. If you can, take as much furniture as possible out of the room, or place it in the centre of the room and cover it with protective sheets to minimise accidents and free up space when painting. This goes without saying, but wear old clothes that you don't mind getting covered in paint.
Before you begin painting your walls make sure the surfaces are prepared for the job so you're left with a finish to be proud of. "It's worth spending a little extra time and care over prepping your walls before you paint, as you'll get a much better finish," Matthews advises. "No matter the material of your walls, always dust and clean them and make sure they're free from any grease, otherwise it'll show up and you'll have uneven lumps and bumps. Protect wall sconces and wall trims with painter's tape.
"Do a thorough job of adhering the tape before you start painting because it'll stop any of the paint bleeding onto unwanted parts and save you a headache."
Unleash your inner artist
Once you have the prep in place, stop putting things off and just go for it! Sure, slapping paint on your walls is a daunting task, but a fresh coat can make all the difference to the atmosphere of your room and your mood – you'll be surprised how lifted you can feel even applying that first stroke and stepping back.
Remember, you're not limited to having four walls in the same colour. Consider painting an accent wall in a bold hue. People often pick the wall behind a bed, bookcase or TV for that accent – but here's a tip from decorator Fara Beloch from women-owned firm, Painting Places. What's the first wall you see through the doorway from the hallway? Make that your accent wall and it will pop and help creative movement through your home..
Alternatively, add colour to unusual areas such as inside a door arch, ceilings or even inside cupboards. "Being clever and adding colour to unexpected places really gives the room that wow factor and it can be very effective," Bradley says. "You can be really creative with paint and it can offer striking visuals. I've had clients that have asked for a painted square behind your bed to make a fake headboard and 50/50 tide lines are really cool to break up a room."
This new year, we focus on fun, not denial (because we've all had enough of that). Follow our month-long plan, with a new 'Here, Try This' idea each day, spanning easy ways to engage your body and mind, inspiration for your food and home, and tips for boosting how you feel – inside and out.