The graphic images were shared in an effort to highlight the reality of the drug, use of which has reached epidemic levels in the American state.
When officer, Kevin Thompson, approached the Ford Explorer he discovered the pair slumped in the front seat.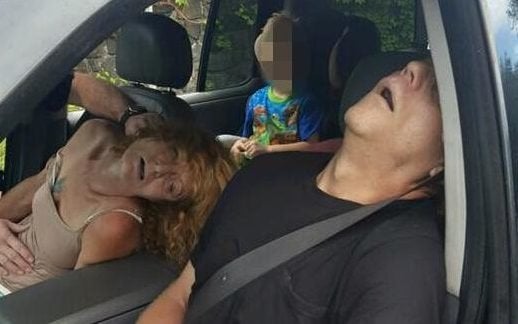 Acord, who was driving, could not hold his head up and Paesk was turning blue.
He called for an ambulance and they were given the drug Narcan which reverses the effects of opioids.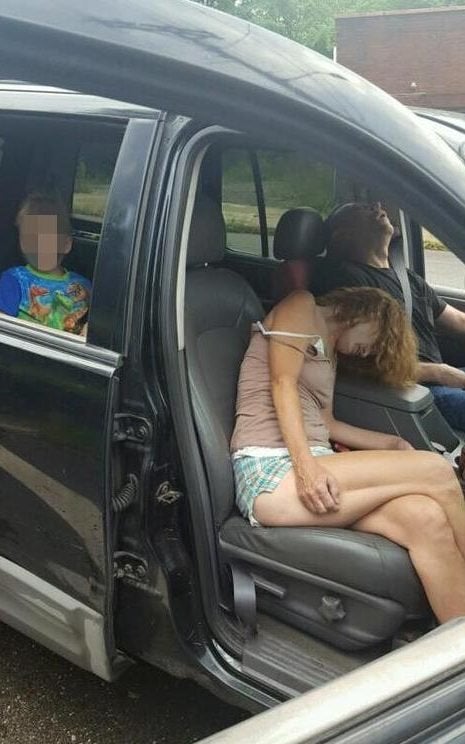 The city Police department recently responded to a call of an incapacitated driver, attached are photos from the scene along with the actual police report. The city administration works hand in hand with our men in blue to combat this epidemic and together with the law director we have made the decision to release the attached.

We feel it necessary to show the other side of this horrible drug. We feel we need to be a voice for the children caught up in this horrible mess. This child can't speak for himself but we are hopeful his story can convince another user to think twice about injecting this poison while having a child in their custody.

We are well aware that some may be offended by these images and for that we are truly sorry, but it is time that the non drug using public sees what we are now dealing with on a daily basis. The poison known as heroin has taken a strong grip on many communities not just ours, the difference is we are willing to fight this problem until it's gone and if that means we offend a few people along the way we are prepared to deal with that.
The couple were arrested and Acord was sentenced to 180 days in jail on charges of driving under the influence and endangering children.
Pasek pleaded not guilty to charges of disorderly conduct, endangering children and not wearing a seatbelt.
The boy is in custody of children's services, according to an affidavit.
The decision to publish the photos prompted a debate over the real causes of the epidemic and whether such actions by police would have any effect on combatting the problem.
In 2015, a record 3,050 people in Ohio died of drug overdoses according to official figures.
Vox journalist, German Lopez, wrote: "Shaming the parents, as many people were quick to do on social media, won't help them break their drug addiction. Getting them — and other drug users — medical care and treatment for a drug abuse disorder will.
"In fact, the best evidence shows that the most promising way to deal with opioid addiction is by treating it as an illness — and even giving people medicine to treat it. Such medicines, known as methadone and buprenorphine, are opioids that effectively tame people's cravings for opioids like painkillers and heroin without producing, when taken as prescribed, the kind of euphoric high that painkillers and heroin do."
The full article can be read here: