An administration worker with Paris police killed one woman and three men in a knife attack at the force's headquarters in central Paris on Thursday before he was shot dead by an officer, officials have said.
According to French news channel BFM TV, the attacker was armed with a ceramic knife that could have bypassed metal detectors and was a recent convert to Islam though there is no indication at this time that the attack was religiously motivated.
Loic Travers, local head of the Alliance police union, said the incident happened around 1pm on Thursday at the headquarters, which are located just across the street from Notre Dame Cathedral.
He added the attack appears to have begun in an office and continued elsewhere inside the large compound.
A police official and member of the collective "Police up in Anger", which advocates for better conditions for officers, was quoted by franceinfo radio as saying the assailant had experienced issues with his supervisor.
"I know there were tensions between him and his direct supervisor," Christophe Crepin told franceinfo. "I do not think this is a terrorist act."
Emery Siamandi, an employee at police headquarters, said he heard gunshots and immediately saw two officers come outside an office weeping.
A third officer, who Siamandi described as the person who shot and killed the assailant, came out on his knees, also in tears.
The attack came a day after thousands of officers marched in Paris to protest against low wages, long hours and increasing suicides in their ranks, PA Media reports.
A spokesman for Paris police said he had no comment.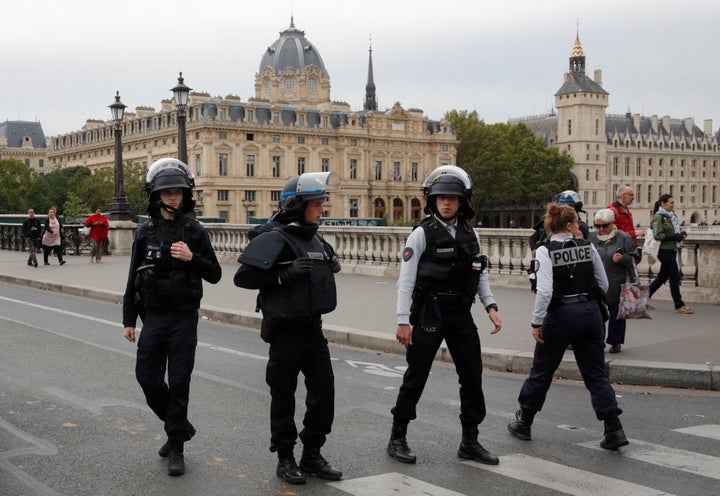 Footage from the scene posted on social media showed police initiating a large cordon and ushering people away from the scene.
The Metro station near where the attack occurred has been closed.
It was not immediately clear how far inside the building the assailant got before police shot him.
French media say the country's interior minister and the Paris prosecutor were on their way to the scene.
An official at the Paris prosecutor's office said its anti-terrorist unit had not yet been called upon to investigate.