Jeremy Corbyn's office ordered that a raft of "moderate" Labour MPs should be stripped of extra campaign funding in the 2017 general election, a senior former party official has revealed.
Patrick Heneghan, who was executive director for elections and campaigns, said that he was asked to withdraw top-up spending earmarked for deputy Tom Watson, Yvette Cooper, Rachel Reeves and a string of other MPs seen as critical of his leadership.
The 14-strong "hitlist" – seen by HuffPost UK – also included current shadow cabinet ministers Kate Green and Bridget Phillipson, Tony Blair's successor Phil Wilson, ex-minister Caroline Flint and former leadership hopefuls Dan Jarvis and Angela Eagle.
Heneghan was instead given an alternative list of MPs who should benefit from special central campaigns cash, including close Corbyn allies John McDonnell, Ian Lavery, Andy McDonald, Jon Trickett and veteran leftwinger Paul Flynn.
Seats like Lavery's and Trickett's had majorities of more than 10,000, as did many of those held by "Corbynsceptics" such as Watson, Reeves and Jarvis. Many of the constituencies held by both factions had large numbers of Brexit-backing Labour voters who distrusted Corbyn.
In his submission to a party inquiry into alleged "sabotage" of Corbyn's leadership, the former elections chief admits that he defied the order to axe funds from the prominent MPs.
He further confirms that and other officials used a secret unit to keep cash and campaigns material going into the seats that internal polling suggested were at risk.
Heneghan defended the move because it was legally authorised by general secretary Iain McNicol, and said that other seats helped by the secret unit – Ashfield, Newcastle-Under-Lyme, Barrow, Bishop Auckland and Dudley North – narrowly avoided falling to the Tories.
Corbyn supporters insist that the creation of a secret campaign unit without the knowledge of the leader is clear proof of disloyalty by senior staff.
They argue that many of the "moderates" had big majorities that got even bigger in 2017 after the Labour leader defied the early polls and denied Theresa May her majority.
They also argue that Labour could have won the election if it had put more effort into taking Tory seats than defending its own. Among the seats where more cash was requested by Corbyn's team were Gower and Derby North, which the party went on to take from the Conservatives.
But Heneghan insisted that the 2019 election – which saw the loss of safe seats like Watson's West Bromwich East, Wilson's Sedgefield and Flint's Don Valley – proved the need to try and protect such constituencies two years earlier.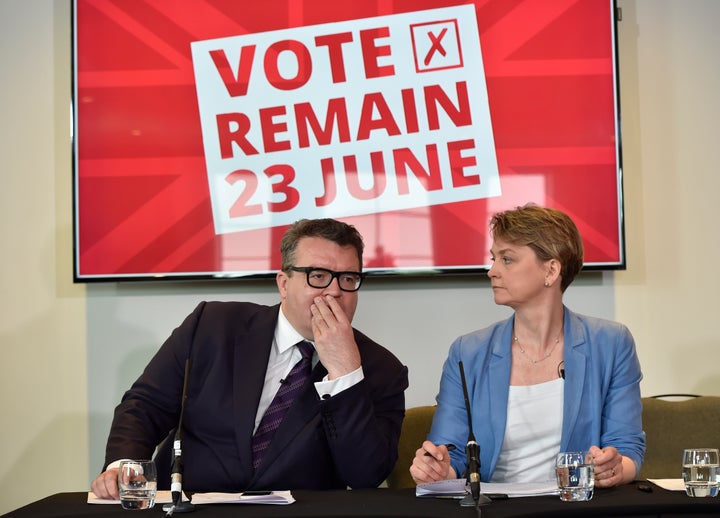 The former party official will be a key witness to the independent inquiry by Martin Forde QC into a leaked dossier on the party's anti-Semitism row that included claims senior HQ staff actively sought to undermine Corbyn.
As part of a 60-page submission to the Forde inquiry, supported by 100 documents, Heneghan also revealed that during his stint leading the People's Vote campaign he had approached Corbyn's office in the 2019 election campaign with an offer to work with the Liberal Democrats.
Heneghan suggested that he had feedback from the Lib Dems that they and Labour could agree not to stand against each other in 50 seats, a move aimed at depriving Boris Johnson of a majority.
However, when he made the suggestion, a key member of Corbyn's office replied with a blunt message: "We don't do deals with the Lib Dems. If people are so desperate to stay in the EU rather than have a socialist government that's their choice."
Heneghan is one of several former officials who are suing the party for libel and data breaches over the leaked anti-Semitism report, claiming that it selectively quoted private WhatsApp groups out of context and sought to blame them for the 2017 failure to get Corbyn into No.10.
Many on the Left of the party were furious at what they deemed the racist and sexist remarks used in some of the messages and have demanded the suspension and possible expulsion of those involved.
In his first public rebuttal of the claims of "sabotage", Heneghan admitted that he had helped set up a secret campaigns unit in 2017 – based in Ergon House, Westminster, away from party HQ – but said it was justified because of the threat to safe seats revealed by internal polling.
"We were not prepared to see Labour seats sacrificed on the altar of those clashing egos as happened in 2019," he said. "We aimed to fulfil the constitution's number one defining objective as a Party – to win seats in order to maintain a Labour Party in parliament."
Heneghan said that just before the 2017 election campaign, a senior official in Corbyn's office read out to him a list of MPs – by name, rather than their constituency – that should be removed from the key seats that were earmarked for central cash help.
The names, dubbed a "hitlist" by party insiders, were almost all MPs seen as critics of Corbyn.
"On 19th May one of most senior members of Corbyn's team gave me a list of seats that should be defunded. I countered that our latest polling showed some of these seats as being very marginal. 'I don't care' was the response," Heneghan said.
The 'hitlist' of seats in full:

Tom Watson – West Bromwich East
Yvette Cooper – Normanton, Pontefract and Castleford
Caroline Flint – Don Valley
Dan Jarvis – Barnsley Central
Kate Green – Stretford and Urmston
Bridget Phillipson – Hougton and Sunderland South
Rachel Reeves – Leeds West
Chris Bryant – Rhondda
Seema Malhotra – Feltham and Heston
Angela Eagle – Wallasey
Kevan Jones – Durham North
John Healey – Wentworth and Dearne
Phil Wilson – Sedgefield
Neil Coyle – Bermondsey and Old Southwark
"I was told if this leaked, I would be 'going in the Skwawkbox' [a Corbyn supporting blog]. The seats to defund were largely MPs considered by Corbyn's team to be political opponents – many of them would fall to the Tories in 2019.
"I was also given a list of seats that needed extra funding. Most of these had majorities of over 10,000 but were strong allies of the leadership."
The former party official said that during the election there were "many conversations" within the party about the right balance between being defensive in the early party of the campaign and going on the attack against Tory seats later.
"This is nothing new. Every election campaign involves disagreements about resources. But disagreements are not sabotage – they are part and parcel of any professional campaign," he said.
"We fought an offensive campaign and a defensive campaign – as that was the only way to ensure any gains were not cancelled out by losing Labour seats. I have heard it said that Labour could have been in power for just over 2000 more votes in the right seats. It's also true that the Tories could have won a majority by moving a fewer votes the other way.
"Jeremy's team asked us to expand the target list to include 93 offensive seats. We did. These seats received extra support, extra digital advertising and key seat visits. But just because we were going on the offensive, I considered it highly irresponsible to take other seats off the defensive list."
Instead, a new internal unit called the "Bespoke Materials Service" or BMS, was set up without the knowledge of Corbyn or his team but with the full approval of general secretary McNicol.
It maintained cash and other help for the seats on the "hitlist", with between £10,000 and £40,000 earmarked for each.
"We were in a bind. We felt it was pointless to try and discuss this sensibly with Jeremy's staff," Heneghan said. "Apart from the existing attempt to funnel money on a factional basis, Corbyn's team were simply not prepared to take polling information seriously.
"But we knew we couldn't acquiesce in allowing these seats to fall. We ensured these constituencies continued to receive support." Other seats were added when polling showed them particularly at risk. They scraped home with much reduced majorities, and eventually fell to the Tories in 2019.
"The cracks were appearing in the Red Wall and people in the North and Midlands heartlands were to starting to swing to the Tories," he said.
"But this operation helped us hold on in constituencies like Newcastle Under Lyme, Ashfield, Barrow, Bishop Auckland and Dudley North. Without the defensive campaign we would have lost many more. Indeed, two years later these seats and too many others like them would be turned blue while the Labour campaign hubristically attempted to gain unwinnable safe Tory seats."
Heneghan said that canvassing returns and polling showed Corbyn was unpopular in key constituencies and so different campaign materials were needed that focused on the local MP or the Labour brand rather than Corbyn himself.
"This is not sabotage – it was the right approach to win as many votes and seats for Labour as possible. Targeted materials happen in every single election campaign. Our job as organisers is to make objective judgements on what is necessary to win a constituency, not go along with an Emperor's New Clothes fantasy that the leader is popular in every demographic in every constituency."
In some cases, MPs like Phil Wilson wrote letters to voters distancing himself from the leader. "I am no supporter of Theresa May and I am no supporter of Jeremy Corbyn – the only people I support are you, the people of Sedgefield constituency," Wilson wrote.
Heneghan said: "Recent weeks have seen the growth in conspiracy theories suggesting there was some grand plan to 'throw' or 'sabotage' the 2017 election. This is not the reality but simply a deflection tactic to absolve the architects of the 2019 campaign of their culpability for a disastrous result.
"If Corbyn's team had learned the right lessons from 2017 then Labour would not have lost so many seats last year. The 'stab in the back' myth is their deflection from reality."
Heneghan insists that the leaked anti-Semitism report failed to include staff HQ messages of delight when Labour made gains in 2017. One message stated "Amazing, amazing, amazing" when the party won Reading East, while another about "Labour gain Crewe" was followed by "it's come home".
But many of Corbyn's supporters, both among sitting MPs and former staff, are still furious at leaked WhatsApp messages that appeared to show former HQ staff relishing the idea of Corbyn losing the election in order to allow him to be replaced by a more centrist leader.
They argue that while Corbyn himself was undoubtedly seen as a negative among key voters, the real reason for the heavy defeat in Red Wall seats was the party's backing for a second EU referendum as well as perceptions of splits among MPs.
The mood was summed up in one message sent by a senior Corbyn official to Heneghan last July: "If only 'moderates' hadn't wasted two years obsessed with a fucking second referendum, we could have convinced the north that economic and social transformation [was] more important in their lives."
Left MPs believe the deliberate decision to direct funds secretly to some seats without the knowledge of the party leader lays bare the disloyalty of party staffers. Many of them argue that no Labour leader could tolerate such conduct.
The four-person Forde inquiry panel is now expected to report "by the end of 2020", its website says. Corbyn, McDonnell and other senior figures have all submitted evidence.
When the deadline for submissions closed earlier this month, Diane Abbott tweeted "Officials at the very top of @UKLabour said stuff like "Abbott is truly repulsive" "Abbott literally makes me sick" and conspired with media against me. Now claiming remarks taken out of context. So let's have full publication of all communications".
The Equalities and Human Rights Commission is set to deliver in coming weeks its final report into Labour's record on dealing with anti-Semitism.