The personal trainer and grandfather, 50, had formed a group called Ark Security with friends to protect young Black protesters from getting caught up in violence at demonstrations.
On that day, they were acting as "overseers" to make sure those who needed help were taken safely to emergency service workers.
Hutchinson and his friends spotted a white counter-protester, who had ventured to the Black Lives Matter crowd with friends, being dragged by young Black protesters through a crowd and thrown on the steps near the Royal Festival Hall.
They swiftly came to his aid; Hutchinson scooped him up, put him over his shoulder and started marching towards the police with him.
The fitness buff made global news headlines after a photograph of his feat was captured by Reuters news agency photographer Dylan Martinez.
"It wasn't just about saving a life, it was also about saving a narrative – and stopping it being derailed with something as negative as maybe someone dying, for example," Hutchinson reflected during a candid interview with HuffPost UK.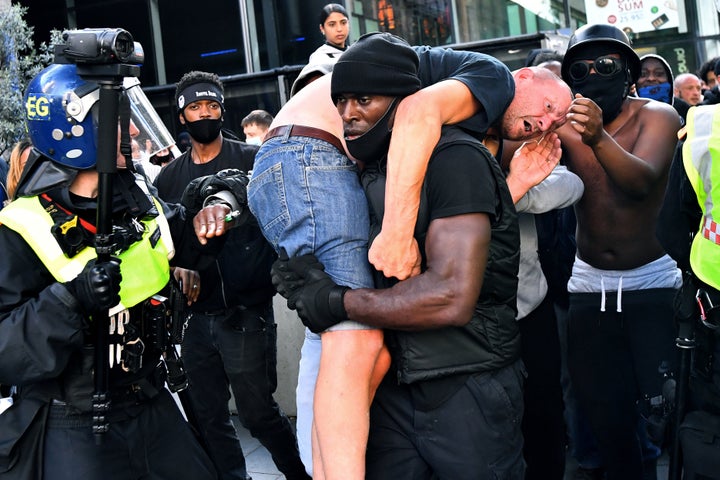 The man was Bryn Male, 55, a former British Transport Police officer. "I'm not a racist – just a passionate Brit," he told The Sun. "I would love to stand there and shake that man's hand who saved my life."
Hutchinson has yet to hear from Male and mass lauding of his efforts – as opposed to condemnation of the far-right protester's antagonism – caused some Black campaigners great concern.
Parts of the media were accused of being "fixated" on this image while illustrations of it popped up on billboard spaces in gentrified areas such as Peckham and Lewisham in London.
However the politics of respectability and idea that Black people must respond with kindness when faced with the threat of racism or violence does nothing to protect Black people themselves, campaigners argue.
"I understand how some of us can feel that only the Patrick Hutchinsons of this world may get the media spotlight because they've been so benevolent, or behaved in a 'turn the other cheek' manner, but people need to understand that that's just me and we're all different," he said.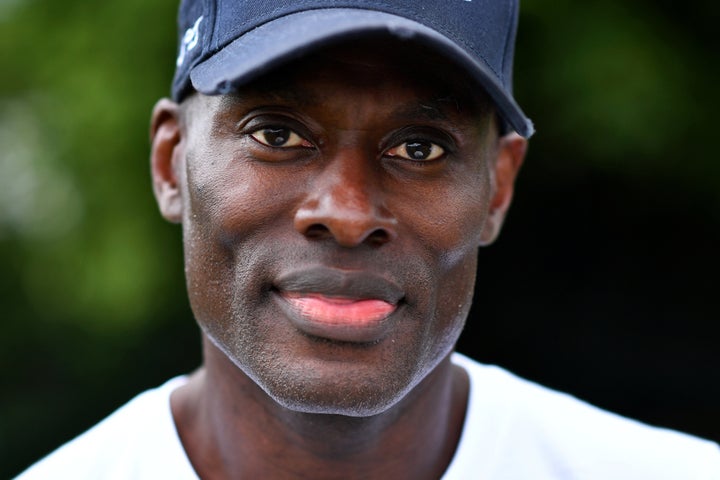 "Don't think that you can just be out there disrespecting Black people on a daily basis and expect a Patrick Hutchinson to be there at every juncture. Like I've said previously, if you are racist towards a Black person then as they say on the streets – 'if you chat shit you get banged'. It can happen – and it has happened on numerous occasions.
"I wouldn't condone violence or tell people to react in that manner but I can definitely say that those people in those particular instances have deserved what they've been on the end of because of their behaviour."
He added: "People just need to be more respectful to one another in general and you have to move with a kind heart and do what's right in life. You can't be disrespecting people, especially from a racial footing, and expect nothing to happen."
In September, a mural of Hutchinson at the Black Lives Matter protest was painted by street artist Lionel Stanhope; within days it was remixed with the words: "We don't rescue racists in Lewisham, we run them out" written over the top.
Former Met police officer Adam Pugh was responsible for the wording, which was a nod to 1977 Battle of Lewisham, and told HuffPost UK at the time: "It's the new symbol of gentrification in Lewisham; it popped up in Peckham Rye last month and I'm seeing the way that white people are latching onto that image as a means of promoting respectable Blackness."
On that note, Hutchinson said: "The artist [Stanhope] reached out to me to let me know about the mural. He then asked me, when it was defaced, to perhaps put a message out there.
"I told him if you put yourself in the position of Black people, what we've been through and are going through, I don't think putting a mural up in a predominantly Black neighbourhood like that was going to help.
"Okay so you put it up and tomorrow we watch another Black man killed on the news? It's not what people need to see on a daily basis.
"People get it, it was done, it was a good, kind act but people don't need to walk past it everyday on their way to work.
"The fact that the mural got defaced didn't surprise me at all and I said that to the artist. I was not offended in any shape or form. I understand the sentiment but you've got to look at the bigger picture. Black people have been mistreated for hundreds of years so you can't really paint that in a Black neighbourhood and expect nothing to happen to it."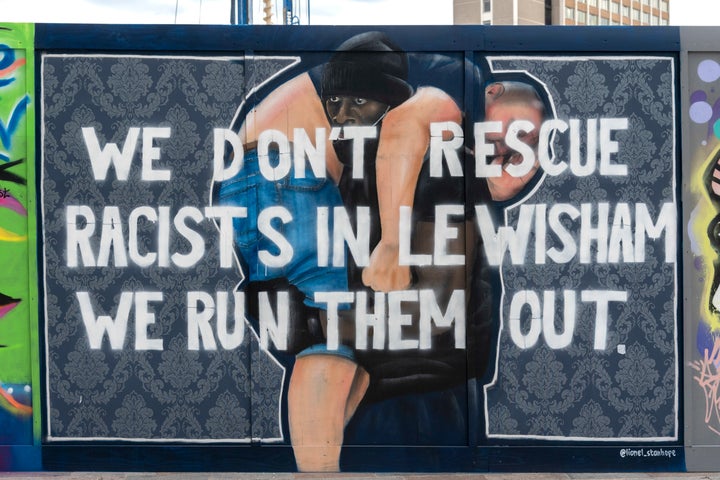 The past six months have been utterly life-changing for Hutchinson and he is using this new-found fame to advocate for positive change.
Alongside his friends, the activist has set up a charity, United to Change and Inspire (UCI), to fight racial inequalities. He has also written a book, co-authored by a young poet, Sophia Thakur, titled Everyone Versus Racism: A Letter to My Children.
"Through UCI we're going to be working grassroots within the community for the community, we're gonna be tackling education, mental health, wellbeing and reform, youth development," he explained.
"As well as doing that we want to be a part of policy change, speaking to ministers, working with the Metropolitan police and we hope to be the glue in between communities and decision makers, working with the Met. There are things happening the background at the moment. Once the cameras are off those are the things I'll be championing."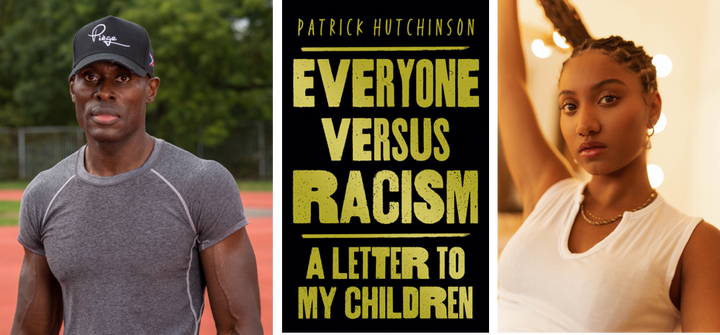 Hutchinson also plans to work with pupil referral units which, to use his words, "seem to be overrun with Black children", to help improve youth prospects therein.
"I definitely think it feels different. The murder of George Floyd was the worst thing I've ever seen – when I watched it, I cried," said the father-of-four.
"There have been so many Black people who have murdered at the hands of the police but this incident was the straw that broke the camels back. It was an 'enough is enough' moment. It sent shockwaves around the world.
"I think it's gonna take time and I honestly believe that the younger generation, my grandchildren, will be the beneficiaries of the stuff we're doing now which is why we've got to keep the struggle going."
Hutchinson, who has four grandchildren, continued: "That's why people mustn't come with this attitude of 'nothing is ever going to change' because it may not be us who see it but I think our youngsters will. Think about it: when you go back in history, things have changed so much since then. Time does move on and things do improve.
"And educating the younger generation is probably the biggest key of all – the thing is systemic racism, unconscious bias, are part of society. We need to change this mindset of everybody from a young age."
Popular in the Community