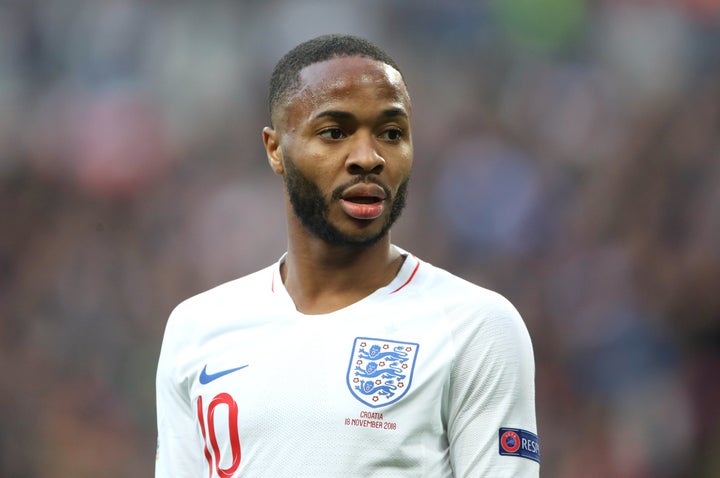 Raheem Sterling has blamed media coverage of young black footballers for fuelling racism in the UK, a day after he was verbally abused during a Premier League match.
Twitter users highlighted a first-half incident when a supporter appeared to abuse the Manchester City forward in a match against Chelsea.
Former Arsenal and England striker Ian Wright said "the bad old days are back" when sharing a video of the incident on Saturday, adding that Chelsea had been "shamed" by the fans.
The Metropolitan Police is investigating the incident.
Responding on Instagram on Sunday morning, Sterling suggested media coverage of black footballers "puts them in a bad light" which "fuels racism and aggressive behaviour".
His post included two online Daily Mail articles reporting on footballers buying multi-million pound homes for their mothers, both with starkly different headlines.
One from January is about Tosin Adarabioyo, a black Manchester City player. The headline reads:
"Young Manchester City footballer, 20, on £25,000 a week splashes out on mansion on market for £2.25million despite having never started a Premier League match."
The other headline refers to Phil Foden, a white player for Manchester City. It reads:
"Manchester City starlet Phil Foden buys new £2million home for his mum."
In his Instagram post, Sterling said: "You have two young players starting out their careers, both play for the same team, both have done the right thing which is to buy houses for their mothers who have put a lot of time and love into helping them get where they are.
"But look how the newspapers get their message across for the young black player and the young white player.
"I think this is unacceptable, both innocent and have done nothing wrong but just by the way it is worded this young black player is looked at in a bad light which helps fuel racism and aggressive behaviour."
The post made an immediate impact on social media. Henry Winter, chief football writer for The Times, said: "This is a big moment for the media and for football. It's a wake-up call.
"People have to listen to Raheem Sterling on the negative depicting of young black players in parts of the media and the knock-on effects."
Commentator Guy Mowbray, a familiar voice for football fans, said Sterling "deserves the highest praise" for how he handled the incident and called the fans in the video "pathetic".
The Daily Mail has been contacted for comment.
Referring to Saturday's incident, a Chelsea spokesman said: "We're aware of reports and video footage. We will investigate the matter and take the strongest possible action where necessary."
The Met Police said: "We are aware of a video circulating online in which it is claimed racial abuse was allegedly directed at a player at a Chelsea v Manchester City game at Stamford Bridge on Saturday, December 8.
"We will review the footage to determine whether any offences have been committed."
No arrests have been made, the Met added.
Chelsea are seeking to establish the facts of the incident.
Should any offence have been made, a life ban could be handed to the supporter or supporters responsible.
Anti-discrimination charity Kick It Out later issued a statement, which read: "We've received reports from a variety of sources about an incident of alleged racist abuse at the Chelsea-Manchester City game.
"We will forward those to Chelsea and offer our support in their investigation.
"Yet another great day of football damaged by prejudice."