Paul Golding is unwittingly raising hundreds of pounds for refugees whilst in jail.
The former Britain First leader was incarcerated for eight weeks on Thursday after admitting breaching a High Court injunction prohibiting him from entering any mosque in England and Wales.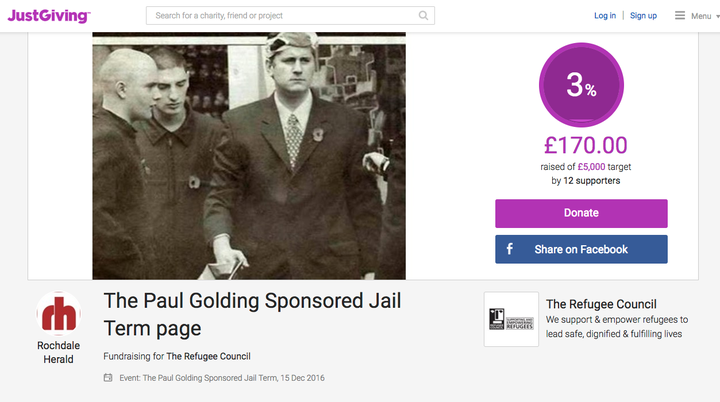 "Thanks for taking the time to visit our JustGiving page.

"Paul Golding, the former leader of the extreme-right 'political party' Britain First has sportingly agreed to spend eight weeks at Her Majesty's Pleasure in a bid to raise five faasand paands for The Refugee Council.

"Please show Paul how much you appreciate his efforts by digging deep and donating as much as you can afford for this worthwhile cause."
So far the appeal has raised £2100 in just over a day.
Golding, 34, stepped down from his position at the helm of the far-right group last month, handing the role to deputy leader, Jayda Fransen, citing "personal family issues".
He had pleaded guilty to the charge.
The group posted the news on their Facebook page, in a post that wrongly called Golding "Britain First leader".
In sentencing Golding, Judge Moloney said: "There can be no doubt that he thereby broke the injunction by instructing or encouraging those men to enter the mosque.
"Such an injunction is granted to prevent serious anti-social behaviour. This particular injunction was granted not merely to protect certain individuals but to preserve public order in the widest sense and throughout the country.
"The conduct restrained was by its nature of an extreme kind, calculated to increase tensions between different members of the community of this country, particularly to affront the Muslim community in relation to their religion.
"Such conduct was plainly calculated to give rise to the risk of provocation and violence and further extremism and tension on all sides of the community.
"These are most serious matters at the present time."