People aged between 56 and 59 years old can now book their Covid-19 jab online.
Hundreds of thousands of letters for the age group began landing on doorsteps on Saturday, and the latest round of invites comes after eight in 10 people aged 65-69 took up the offer of a jab, NHS England said.
More than 18 million people across England – more than one third of the adult population – have already received a vaccine.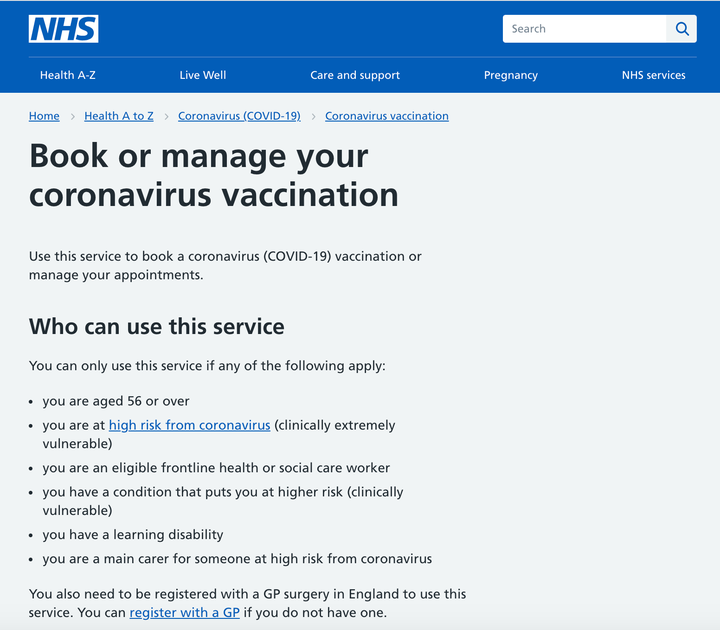 Health secretary Matt Hancock said more than nine in 10 of those aged 65 and over and nearly nine in 10 people who are clinically extremely vulnerable have received a first dose.
He said: "It's an extraordinary feat and we remain on track to offer a first vaccine to all adults by July 31.
"We are now inviting people aged 56 to 59 to get their jabs and I urge everyone eligible to come forward as soon as possible."
Those age 56-and-over can now book alongside people who are deemed both extremely clinically vulnerable and clinically vulnerable to Covid-19, frontline health and social care workers, people with a learning disability and people who act as a main carer to someone at high risk from Covid-19.
While the expansion of the roll out hasn't been formally announced, it appears that a number of newly-eligible people have already booked online after seeing the change reported on social media sites such as Twitter.
It emerged on Friday that more than a million people in England had now had their second dose of the Covid-19 jab, completing the course of immunisation.

A total of 1,034,068 second doses had been given by March 4, according to the latest figures from health agencies in the four nations.
Of those, 729,265 were given to people in England, along with 154,819 in Wales, 108,197 in Scotland and 41,787 in Northern Ireland.
Margaret Keenan became the first person in the world outside of a clinical trial to be vaccinated at Coventry Hospital on December 8.
Public Health England said on Friday that 21,358,815 people have now received at least one dose.