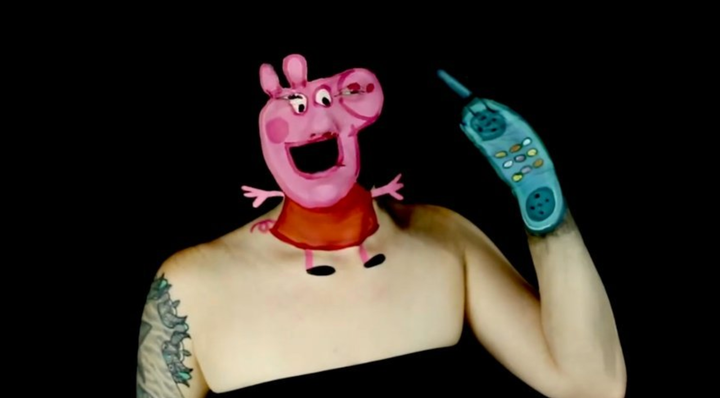 You can get Peppa Pig clothes, welly boots, bags, swimming costumes, backpacks, hats – but has your child ever had Peppa painted on their face?
Artist Jody Steel can help with that. The YouTuber, who has nearly 90,000 followers, recently shared a video transforming herself into the famous piggy – and it's both genius and slightly terrifying if we're being honest.
Her video caught the attention of people on Twitter this week. "I just watched it and I am never sleeping again," one person wrote – a tweet that had more than 150,000 likes and 43,000 comments.
Steel turns her whole face into Peppa Pig during the tutorial – painting a phone on her hand to complete the effect. She starts by painting Peppa's large pink face on to her own cheeks, while painting the top of her head and hair black. She then paints Peppa's body and legs on to her neck to finish the look.
"I've recently started focusing more of kids' content, so the inspiration came from suggestions I had gotten from my audience," Steel tells us when we asked her why Peppa Pig became the focus of her tutorial.
"As a professional artist, my mum heavily encouraged the arts at a young age. She let me draw on myself, on the walls of my room," she adds. "I really want to inspire kids to be creative and silly with their art."
The YouTube comments echo exactly what we're thinking – that her creation is both a masterpiece and a nightmare.
"This is the most amazingly terrifying thing I've seen in my entire life," one person wrote. Another commented: "This is terrifying and I love it."
Steel adds: "I hope that kids will love it. And I think parents and teens also get amusement from it, as well!"