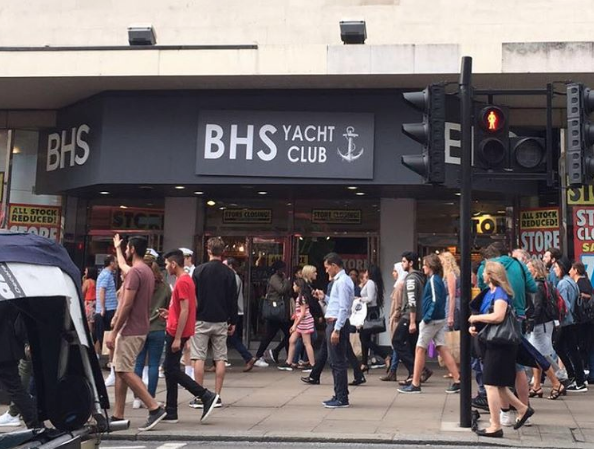 The flagship store of closing down department store BHS has been given a makeover by two pranksters poking fun at its owner Sir Philip Green.
Oxford Street shoppers watched on in awe as the two comedians and TV presenters behind comedy series The Revolution Will Be Televised took matters into their own hands to publicly shame Sir Philip.
The business magnate has been vilified in recent weeks after a scorching joint report by MPs that branded him the "unacceptable face of capitalism".
It also found he systematically extracted huge sums from his former firm BHS while leaving its pension fund in huge deficit.
Given Sir Philip's famous penchant for yachts - he owns one worth £100m - the biggest UK BHS store today got converted into a "yacht club", according to its new sign.
Pranksters clad in hi-vis jackets atop ladders helped put the sign up above the store that is soon to be closed.
Actor Heydon Prowse, who performed the sketch for the popular BBC political comedy show, was seen in a sailor's hat and holding a roller.
A poster was also displayed in one of the windows that pictured Sir Philip and advertised the 'sale'.
Bemused tourists and passers-by looked on as the scenes unfolded, while staff inside the shop were either seemingly unaware or under orders to ignore the jape.
Prowse and Rubenstein posed for a picture, holding a ship's wheel and a photo of Sir Philip, outside the store to celebrate their handiwork.
The pair were responsible for a previous stunt that saw them offer former Chancellor George Osborne an 'Economics for Dummies' textbook.
READ MORE: