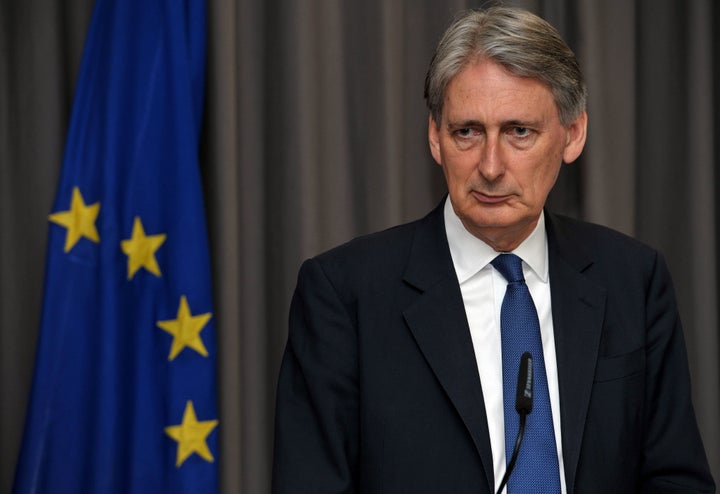 Philip Hammond has it would be "absurd" to guarantee EU nationals currently living in the United Kingdom the right to remain in Britain for as long as they liked following the Brexit vote.
The foreign secretary has announced he is backing home secretary Theresa May to be the next Conservative Party leader and prime minister.
Yesterday, May said the presence of EU citizens living in the UK and British citizens living in the EU would have to form part of the Brexit "negotiation".
Her rivals in the leadership contest, as well as opposition parties, have criticised the comment.
Today, Hammond told BBC Radio 4's Today programme "neither EU nationals in Britain, nor British nationals in EU countries will find any change in their circumstances over the next few years".
However he added: "We need to have a comprehensive negotiation with our EU partners, including around freedom to move, freedom to work, freedom to study and freedom to settle.
"And I hope we will be able to get to a position where we are able to say to those EU nationals who live in the UK and to those Brits who live in EU countries 'everything's fine, you can stay as you were' but we can't assume that, we've got to negotiate that with our former European Union partners."
"When you go into a negotiation all the parts are moving, all the parts are on the table. And it would be absurd to make a unilateral commitment about EU nationals living in the UK without, at the very least, getting a similar commitment from the European Union about British nationals living in the EU."
Work and pensions secretary Stephen Crabb, who is running against May to be Tory leader, said EU nationals should not be "bargaining chips" in the UK's Brexit negotiations with Brussels.
Nick Boles, who is running Michael Gove's leadership campaign, also attacked May's position.
Labour's former shadow home secretary Yvette Cooper said May's comment would have "increased the anxiety felt by EU citizens currently living in the UK and British citizens living in the EU".
"Suggesting that their status is subject to the results of the negotiations adds to the current uncertainty, which is being exploited by extremists running awful 'go home' campaigns," she added.
Lib Dem leader Tim Farron said there "must be a cast iron guarantee" that EU nationals can remain in the country.
"There is real, and legitimate, upset and worry from European citizens across our country about their long-term status in the UK," he said.
"Liberal Democrats will not stand by whilst our communities are divided by uncertainty. Regardless of the outcome of any negotiations with Europe around Brexit, EU citizens who have made Britain their home must be allowed to stay."
Related