The pair interviewed the prime minister on Thursday's episode of This Morning, but the presenters faced criticism for posing for a "shameful" picture with him after their on-air exchange.
As the photo went viral on Twitter, many pointed out the contrast between Phillip and Holly's approach to the PM compared to how they conducted an interview with Labour leader Jeremy Corbyn earlier this week.
After he and Holly began trending on Twitter over the selfie, Phillip tackled the backlash.
"Can I point out that if Mr Corbyn had asked for a selfie, we would have happily obliged," he tweeted.
After one user, who hadn't actually seen the interview, criticised it for being "biased", Phillip responded: "Perhaps it's better to judge if you actually had watched."
After the interview, Holly and Phil showed This Morning viewers a clip of Johnson appearing not to know how to take the picture.
"It was one of the funniest things. Amazing," Holly said. "Things you don't expect to happen…"
During his interview, the prime minister outlined his vision for Brexit, but did face questioning over his previous comments about Muslims, single mothers and working class people.
Phillip also asked him for an "absolute, rock solid guarantee" that "no part of the NHS will be sold off" in US trade deal talks, which Johnson insisted would be the case.
Corbyn appeared on the ITV daytime show on Tuesday, where he faced repeated questions and demands for an apology over anti-Semitism in the Labour party.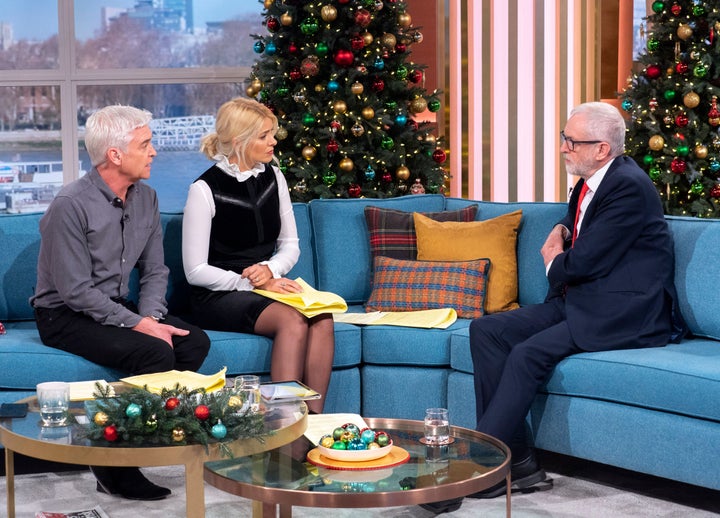 Johnson's interview on This Morning came amid ongoing criticism over his refusal to fully commit to an interview with the BBC's Andrew Neil, as all the other election candidates have done.
However, he did tell the broadcaster's Andrew Marr last week: "I'm perfectly happy to be interviewed by any interviewer called Andrew from the BBC."
This Morning airs weekdays at 10.30am on ITV. Watch the full interview with Boris Johnson below...