Critics said the TV interview showed why the UK "needs feminism", after Morgan called May a "little firecracker" and referenced her "girl power" shoes.
"Let's be honest, Theresa May wears those shoes so we talk about them," he said after the interview. "What she is saying is 'you may think I'm boring but I'm a little firecracker."
He then had a heated spat over sexism and women's clothes with co-host Susanna Reid.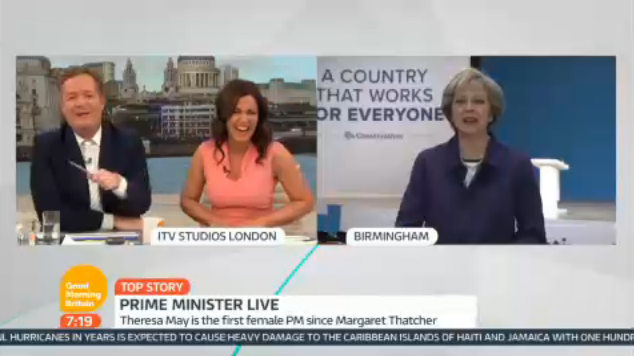 The ITV morning show interviewed May on Brexit and the US election, before the conversation turned to footwear, followed by scones.
May had already slapped down Morgan's attempt to get her to reveal any "regrets" she's had, responding "Nice try, Piers".
Reid then asked May whether she regrets "the constant insatiable obsession with your shoes."
"Would you consider that it is sexist to always be asked about them?" the TV host asked.
Speaking from the Conservative Party Conference in Birmingham, May laughed and replied: "It is interesting people focus on my shoes. I don't think they focus on Philip Hammond's or Boris Johnson's in quite the same way."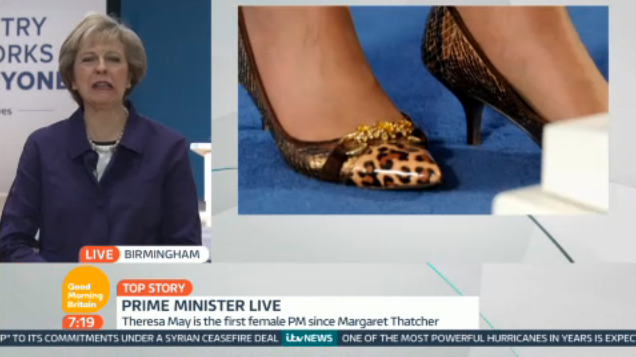 "Do I regret the fact that people look at my shoes? Hey, it gives me an excuse to go and buy new shoes."
Some critics online called the question "sexist" and one said it "drove her mad" that she claimed the same questions might not be put to a male Prime Minister.
Reid then asked May jokingly if she was wearing a "great pair" today. "Yes, I've got a great pair today," May replied.
MP Stella Creasy shared one of Morgan's tweets about the matter, saying: "How very dare she....women are very provocative aren't they ... so deserve what they get."
Morgan replied that he "loves" May's "exotic shoes.. they are a well known & deliberately deployed part of her character/personality. Why is it 'sexist' to say so?"
Two thirds of those surveyed said UK politics is sexist, and most also thought the media focused on May's fashion choices, but had not focused on David Cameron's.
May's clothes ranked as one of the top three subjects covered by the media, along with her views on Brexit and how she has performed as prime minster.
On Good Morning Britain, Morgan later quizzed May on baking, asking her about her recipe for scones and whether she preferred using butter and margarine.
May said she had used both successfully but that "you have to rub [butter] in with the flour" because butter is harder than margarine.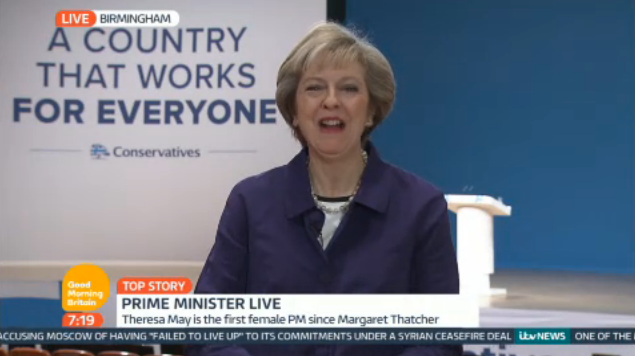 Morgan joked that idea of 'hard' or 'soft' butter could also be used as a metaphor for a 'hard' or 'soft' Brexit.
After the interview finished, Morgan and Reid launched into a heated spat about why May wore striking shoes designs and whether women dress to please themselves, other women or men.
Reid laid into Morgan, saying it was sexist to ask May about her shoes.
May also told Good Morning Britain that she set about invoking Article 50 to give people 'certainty' following the Brexit referedum, ITV reported.
In particular, the PM said she wished to reassure businesses who were left somewhat in the dark following the vote to leave the EU.
"We are going to make a really good deal, we are going to make a success of this," she said.
"We're the only major party that's actually listening to people."
"The message that people gave us in June was not just that they wanted to leave the EU, but people want control on the movement of people from the EU into the UK. We will deliver on that."
"We want to get this right and we are going to get this right"
Asked who she might support in the upcoming US Presidential elections, the Prime Minister would not be drawn into either side.
"There's a tradition here in the UK that we don't support a particular party in the American election," she said. "It's now up to the American people to decide who they want as President."
Related