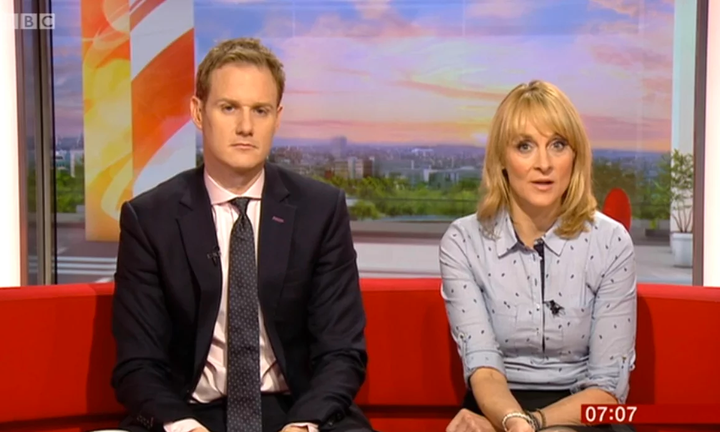 A piece in Wednesday's Daily Mail showed a range of stills from BBC Breakfast showing different men sitting to the left of their female counterparts, after a row erupted over whether such a move was sexist.
Former 'Countryfile' presenter Miriam O'Reilly said it reflected "deep-rooted misogyny" that men had more "gravitas" in an audience's view.
It comes after new BBC Breakfast host Dan Walker, 38, was given the "left" position, despite his co-host Louise Minchin, 47, being more experienced.
She is understood to have wanted the left-hand space vacated by previous host Bill Turnbull.
O'Reilly, 59, who famously won a case against the BBC that accused the broadcaster of ageism for removing her as a host, told The Guardian: "It's just deep-rooted misogyny in newsrooms where editors think a man somehow has more authority.
"Of course the people who make these decisions tend to be men themselves."
"Sadly women on breakfast news programmes, particularly, have the role of the bit of fluff by his side. They are there to smile, laugh, giggle or tease – and to show legs and cleavage."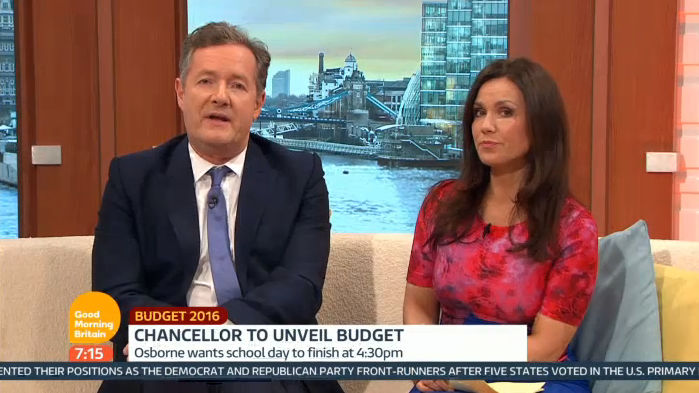 Morgan said the woman sitting on the left looked "just weird" and did not visually "work", tweeting a picture of what it looked like.
The Daily Mail article noted that many shows give primacy to people appearing on the left of the screen. Light entertainment chat show host Graham Norton sits to the left of his guests who sit left to right in descending order of importance, it said.
Oona King, a former Labour MP and diversity executive at Channel 4, told the paper it reflect "low level sexism", saying: "It seems strange that you have women with more experience being slotted into secondary or deputy position, so they are always playing second fiddle to the men.
"It influences girls and women in their behaviour and expectations of what they can do."
Minchin has not spoken publicly about the seating arrangement but one BBC Breakfast viewer, Adele Clarke, wrote to The Radio Times: "I was annoyed to see 'new boy' Dan Walker seated on the left, in Bill Turnbull's place, while far more experienced presenter Louise Minchin remained in the 'number two' position."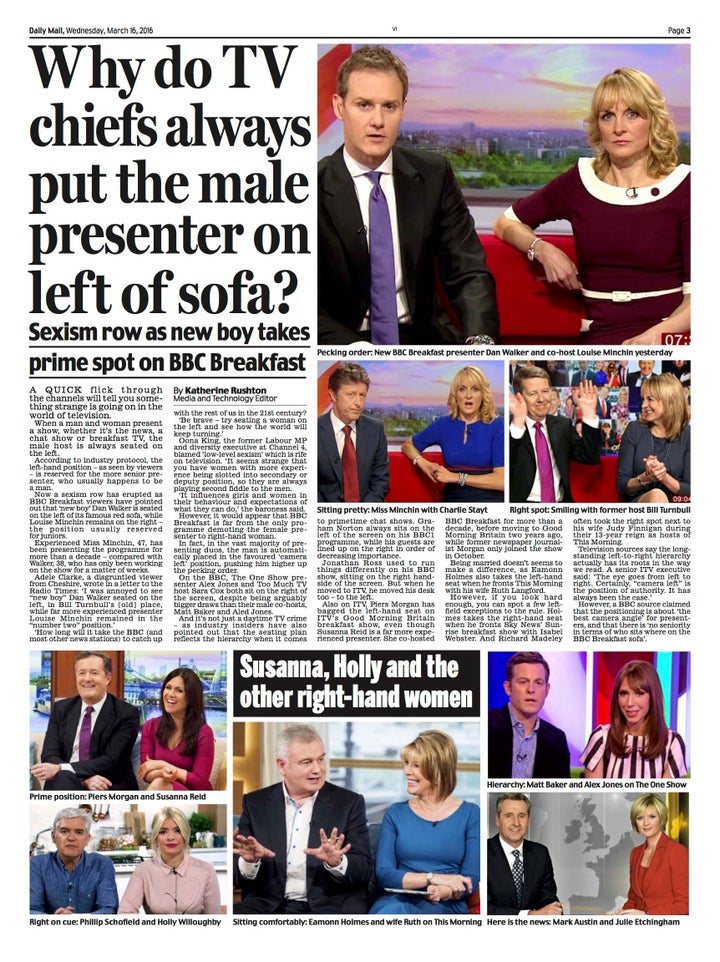 Good Morning Britain tried to make light of the row on Wednesday, asking viewers whether they preferred Morgan seated "to the left, right or totally out of sight?"
Jayne Secker, who presents Sky News in the mornings with Colin Brazier, said they swapped sides each day.
The Guardian quoted one anonymous programme maker who said the position was "not about gender but it may be about seniority".
Another source said the BBC Breakfast seating might be due to Walker's 6'6" height, as viewers apparently prefer the taller person sitting to the left.
Shelagh Fogarty, who used to present on the BBC and now has a show on LBC, told The Guardian: "If anyone told me where to sat on the sofa I'd have said I'll sit behind it because this is too ridiculous.
"If you asked me where I would prefer to sit on the BBC Breakfast sofa, I'd actually say on the right because it's closer to the guest."
A BBC spokesperson told HuffPost UK: "There is no seniority in terms of who sits where on the BBC Breakfast sofa.
"It's all about judging which is the best camera angle for the presenters."