Eighteen people have been injured after two trains collided at Plymouth railway station, the ambulance service has said.
Emergency services were called at 3.35pm after two passenger services were involved in a "low-speed" collision on platform six of Plymouth station.
A "huge bang" was heard and passengers were thrown forward by the impact, according to an eyewitness.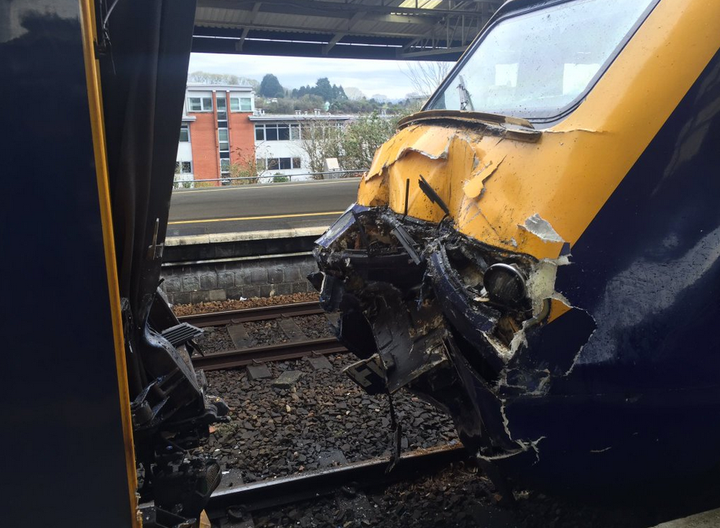 All 18 casualties - which include the driver of one of the trains - are reported to be in stable condition, a spokeswoman for South West Ambulance Service said.
She added: "The majority of those are walking wounded and eight of those are going to Derriford hospital in Plymouth."
Devon and Somerset fire service said they had assisted ambulance crews and the British Transport Police in treating casualties with "various injuries", but no one had been trapped.
Dominic Parnell, 33, from Cornwall, was on board the moving train when it collided with a stationary train ahead.
"We were travelling fairly slowly as we were arriving at the platform when we came to a sudden stop with a huge bang," he said.
"Of course, most people were stood up waiting to alight and were thrown forward. No one appeared to be injured in my immediate area."
A spokesman for British Transport Police, whose officers joined fire and ambulance crews on the scene, said: "A number of people, including the driver of one of the trains, have sustained injuries as a result of the collision and are being treated by paramedics at the scene.
"At this stage we believe that a moving train collided into the back of a stationary train on platform six at the station and we are currently looking into the circumstances to determine how this happened."
The incident is likely to result in delays to train journeys in the Plymouth area, he added.
Great Western Railway said it was investigating the cause of the incident.