Jeremy Corbyn must lead a Labour Party that is pro-business, patriotic and tough on welfare to become Prime Minister, a new post-election poll shows.
A GQR poll conducted for the TUC, and shared exclusively with HuffPost UK, shows Labour made huge gains with young and non-voters at the general election but has a mountain to climb with the over-65s and Tory backers on Brexit and the economy.
While most voters want more money for public services (60%), 46% thought Corbyn's borrow-to-invest plans "would add to Britain's debts and create more problems".
Peter McLeod, vice-president of GQR, said: "As much as people want corporations and rich people to pay their fair share of taxes, the vast majority of people who work are employed in the private sector."
The survey of 3,000 voters also revealed Labour's flagship pledge to scrap tuition fees failed to win over an army of new voters as young voters were more likely to prioritise the NHS over free university education.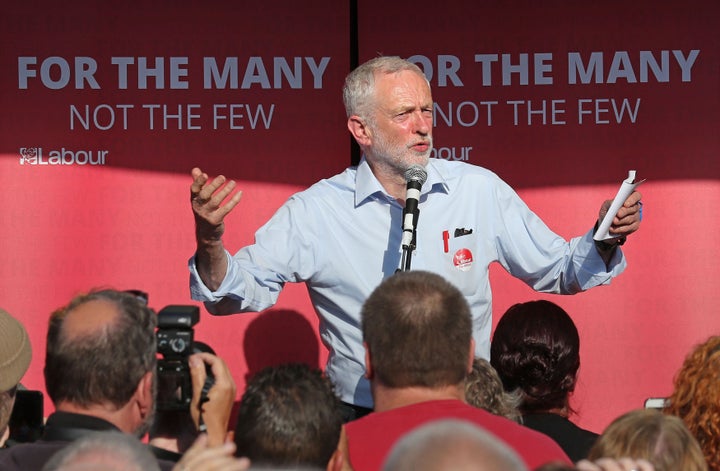 McLeod added Corbyn has to cut into the Conservatives' support to stand any chance of victory.
He said: "The key question is who Labour targets. In this election, Labour won the non-voters. Of the people who voted Labour in 2017 but who hadn't voted for it in 2015, 38% had not voted at all in the 2015 election. Only 17% had voted Tory.
"Contrast this with the Conservatives' gains: just 18% of the voters they picked up had not voted in 2015, compared to 45% who came from UKIP and 22% from Labour."
He added: "It will be very tempting to take a 'more of the same' approach given the big gains they've already made. But turning out people who are normally inclined not to vote will surely get harder and harder.
"Meanwhile, the Tories will fight hard to win over Labour waverers."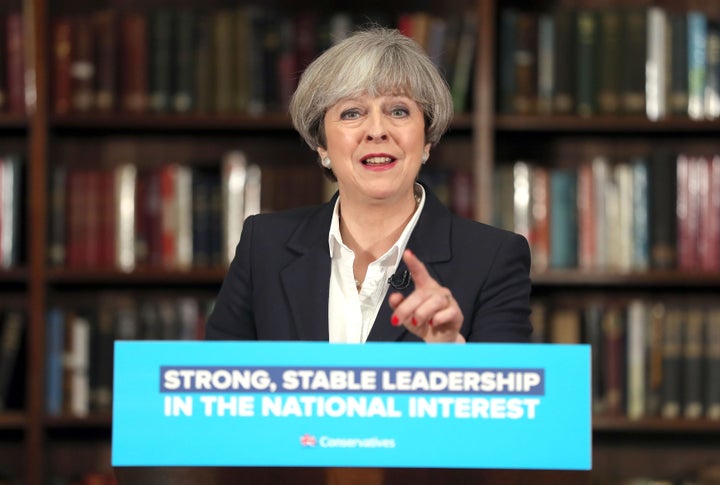 Despite Labour providing a fully-costed manifesto, the Tories were still more trusted on the economy, with a sizeable 36% saying Labour "should do more to help big business succeed".
The policy which brought in the most gains for Labour at the ballot box was the pledge to invest £30bn in the NHS, followed by boosting the minimum wage to £10-an-hour and reversing school cuts.
Corbyn's flagship pledge to scrap tuition fees came a distant fifth.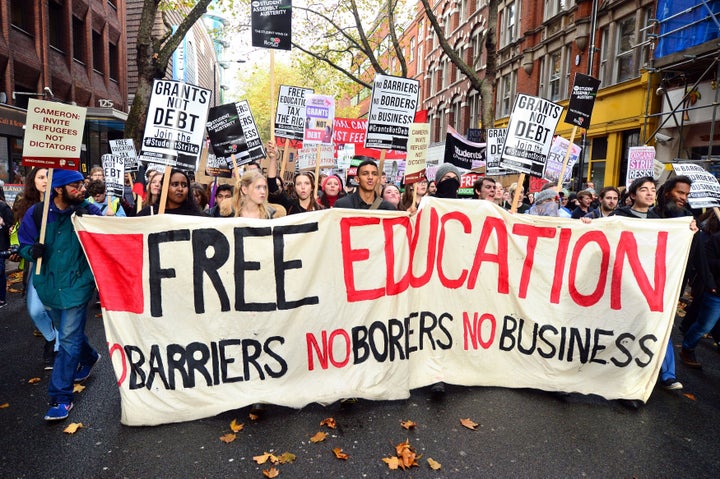 By 54-27%, voters said that Labour needs to "be more patriotic" rather than being "more internationalist and keep flag-waving out of politics".
McLeod said: "The left for decades has found it difficult to express its vision in patriotic terms, as it has sought to welcome and integrate migrants from all over the world, and avoid association with groups like the National Front who used our national symbols in their campaigns.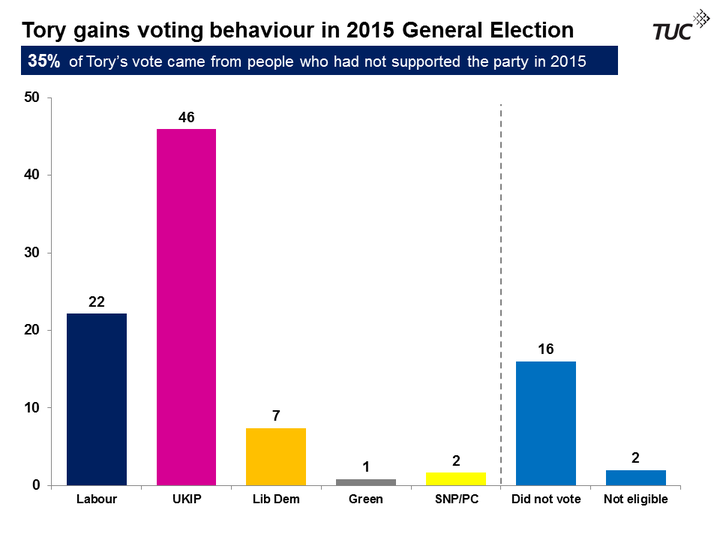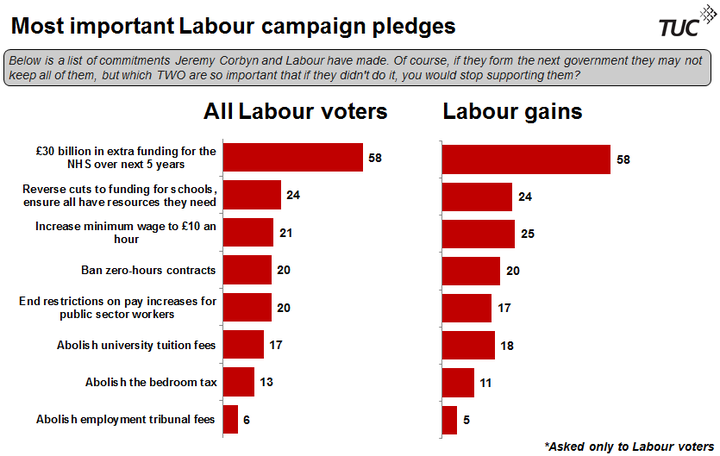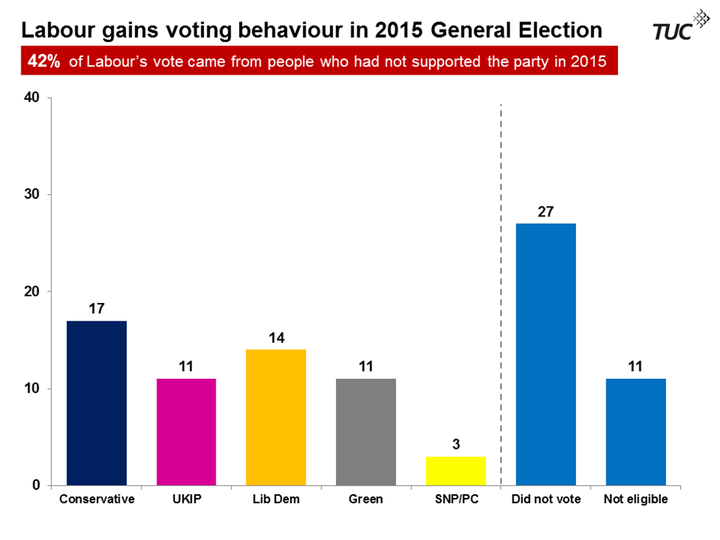 "But voters suspect that on the left, a professed tolerance of others actually masks a lack of pride in Britain and lack of motivation to look after people whose ancestors lived in this country before the 20th century.
"It would be a travesty for Labour to throw away all the good it has done fighting discrimination against minorities, but if it can find a way to be as credible celebrating St George's Day as it is Eid, it could help remove one of the major doubts people have about voting for it."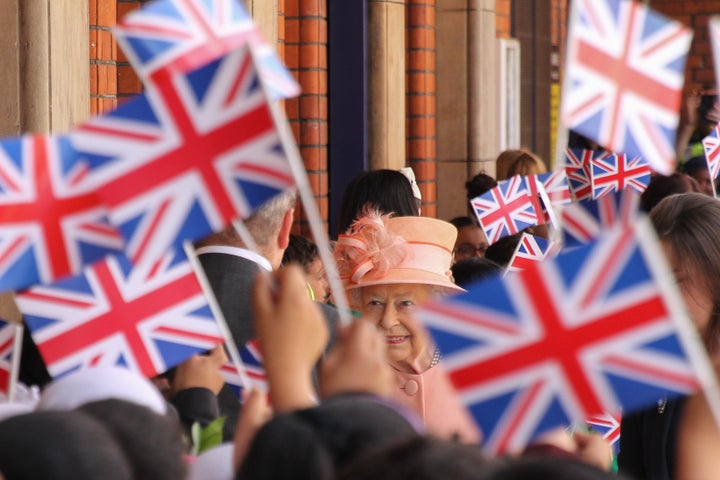 Most working class (42% to 41%) people also thought Labour should be tougher on welfare system abusers. The figure shot up to 56% among middle class voters and was more than 70% for all retired voters.
Looking at parties' classic brand values, the poll showed the Tories' huge leads on competence and the economy were vastly reduced during Theresa May's campaign.
David Cameron's Tories enjoyed a 26 point lead over Labour on competence in 2015. In 2017, that lead had been slashed to just seven points, with the so-called 'dementia tax' U-turn thought to be a huge contributing factor behind the move.
Those who voted Tory were also more likely to prioritise a party that is competent and well-led over one with radical ideas, by a 49-36% margin.
McLeod said: "To win these voters Labour must make the most of Conservative disarray and present themselves as the party with the people and the plan to put the country on the right track again."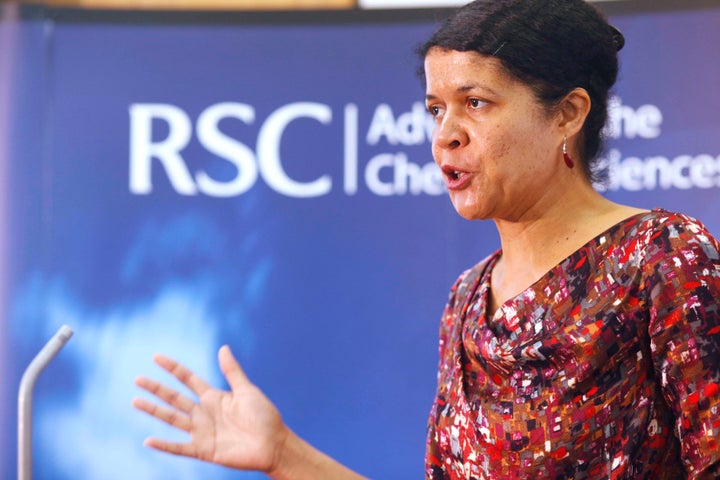 Chi Onwurah, shadow minister for industrial strategy, said: "The Labour Party made great strides inspiring young, new and disillusioned voters with our positive vision for a better future.
"Now we need to demonstrate that our economic strategy will make us richer and more prosperous whilst the Tories have made us all poorer.
"We also need to show that Labour's patriotism and long history of support for our communities, nations and regions as well as the armed forces which protect us is more real and more authentic than the Tories' warm words."
The poll also showed strong support across the political spectrum for workers' rights and lifting the public sector pay cap.
TUC General Secretary Frances O'Grady said: "Voters clearly back Labour's policies on insecure work, workers' rights and public services. This agenda is not just popular with their own base, but with people who voted Conservative too.
"There's been a big rise in precarious working in the midlands and the North West, two areas where Labour needs to win back seats. Labour needs to keep up the campaign for a new deal at work."
Related