Bad news for hay fever sufferers: this week (running into the long weekend) the UK will see high pollen counts across the board, with tree pollen causing chaos. And a national health charity has warned this poses a particular risk to people with asthma.
A "deadly pollen bomb" is due to hit this week, according to Sonia Munde at Asthma UK. This puts people with asthma "at risk of a potentially life-threatening asthma attack", she told HuffPost UK.
"Around 3.3 million people with asthma are affected pollen," continued Munde, "which can cause symptoms such as wheezing, a tight chest or coughing."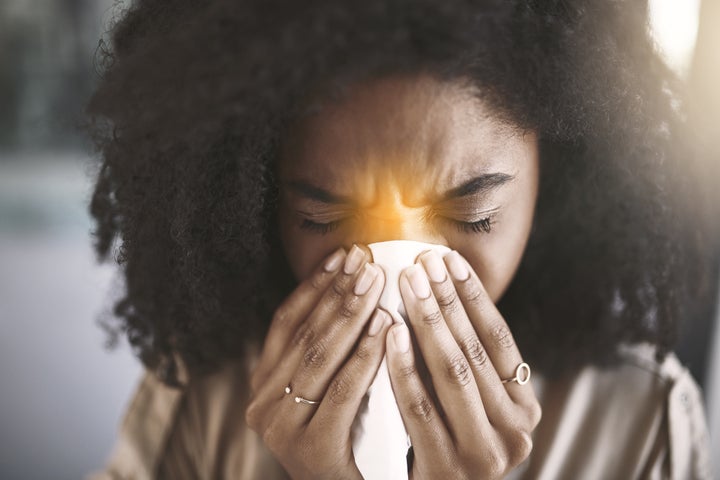 "Trees have been releasing their pollen for several weeks, but the warm spring weather is going to make these pollen levels spike," Munde said. "If you're already getting symptoms, it's not too late to help yourself stay well."
She advised people with asthma to take their prescribed preventer medicine to soothe irritated airways, so they are less likely to react to the pollen.
"Take hay fever medicines such as antihistamines as they stop the allergic reaction that triggers asthma symptoms and keep itchy eyes and runny noses at bay," she advised.
The charity spokesperson also warned people with asthma to keep their blue reliever inhaler with them at all times in case of an emergency.
More advice on how to reduce the risk of pollen triggering an asthma attack can be found here.
Hay fever occurs when the body makes allergic antibodies to pollen. According to Allergy UK, exposure to pollen causes the release of chemicals from cells in the nasal passages, eyes or airways, resulting in inflammation and irritation to the lining of the eyes, nose and throat.
To top that off, people living in cities are at risk of worse symptoms thanks to the combined effect of high air pollution and pollen.
A survey by Boots, which dubbed the issue 'pollenution', found 89% of people don't realise their hay fever symptoms can actually be worse in the city than in the countryside. People in London, Cardiff, Birmingham, Leeds and Glasgow are thought to be worst affected.
The Met office confirmed to HuffPost UK that, weather-wise, things will probably turn more unsettled later in the long weekend, with cooler weather starting to arrive on Sunday from the northwest.