Pope Francis has said it is "not right" to say Islam is violent when people of other religions, including Catholics, commit violence.
In a heartfelt reflection on violence committed by "baptised Catholics," The Pope said the murder of priest Jacques Hamel at a church in Rouen, in Normandy, by two men pledging allegiance to the so-called Islamic State, was nothing to do with the religion in whose name the attacker claimed to act.
"It's not right to identify Islam with violence. It's not right and it's not true," he told reporters on his plane as he returned from a pilgrimage to Poland that began the day after the priest's murder.
He had been asked by a journalist when he never used the word "Islam" while describing terrorism or violence.
He said IS, also known as ISIS, ISIL or Daesh, "presents itself with a violent identity card, but that's not Islam".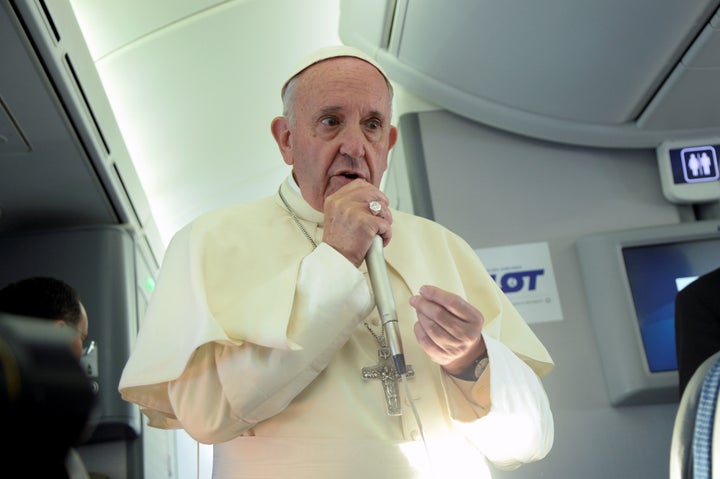 "I believe that in every religion there is always a little fundamentalist group," he said. "I don't like to talk of Islamic violence because every day, when I go through the newspapers, I see violence, this man who kills his girlfriend, another who kills his mother-in-law..
"And these are baptised Catholics. If I speak of Islamic violence, then I have to speak of Catholic violence."
He met imams in Poland and said they were "looking for peace".
While Francis' comments were condemned by various anonymous egg accounts on Twitter, one person called him "the best Pontiff in history" and another said Francis' position almost tempted her to go back to church.
After the murder of Father Hamel, mass at the cathedral in Rouen, just a few miles away from the scene of the attack, was attended by Muslims in a gesture of solidarity.
One of the nuns who was taken hostage during the attack embraced the Muslim attendees, some of whom unfurled a banner outside saying: "Love for all. Hate for none."
"We are very moved by the presence of our Muslim friends and I believe it is a courageous act that they did by coming to us," Dominique Lebrun, the archbishop of Rouen, said afterwards.
Related