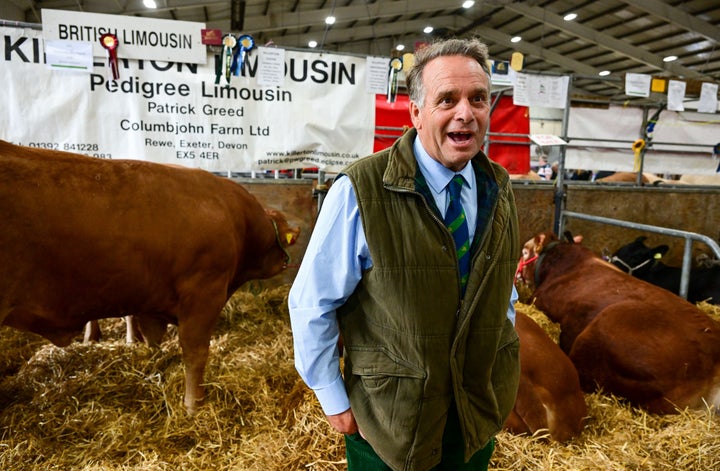 The so-called "porn MP" has called for Chris Pincher to lose the Tory whip after he was accused of drunkenly groping two men.
Neil Parish, the former Tory MP for Tiverton and Honiton, accused the Conservative Party of "double standards" over the way they treated him.
He went on to say the Tories should "definitely" remove the whip from Pincher.
The Sun reported claims Pincher groped two fellow guests at the Carlton Club - a Tory Party private members' club in London's Piccadilly - on Wednesday evening.
Pincher resigned as deputy chief whip on Thursday evening, saying he had "embarrassed myself and other people" after having had "far too much" to drink.
Parish, who resigned in May after he was caught watching porn in the House of Commons, said he could not "believe" the party was treating him so differently.
Asked by an LBC journalist if the whip should be withdrawn, Parish replied: "Definitely from Christopher Pincher.
"The first thing they did to me, and I made a huge mistake, is they withdrew the whip.
"There cannot be double standards. My belief is that Christopher Pincher has things to be answered for, the whip must be withdrawn.
"He's got the opportunity then to go before [the] parliamentary standards board to see what his conduct actually was. Those that were affected can also give evidence."
Asked why the party had not done so already, Parish added: "I can't believe why they haven't done it, because that was the first thing they did to me, even though I asked for it to be sorted out privately.
"And I just feel that it's double standards, but I suspect by this evening or tomorrow, the whip will be withdrawn. I can't believe they can treat us in such different ways."
Asked if he felt he had been badly treated by the Conservative Party, he replied: "I have accepted what happened and I made a big mistake and so, up until now, yes, I have. But I have to say to you on this occasion, then I am very upset."
Parish said as a committee chair holding ministers to account, there was "no protection" for him and he was thrown "straight over the side of the boat".
He added: "He may be deputy chief whip, in fact he may have been the man who actually removed the whip for me, so come on, let's be fair."
Boris Johnson is under pressure from Tory MPs to withdraw the party whip from Pincher.
Despite the accusations, Pincher has so far been allowed to continue to sit as a Tory MP.
Two senior female Tory MPs have called for Chris Pincher to lose the party whip and face an investigation.
In a letter to chief whip Chris Heaton-Harris, select committee chairs Karen Bradley and Caroline Nokes said the party needed to adopt a "zero tolerance" approach to such allegations and a "thorough investigation...in each and every case".
Scottish Tory leader Douglas Ross said: "He should no longer be in the party – just as Patrick Grady should have been sacked by the SNP. Sexual harassment must have no place in any political party."