With the majority of us confined to our houses for the foreseeable future, the need for brilliant TV has never been greater, especially at the weekends.
That's why HuffPost UK has launched Something For The Weekend – a weekly feature recommending one series for you to devour when you haven't even got work to occupy your mind.
First up, here's our entertainment editor Ash Percival on the US series, Pose...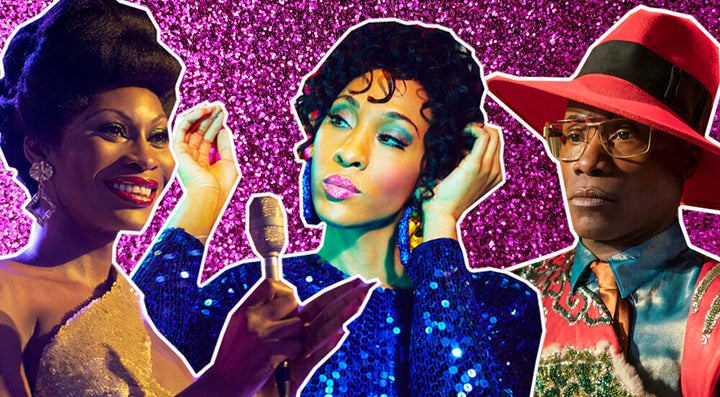 What is Pose about?
Written and created by Ryan Murphy – the man behind American Horror Story, American Crime Story and Glee – Pose explores ball culture in 1980s New York, at a time when the AIDS crisis was hitting the LGBTQ community hard.
Now, if you've watched RuPaul's Drag Race before, you may already be familiar with balls, houses, categories and phrases like "legendary", "serving face" and "butch queen realness", but Pose takes us back to their origins, which were previously explored on screen in the 1990 documentary Paris Is Burning.
For the uninitiated, ballroom is a subculture of the LGBTQ community, referring to gatherings known as "balls" which see people "walk" for trophies or glory in a number of "categories", mixing in performance, dance, lip-syncing, and modelling.
It originated in New York in the 1920s but grew in popularity in the 80s, with balls still happening to this day. Participants have always been mainly gay, genderqueer and transgender people of colour, who have sought solace in ball culture having lived on the fringes of society. They perform – and often live – in what are called "houses", made up of chosen family headed up by a "mother" – a role taken on by Pose's lead character Blanca Evangelista.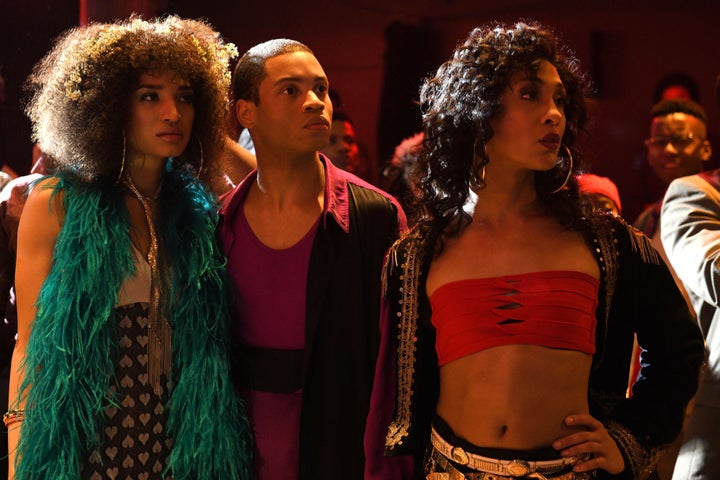 Blanca is a Black trans woman who decides to start her own house to give back to the community when she discovers she is HIV+, with the series following her and her "children" and the struggles they face, and usually overcome.
"Pose itself is about family, it's about all kinds of families, and how they bring themselves together, and how they uplift each other, and how they fight even harder to move forward," Mj Rodriguez, who plays Blanca, told HuffPost UK in 2018.
With the show amplifying the voices and experiences of the trans community, Mj added: "I think that's one of the reasons why Pose has been such a success, because a lot of people didn't know about our lives. For a very long time, those stories have been closed off.
"But now, people are opening their minds and understanding, and they're seeing that we're human, which is what we always wanted."
Trust me when I say that there is no other show on TV that can make your heart swell to capacity, as well as breaking it into a million pieces – often both in one episode.
Expect to be in streams of happy tears during the season one finale, which features the Mother Of The Year ball. Then, be prepared to really ugly cry at the fourth episode of the second series. I won't spoil it, but you'll definitely thank me for the warning when you've got through a family box of Kleenex in the space of 45 minutes.
But as well as being an important lesson in queer history, Pose is also hugely entertaining – get ready for some brilliant one-liners (usually in the form of throwing shade).
Here's just one of my favourites:
"You're nothing but bags of rancid, rotting meat. Take a long, last look at this fillet mignon – I doubt we'll be conversing ever again unless I take a sudden interest in dying of boredom."
Who's in it?
Pose boasts the largest ever group of trans actors on a scripted drama series, with the cast headed up by the aforementioned Off-Broadway star Mj Rodriguez as Blanca Evangelista.
Other cast members in the House Of Evangelista include Indya Moore as Angel, a trans sex worker; Ryan Jamaal Swain as Damon, a dancer made homeless when he comes out to his family; and Angel Bismark Curiel as "Lil Papi".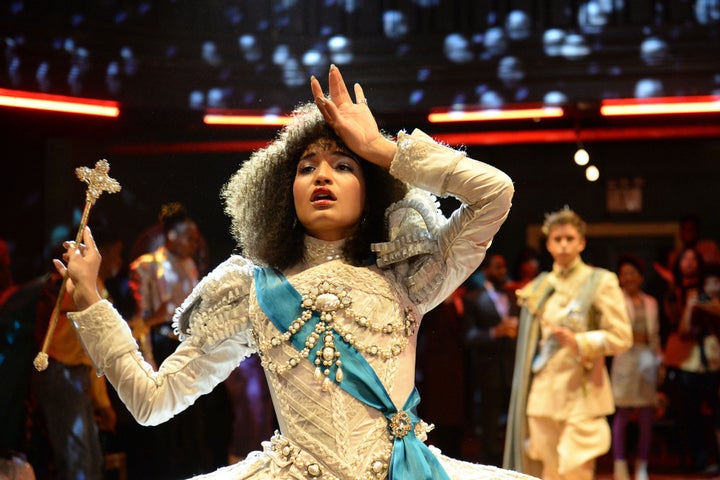 Billy Porter – who you might already know from his show-stopping red carpet appearances at the Oscars, Met Gala and Grammys – stars as the ballroom's emcee, Praytell.
And then there's Dominique Jackson as deliciously brilliant Elektra Abundance, mother of the House of Abundance, Blanca's former mother and her biggest ballroom rival.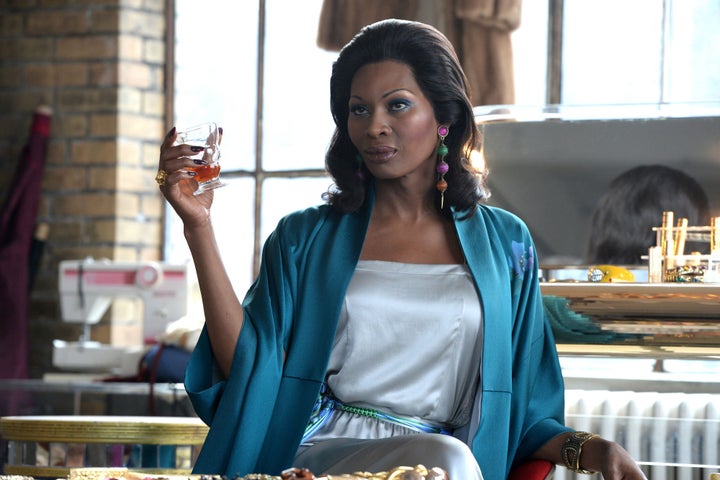 The first series also stars American Horror Story actor Evan Peters as Stan, a wealthy office worker who starts a relationship with Angel, with fellow AHS co-star Kate Mara as his wife Patty. Dawson's Creek's James Van Der Beek also plays Stan's corrupt boss, Matt.
The trio receive top billing during the first series, which irked some as they are absolutely not the main draw here.
Oh, and did I mention the soundtrack?
Honestly, the soundtrack to Pose is nearly as amazing as the show itself, and I've had the Spotify playlist on loop since the series first debuted.
Just some of the songs featured on the show include:
Chaka Khan – Ain't Nobody
Donna Summer – On The Radio
Diana Ross – Love Hangover
The Pointer Sisters – Automatic
Inner City – Good Life
Gwen Guthrie – Ain't Nothin' Goin' On But The Rent
Bananarama – I Heard A Rumour
Neneh Cherry – Buffalo Stance
George Benson – Give Me The Night
Wilson Phillips – Just Hold On
Cathy Denis – Touch Me (All Night Long)
A Taste Of Honey – Boogie Oogie Oogie
MSFB's Love Is The Message is also the backdrop to the sixth episode, honouring the popular ballroom track that featured heavily in Paris Is Burning.
There are also some tear-jerking original songs, like Home and For All That We Know, which will send tingles up the spine every time you listen.
The release of Madonna's Vogue in 1990 and the effect it has on ballroom is central to the second series, as the track was highly divisive among the community at the time.
Given it's about a dance style that was created in ballrooms, many felt it was not appropriate for Madonna to profit something she had no hand in perfecting.
Others believed she was opening the door for ballroom to become more mainstream, and we see this row explored in various aspects of the characters' lives on the show.
What have the critics said about it?
If you don't want to take just my word for it, the critics absolutely LOVE Pose.
Vanity Fair said that "pain and perseverance are sewn together to create something humble yet fabulous", while the Guardian gave it five stars and said it was "a show to fall head-over-heels in love with".
The New York Times said it "defines its own category", while Vulture said it is so "relatable" because it is "so optimistic about people's ability to manage deep trauma".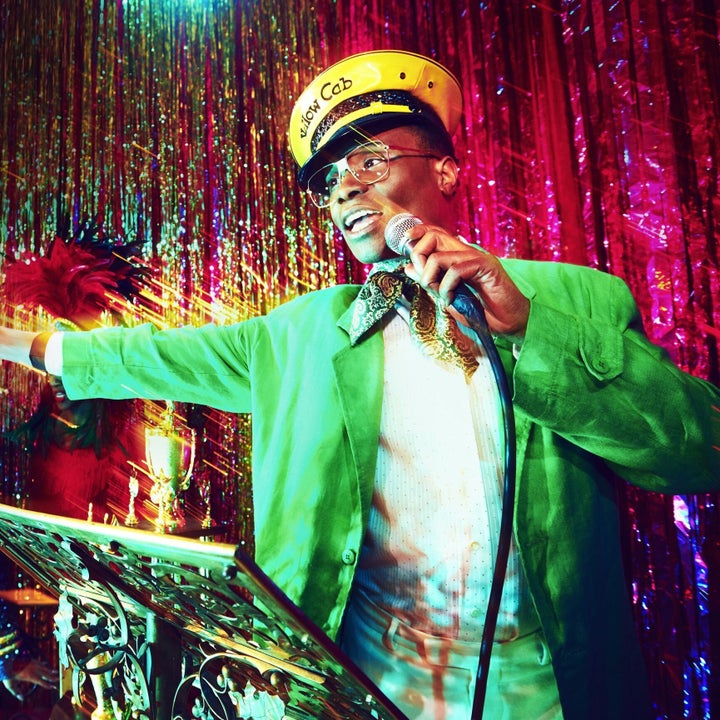 As a result, Pose is one of those very few shows that have a near-perfect rating on Rotten Tomatoes.
The first season has a rating of 96% based on 76 reviews, with the second coming out at 97% based on 31 reviews.
Billy Porter also won an Primetime Emmy in the Outstanding Lead Actor in a Drama Series for his role as Praytell, making him the first gay Black man to win the accolade, while the series has also picked up Golden Globe and Critics Choice nominations.
You'll love Pose if you already like...
Paris Is Burning, RuPaul's Drag Race and American Horror Story. Oh, and brilliant 80s and early 90s pop.
So, where can I watch it?
The first two series are all on BBC iPlayer, with the first also available on Netflix. With only 18 episodes between the two series, it's also completely bingeable in just one weekend – although it's so life-affirming, you may also find yourself wanting to ration it to spread the out the joy.