Vandals have attacked German-made cars in London, scribbling swastikas into the paintwork.
An eight-year-old Polish girl was taunted by classmates and told to "fuck off back to Poland" the day the referendum results were announced.
And people's homes have been targeted in racially-aggravated vandalism.
It comes after statistics released by the National Police Chiefs' Council revealed that the number of hate crimes reported to police since Friday have soared by 57%.
In Jeremy Corbyn's constituency of Islington a community shed was vandalised.
In red graffiti the words "FUCK EU", "PACK YOUR BAGS" and "FUCK EU SCUM" can be seen on the side of a small building in Newington Green.
Jamie Klingler, who shared a photo of the damage, described Newington Green as a "diverse, lovely little part of the world".
Islington voted overwhelmingly to remain in the EU, with only 24.8% voting to leave.
On Friday German-made cars were vandalised in Hammersmith.
Cars including BMWs and Audis had swastikas etched into the paintwork.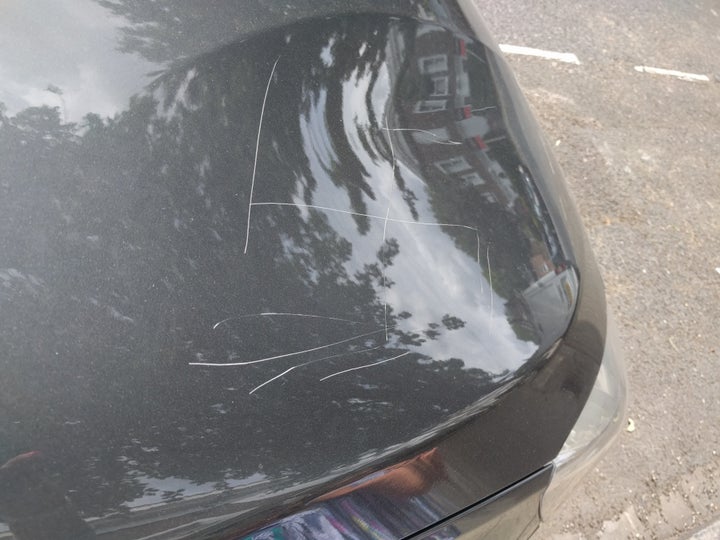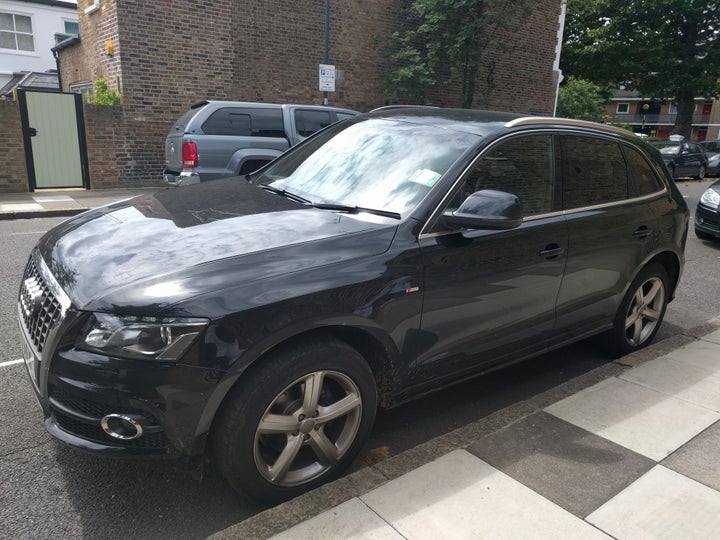 Examples of swastikas being graffitied onto property have taken place outside of London.
Police in Armagh appealed for information after "hate attacks" saw graffiti being sprayed on to two cars and the door of a house between Saturday evening and Sunday lunchtime.
A total of 62.9% of Armagh voted to remain in the EU, compared to just 37.1% who wished to leave.
An appeal on PSNI Armagh Facebook page read: "No one has the right to intimidate or threaten any member of our community and we will not tolerate hate crime in any shape or form."

In Leicester an Eid festival banner was vandalised with swastikas and "FUCK ISLAM" written across it.
Once again, Leicester is an example of an area which voted to remain in the EU.
A total of 51.1% of people who voted chose to stay in the EU.
In contrast, every one of Leicester's neighbouring local authorities voted to leave.
Leicester Police are investigating the vandalism, which is being treated as a religious hate crime.
Polish businessman Prince John Zylinski told the Standard that an eight-year-old girl was told by classmates to "fuck off back to Poland" the day after the vote.
A report released this week shows a number of shocking incidents reported to Tell MAMA.
Examples of the racist behaviour documented includes a taxi driver telling a Muslim woman that he voted to leave the EU "to get rid of people like you".
Other people report being called a "p***" and physical abuse.
On Tuesday a German woman who has lived in the UK for 43 years called LBC's James O'Brien in tears after she had dog excrement thrown at her house.
The caller, identified as Karen, sobbed as she told O'Brien that she was "too scared" to leave the house after her neighbours told her they did not want foreigners living on the street anymore.
Leaders from the main political parties have condemned the rise in racist attacks in recent days.
Harriet Harman, former deputy leader of the Labour party, told the Commons on Monday: "The leaders of the Brexit campaign have engendered an atmosphere where some people believe it is open season now for racism and xenophobia."
While Mayor of London Sadiq Khan has asked Scotland Yard to be "extra vigilant" after a number of incidents were reported in the capital and around Britain.