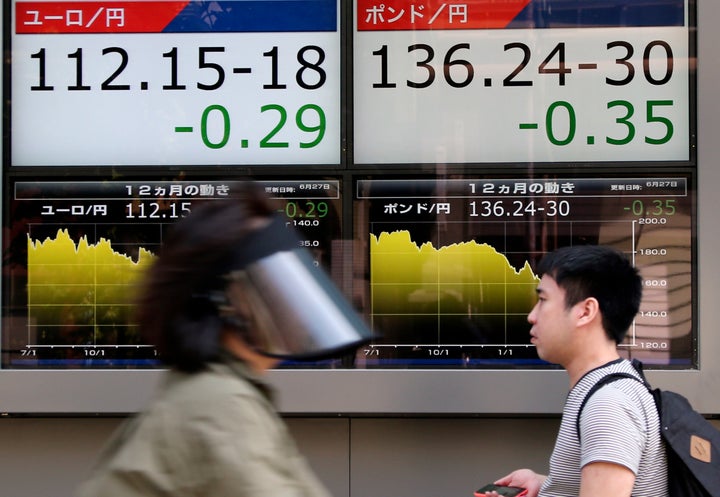 As the pound continued to struggle as trading reopened after Friday's record crash, something happened that has never happened on the markets before.
The 10-year yield of gilts - government bonds- fell to 1% the lowest ever and, as Sky News' Ed Conway pointed out, records go back to the 18th century.
The Financial Times reports the record fall is due to people buying more government bonds, which are still seen as a safer bet amid the post-Brexit market turmoil.
The pound continued to struggle. By 11am, it had fallen to its lowest level against the dollar since 1985 - $1.327. AS of 3pm, it has recovered slightly to around $1.332. At the same time, the pound was worth 1.201 in Euros.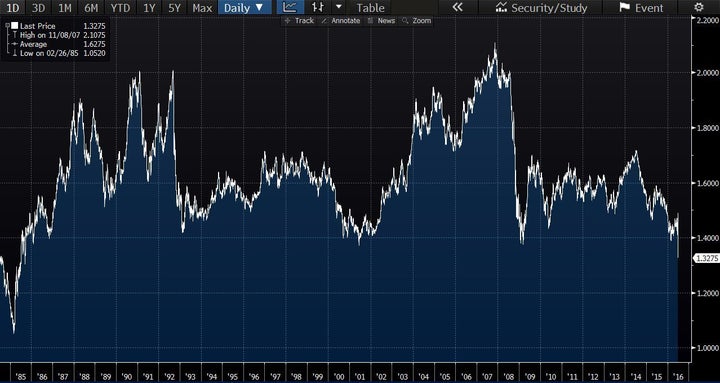 He said it would "not be plain sailing" for the British economy.
He said his emergency Brexit budget, predicted before the referendum, would not be necessary until the UK formally applied to leave the EU, which is expected when the new prime minister is in office in the autumn.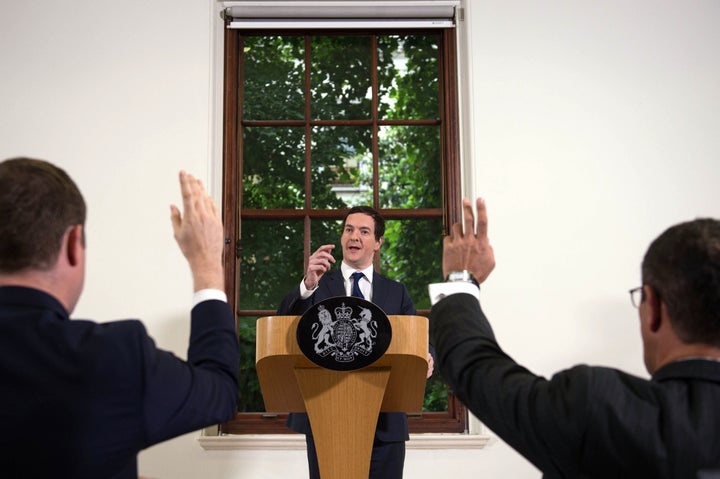 Meanwhile, many employers are planning employment freezes in the wake of Brexit, according to a survey by the Institute of Directors (IoD).
The leading business group surveyed 1,000 of its members and found a quarter were planning freezes while 5% were planning job cuts.
The FTSE 100 performed better than expected on Monday morning, falling by 0.46% after Osborne's speech before the markets opened.
London's premier index dropped 24.75 points to 6,114, a vast improvement on the collapse on Friday following Britain's decision to leave the European Union.
Trading in the shares of two banks fell by so much the trading had to be suspended. Barclays share price fell by 10.3%and RBS by 15%, triggering an automatic stop on trading to allow them to recover from the downward spiral.
Shares in housebuilders also took a dive, with both Taylor Wimpey and Persimmon slumping. Foxtons, which issued a Brexit profit warning, plunged 17%.
EasyJet also fell, by 14%, following a statement saying it will take a £28 million hit following two months of turbulence, adding that Brexit would have a negative impact on the airline.
Tony Cross, market analyst at Trustnet Direct, said: "That profit warning from Foxtons is doing the wider sector no favours. The biggest faller in early trade however is easyJet, with a profit warning having been issued by the airline, highlighting the damaging effects of a plummeting pound and the accompanying economic uncertainty.
"There's still an awful lot of questions that need to be answered as to what happens next and until we see some clarity here, the volatility is likely to continue."