The pound fell to a fresh low against the euro on Tuesday as fears over a so-called "hard Brexit" intensified.
Sterling suffered a new three-year low against the Euro as currency traders continue to sell it amid fears over impending Brexit negotiations.
During trading on Tuesday £1 was worth €1.1428, even lower than Monday's drop to €1.147, its weakest level since August 2013.
Sterling also plunged to a new 31-year low against the dollar.
Investors have been "spooked" by a series of announcements at the Conservative Party conference, where Theresa May said the two-year process of negotiating Brexit under Article 50 of the EU treaties will start by the end of March.
She has put the UK on course for a "hard Brexit" where she could seek to curb immigration at the expense of remaining in the European Single Market, The Press Association reported.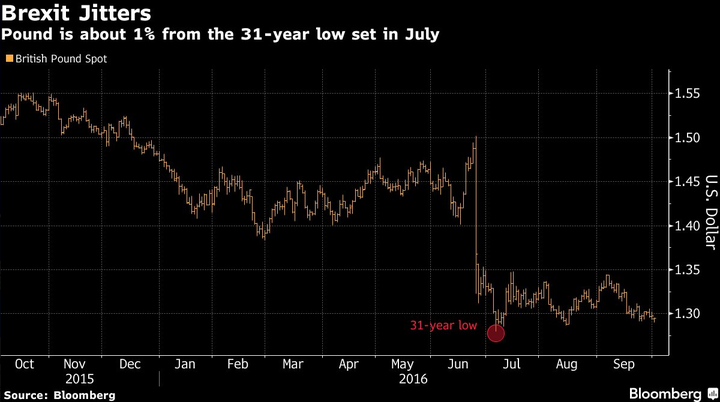 The pound fell 0.5% against the greenback in morning trading to 1.276 US dollars, its lowest level since 1985. Sterling was also down 0.2% against the euro at 1.14.
This would see Britain lose access to the European single market as part of plans to clamp down on immigration.
Kathleen Brooks, research director at Forex.com and City Index, said: "The Tory Party conference is turning into a sell for the pound, as foreign exchange traders get spooked by May's apparent sanguine attitude to leaving the single market, preferring to focus on immigration and UK sovereignty rather than the economic fallout of Brexit."
Ms Brooks also said Chancellor Philip Hammond's comments, in which he warned that Britain's economy is heading for a "rollercoaster" ride over the coming years, had compounded the sterling sell-off.
"Phillip Hammond, the UK's new Chancellor, didn't help the pound either when he suggested that George Osborne's fiscal rules will be abandoned and Government spending increased. This is designed to cushion some of the blow from the UK's departure from the European Union.
"However, it is likely to weigh on the UK's already large budget deficit, which is another blow to the pound at the start of the new quarter," she said.