A disorderly no-deal Brexit is a bigger threat to the UK economy than the catastrophic financial crash of 2008, the Bank of England has warned.
The pound could plummet, inflation may soar and Britain's growth would nosedive should Britain crash out of the bloc, the Bank has said in the starkest assessment of the impact of Brexit so far.
Without a transition period and a good deal, Britain's GDP could fall by as much as 8% in the first quarter of 2019, while unemployment could climb to 7.5%, according to analysis of a worst-case scenario by the central bank.
The prediction comes as Theresa May battles to gain support for her Brexit deal, agreed to by the EU on Sunday, ahead of a vote in parliament on December 11.
In events described by Mark Carney, the Bank of England governor, at a press conference on Wednesday, unemployment rates could rise to 7.5% and inflation may surge by 6.5%.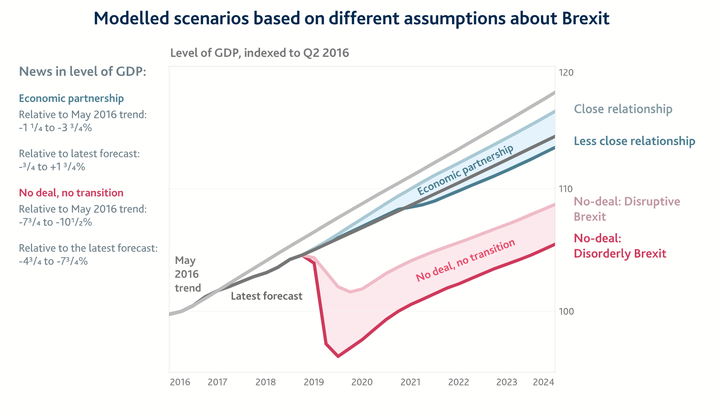 House prices are forecast to decline by 30%, while commercial property prices may fall 48%. The pound could fall by 25% to less than parity against both the US dollar and the euro, Carney said.
In the event of a disruptive Brexit, GDP may fall 3% from its level in the first quarter in 2019. In this scenario, the unemployment rate could hit 5.75% and inflation may rise to 4.25%.
House prices could decline 14% and commercial property prices may fall 27%. The pound may fall by 15% against the US dollar to 1.10.
However, major British banks have "levels of capital and liquidity to withstand even a severe economic shock that could be associated with a disorderly Brexit", the Bank concluded from tests of banks' financial resilience.
Britain's banking system is "strong enough to continue to serve UK households and businesses even in the event of a disorderly Brexit", the Bank said.
The report came as an analysis by the government found that every Brexit scenario will leave the UK poorer.
The Bank of England found that a no-deal "disorderly" Brexit may result in:

8% fall in GDP

30% fall in house prices

Unemployment hike to 7.5%

Inflation hitting 6.5%

A net outflow of people from Britain
Shadow chancellor John McDonnell said: "The Bank has confirmed what other independent reports this week have been telling us: a No Deal Brexit could be even worse than the financial crisis of ten years ago, and the country would be much worse under Theresa May's deal.
"Instead of ploughing on with this discredited deal the Government should set new priorities that would protect jobs and the economy."
Labour MP Wes Streeting, who is supportive of a so-called people's vote on the final deal, said "any sort of Brexit will make us worse off".
He added: "Nobody voted to lose their job, see their wages cut, for higher public borrowing or less funding for public services."
But Jacob Rees-Mogg, leader of the hard Brexit Tory faction the European Research Group, called the warning "project hysteria".
He said: "Before the referendum we were threatened with the plague of frogs. Now they warn of the death of the first born. The Bank of England has gone from being discredited to being hysterical."