Body-shaming seems to be everywhere from strangers on the street to trolls online. And no one is exempt.
Despite going through one of the most physically challenging parts of womanhood, these pregnant women still have to deal with other people's negative opinions about how they look.
But instead of hiding away, they are fighting back and becoming the most kick-ass mummies out there.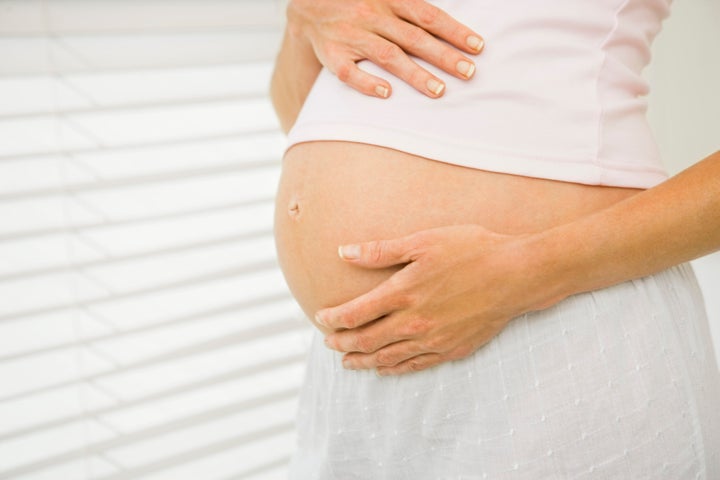 1. "Your Bump Is Too Small"
Australian fitness blogger Daegan Coyne is expecting her first child in September and as she entered her third trimester she had to deal with an onslaught of body shaming, both online and in real life.
Coyne said on Instagram: "I know heaps of the comments aren't meant to be hurtful or upsetting by any means, but we all have enough to worry about being a new mum (omg scary) let alone whether you are the size you are 'expected' to be. Bubba is in fact above average size for at 30 weeks, I am just good at hiding her."
The Australian mum-to-be wanted to remind her followers that pregnancy is not "one size fits all" and women should be kinder to each other.
2. "Your Bump Is Too Big"
Fitness fanatic Revie Jane Schulz was out shopping when a shop assistant said: "Holy moly! My friend is 36 weeks and you're only 24 weeks and you're way bigger than her!"
Schulz explained it wasn't the first time people had made shameless comments about how "big" she was: "I got it everywhere I went and it did make me want to hide away. It's tough, you're carrying a human, your body is dramatically changing, more than you ever expected and then to rub salt in it, strangers feel the need to comment every time you're out in public."
Instead, Schulz wants women to remind each other not to comment on bump size, but instead focus on how happy and healthy the mother is looking.
3. "Your Bump Is Unhealthy"
Hannah Polites, from Australia, documented her entire pregnancy on her Instagram account, sharing every change and fluctuation in her body with her loyal followers.
But as her pregnancy went on, she started receiving unkind comments about how her body looked: "That's six months pregnant? Is it a gerbil?" one person commented.
Another wrote: "You're starving your unborn child, that's unhealthy!"
"Six months? Hahahahaha no she's not she's kidding you all," someone commented.
Polites refused to let the haters win and carried on posting flawless bikini pictures right up to her due date, saying: "I know I'm making informed decisions about nutrition and exercise in pregnancy and motherhood."
4. "We Can See The Unborn Baby"
Brazilian model, and former Big brother star Adrianna Sant'Anna wasn't expecting the response she received when she posted a pregnant bikini selfie.
Fans commented that they could see the outline of the unborn foetus on her stomach. One said: "Look, the baby is straight there."
Another said: "Guys, are we all seeing the baby in her belly?"
Despite Sant'Anna denying that was the case, fans were insistent that they could make out the bulge of her daughter. Far from being deterred by the bizarre theory, the 24-year-old continued to post selfies all the way to her due date.
5. "You're Too Fat To Carry"
Plus size model Tess Holliday is no stranger to internet trolls, but when she fell pregnant with her second child Bowie, the comments became even more vicious.
Dealing with comments such as: "You might as well be smoking a pack a day, that poor child in there."
Holliday always rises above it, and she said: "Every time I look at my tummy, I'm reminded at how amazing my body is."
"Even though I've had a baby before, I didn't love myself entirely. So now every kick, every pain, is incredible to me."
6. "You Are Killing Your Baby"
A model from Los Angeles was criticised by people on social media, saying she was "murdering" her eight-month-old baby because she wouldn't stop going to the gym and drinking protein shakes.
Sarah Stage received comments such as: "Seven months pregnant and no baby, this is so disturbing."
Another said: "Stop having protein shakes are you mental? You are actually killing your own baby."
Instead of stepping out of the limelight Stage continued to post sassy pictures in lingerie and told news.com.au: "These days it's seems like everyone has something to say, especially on social media. Most are very positive and I try to ignore any negative comments."
7. "Mummy's Still Got Her Tummy"
Taking to her Instagram, Fletcher said: "A few days ago I had a near stranger point at my stomach, laugh and say 'Oh look, mummy's still got her tummy'".
Instead of being angry at the comment, Fletcher encouraged her followers to stand up for themselves: "Yes, I still have a bump. But that bump kept my little baby boy safe for a whole nine months.
"That bump has filled my world with even more love and light than I knew possible. That bump is a miracle worker.
"My bump will slowly go over time, but I'll never stop being thankful to it and my body for everything it's given me. #spreadlove."