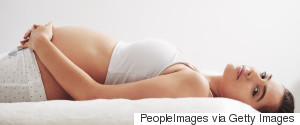 Pregnant friends appear so keen to maintain the image of the glowing goddess, the one that is so widely portrayed via social media and glossy magazines, that they are reluctant to talk about, or even acknowledge, what they are going through:
So here we are two weeks from your due date. It seems like an eternity since the moment I first saw you at the 12 week scan. A tiny bean bouncing up and down with innocence and happiness. The relief I felt, I will never forget. You were real and you were mine.
How many cigarettes have been proven to cause damage to a fetus? Do we know? And yet we have all collectively decided we will take the advice that it's just not on to smoke during pregnancy. Do we know exactly how much soft cheese contains listeria? And yet, as a rule we avoid it just in case.
I was suffering from hyperemesis gravidarum, a horrendous illness in pregnancy, which is unfortunately, in many cases, overlooked and dealt with by a patronising, 'You're just pregnant, it's morning sickness'.
A friend of mine has just had her baby. She's knackered, milky, blissed out, and then knackered again. Our beloved NHS got her baby out safely - gosh, how easy it is to forget that no matter how tough a labour experience we have, we are so very lucky.
I hated picturing a mum like I was, stuck at home feeling like she just wants to get out and have some adult conversation - but with nobody local to meet. Let's face it, when you aren't feeling confident some of those baby classes just make it worse! But meeting a fellow mum for a coffee, or soft play, or at the park. That might just be manageable.
Once upon a time there was a woman who wanted a child. She had longed for this child for years. This woman had always known she had wanted to be a mother and was sure with every fibre in her body that she was going to be a great one
#20 You can't have anything nice -at least for the next 18 years. Anything nice, precious, expensive or special will get destroyed. Babies, especially toddlers have a sixth sense for objects of importance and make it their sole mission to break, stain or demolish anything you love.
What if you feel so down you can't peel yourself out of bed in the morning? What if the only way to get through each day is to plaster on your make up, fake a smile and force yourself out of the house, even though you'd rather collapse in a crumpled heap?
If you are expecting your first baby I'm sure you're nervous, excited, but not quite sure what to expect or what is expected of you. I've been in midwifery for almost a decade and here's a few quick tips. I hope they help.
As I found out before when I researched it, parenthood is not all cute babies and idyllic family photos as Facebook would have you believe. Indeed it seems like there is much more information and evidence around that it is really hard.
So I hear you are expecting your third child. Welcome to the club. It's a pretty crappy club, there's no membership badge or assigned leader (Interested? You'd be a strong contender) but it is a club nonetheless. The club's not-so-secret password that you'll hear every time you leave the house from now until eternity is 'well, you've got your hands full haven't you?'