Harry and the first lady posed for a series of photos together before sitting down for a chat. Trump stood with her arms at her sides, while Harry's hand was half-tucked into his jacket in a very unusual way: His ring and middle fingers were tucked inside his coat along with his thumb, while he held his pinky and pointer fingers outside.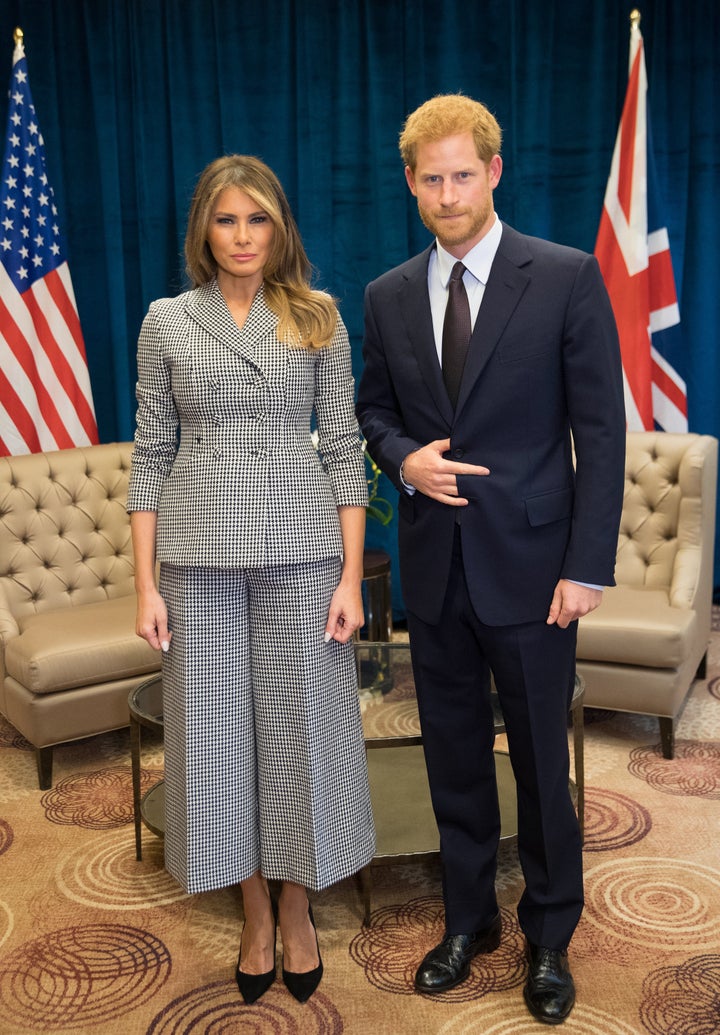 His unusual gesture ― and whether or not it was intentional ― became a hot topic over the weekend, even eclipsing Harry's first official appearance with his American girlfriend Meghan Markle. People on Twitter and some media outlets noted it looks like Harry was giving a symbol of the devil, either signaling that he himself is the devil or that the spirit of the devil surrounded him.
"This is called the horn or the devil's horn, and what people are saying in the media about it is not correct," she said. "It is not a sign that he's the devil, but rather a warning off of evil spirits. It's a protective gesture against evil or darkness and illness."
Huh. Wood said putting one's hand on one's stomach is an act of self-comfort, and she has previously noticed other world leaders exhibiting self-comfort in photo ops with President Donald Trump.
"I've seen world leaders in photo shoots with Trump and I see a lot of what are called self-comfort cues," she said. "This would be considered one of those. It looks like the devil's horn but it is also hand to belly," she said. "At the very least it would be a comfort cue, and show a lot of tension and a need to protect his central core."
"Had the photographers loitered too long? Is there something else going on?" he asked, adding, "I have to wonder, was he going to unbutton his jacket and then changed his mind? Was he in prep for sitting and then they asked him to stand again to do more photos? To me, you can't draw too many inferences from the photo. I wouldn't personally read too much into that."
But both experts agree that there is a level of tension visible in Harry, and both pointed out the prince usually looks much more relaxed and happy in such situations.
"There was some psychological discomfort," Navarro said. "The look of his face, the look of his hand is very unusual, except for the fact that he and his brother have a tendency to cover their belly which is a self-soothing behavior to deal with a bit of tension."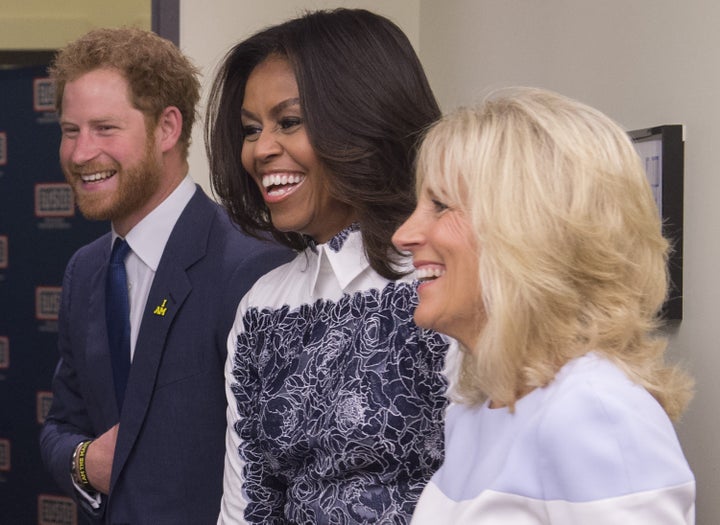 "His normal facial expression is actually typically a smile, which is wonderful and warm and engaging," Wood said. "Here, the mouth is more closed, lips more pulled back and he's not smiling."
Wood also noted that Melania Trump, who kept her arms pressed closely to her body the whole time ("a fear response"), looked tense, too.
"If you look at their smiles, hers has enormous amount of tension. Her look is slitted eyes, closed eyes, which we do in tension. We also close our eyes when we want to attack."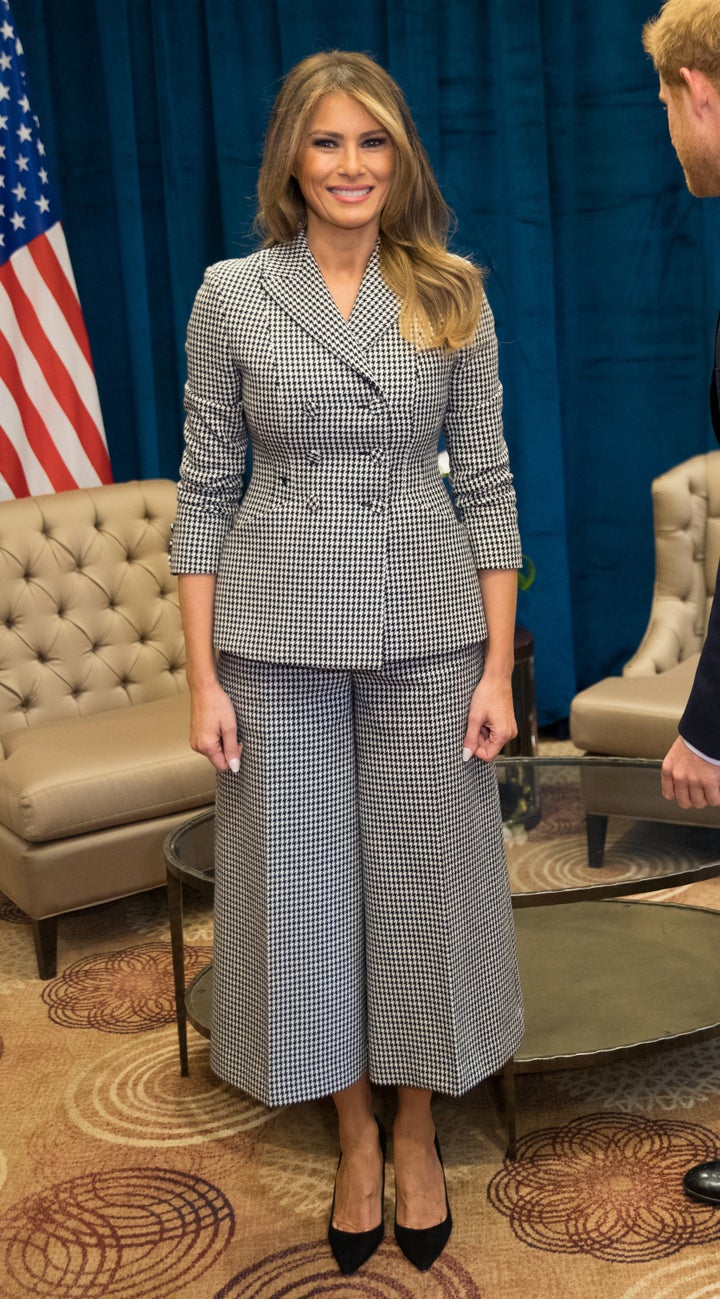 Still, Navarro was firm that when it comes to Harry, we can't draw conclusions from a weird-looking hand position.
"All we can say is that it is unusual, but we can't automatically say he intended it to be this or that," he said.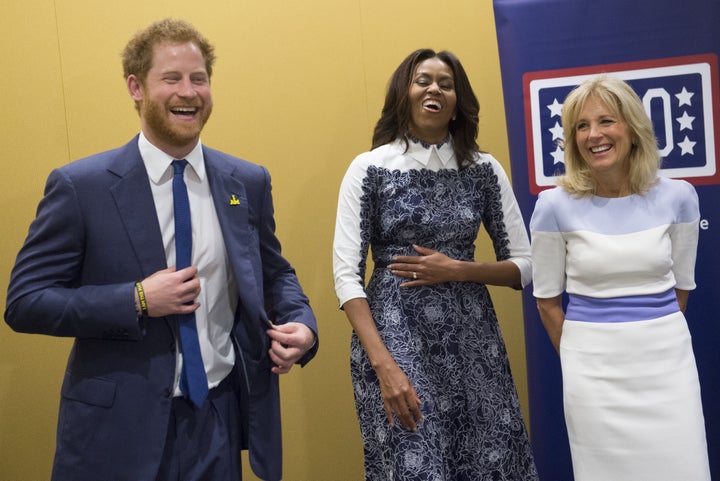 That didn't stop Twitter users from saying it. They flooded the site with responses to the awkward photos, with many suggesting Harry was sending a subliminal message.
Is the devil in the details? Unless Harry ever address his strange stance, we may never know.
This story originally appeared on HuffPost.