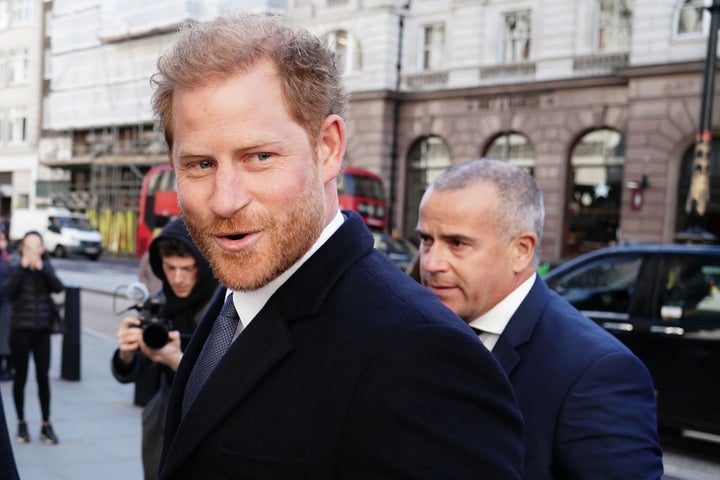 Prince Harry unexpectedly popped up in London on Monday, for the first day of the court hearing against the Associated Newspapers – and you bet it has not gone unnoticed on Twitter.
The rebellious royal, who now lives full-time in California with his wife Meghan Markle and two children, was not expected to return to Britain – meaning his surprise appearance has shocked the media (and his online fans).
Harry arrived at the High Court in London ahead of the first hearing in the lawsuit he brought along with his friend, singer Elton John, John's husband David Furnish and actors Elizabeth Hurley and Sadie Frost, against the publisher of the Daily Mail newspaper.
The celebrities, who first launched the action last year, are accusing the right-wing tabloid of phone-tapping, bugging cars and homes, and paying police for sensitive information.
Harry's appearance is especially remarkable considering none of the claimants are expected to speak on Monday, the first of four days of hearings this week, and there's still widespread uncertainty about whether he will even attend his own father's coronation in May.
The case is also still shrouded in a little mystery, because legal restrictions requested by the Associated Newspapers mean specific details of the celebrities' claims are yet to be made public.
The newspaper publisher said it "utterly and unambiguously" denies the allegations, and is looking to have the case thrown out.
The Duke of Sussex's relationship with the press has been turbulent to say the least, and – aside from his ongoing fallout with the Royal Family – has been at the centre of Harry's public attacks since officially stepping down as a senior royal.
He has often blamed media intrusion for driving him out of life as a member of the Royal Family, and he has spoken out about his frustration with the tabloid media.
He is already suing the Mail on Sunday for libel over a piece about his security arrangements, and in 2022 won damages following another defamation allegation.
Then, there's the complex privacy case he and Meghan fought (and won) against Associated Newspapers in 2021 after it published a letter the Duchess of Sussex sent to her estranged father.
Harry will also give evidence in a libel trial against the Daily Mirror newspaper over phone-hacking accusations.
And this isn't the only time the Duke of Sussex appeared determined to share his own side of events recently.
His bombshell auto-biography, 'Spare', broke records as he seemed to lift the lid on what actually happens behind Palace walls, as did his Netflix series with his wife 'Harry & Meghan'.
So, with this backdrop, you can understand why some people on Twitter were especially delighted to see Harry return to the UK this week – even if he isn't set to say anything publicly just yet....