A behavioural scientist who advised the government on lockdown rules has said the row over Dominic Cummings has "fatally undermined" months of work and could lead to more coronavirus deaths in the UK.
Speaking to HuffPost UK, Professor Stephen Reicher also said Boris Johnson's defence of his most senior aide "insults" the British public "by suggesting they lack the proper instincts of a parent and don't care for their child enough".
He added: "We desperately need good clear leadership, we desperately need people to trust their leadership and we need people to pull together. And all of that has been undermined by what's happened over the weekend."
On Sunday, the PM headed the daily Downing Street coronavirus briefing and publicly backed Cummings, saying he had "acted responsibly, legally and with integrity" by driving 260 miles to County Durham to isolate and that "any parent would frankly understand what he did".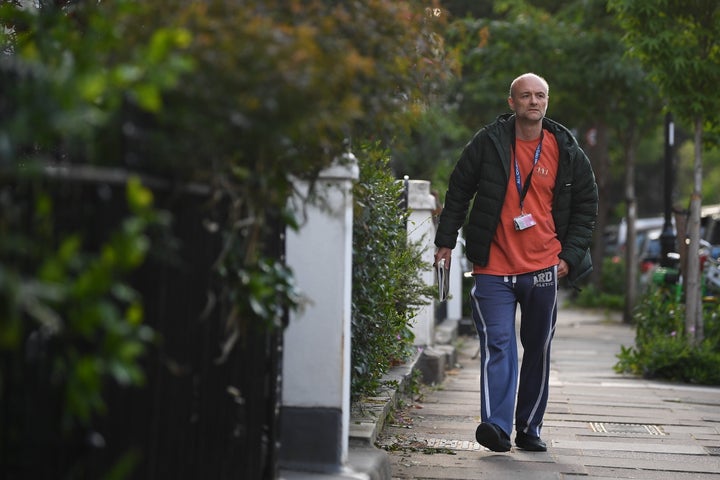 Prof Reicher, who is on the Independent Scientific Pandemic Influenza Group on Behaviours which passes its advice to Sage, said: "If you look at the some of the advice that we've given, one of the key issues if you want to get adherence or compliance to government is a sense that 'the government respects us and the government is working for us' and a sense of 'we're all in this together'.
"If adherence is all about a sense of 'us' then it's fatally undermined if you create a sense of 'us and them' and one of the best ways to do that is to give a sense that government and government figures abide by a different set of rules to the public – one law for us and one for them.
"It immediately creates this 'us and them' thinking and you've therefore undermined compliance."
Johnson has faced criticism for his handling of the row from Tory backbenchers, opposing politicians and the public alike.
He is set to discuss the easing of lockdown measures at a Cabinet meeting on Monday, but the political storm over his chief adviser's trip looks set to overshadow any announcements – and may well have already have undermined them.
Prof Reicher said: "There's a very simple equation. If compliance goes down, infection goes up and infection goes up, more people will die.
"If, and I quite accept it is an 'if', but if this undermines compliance then yes, more people will die."
Cummings travelled to County Durham in March to self-isolate with his family – apparently because he feared that he and his wife would be left unable to care for their son – while official guidelines warned against long-distance journeys.
Further reports also suggested he took a second trip to the North East in April, having already returned to London following his recovery from Covid-19 – a disease which has seen more than 45,000 people in the UK die after contracting it.
Prof Reicher does believe there is one "saving grace". "Throughout this pandemic the public has probably been ahead of the government," he said.
"Our leadership has actually been following behind. When it came to lockdown, the public was already clamouring for it, when it came to the economic measures to allow people to afford to stay at home, the public was ahead."
"People aren't fools and they understand the pandemic is still out there and isn't over and they understand that they still need to act with caution if we're to get through this."