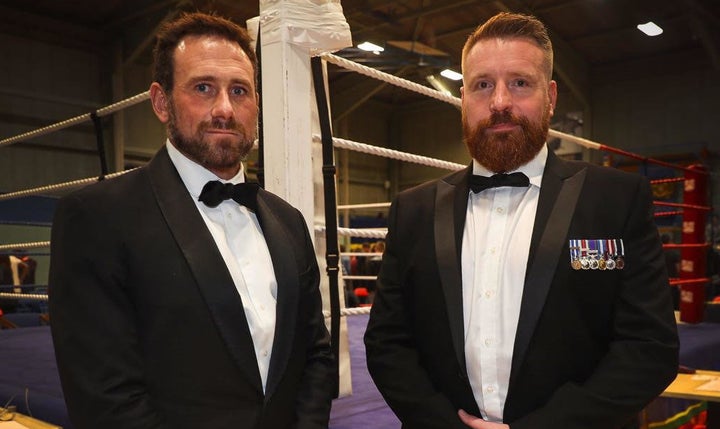 In 2006, I was a Royal Marines commando sniper in Helmand province, Afghanistan. I was holding a rooftop position under incoming fire, protecting soldiers on patrol outside our camp. I heard rockets coming over, and shouted an order to get off the roof. The only way down for me was to roll over the edge in my heavy combat equipment. I suffered concussion and injured my back. The decision was taken to fly me out for medical help.
My helicopter evacuation seemed unreal. In a few short moments, we left the noise and chaos of fighting and flew up the valley, looking down in silence at the dramatic landscape of Afghanistan. 24 hours later, I was on a plane home.
But leaving behind the horror of war was not so easy.
I loved my career in the Royal Marines. I left my home in Bridlington, where I'd grown up in a family of trawlermen and spent much of my youth on the sea. In the Marines, I travelled the world, from the jungles of Belize to the ice and snow of Norway, and provided humanitarian aid after hurricanes and natural disasters. But facing the Taliban turned out to be my toughest challenge yet.
In Afghanistan we lived under siege, our camp facing constant attack from ground or air for months on end. There were very few amenities: it was rare to get a wash, our water was bottled and we ate all our meals from ration packs. Outside the camp, new landmines were laid every night. Just to cross the courtyard was nerve-wracking when we knew that a mortar could land at any moment.
Fear and stress were constant. On each tour of duty, I saw its impact on the lads. They arrived fresh and up for the fight, then grew drained and weary with strain. One morning, I watched a soldier vomit with anxiety as he lined up to go on dawn patrol. He went out and bravely did his job – but the tension took its toll.
Being a sniper was nerve-wracking. During attacks, we went out to take positions on rooftops and return enemy fire. It was the only way to prevent mates being hit by mortars, and I felt a deep sense of responsibility. I had a job to do and I focused on getting through each day. We all found ways to cope, but the sledgehammer blows of shock had a lasting effect.
Arriving home to recover from my injuries, I was stunned to hear just two days later that a close friend, Jonathan Holland, had been killed on patrol. I felt a dreadful sense of guilt. Perhaps if I had been there, covering his position, Jonathan might not have died. I couldn't shake the feeling. It was made worse when I attended his funeral, since I was home in England and the rest of our unit was still on duty. I met his devastated family, and my guilt grew and grew.
As I recovered from my injuries, I sometimes drank too much. Several times I went 'off radar', away from my family and friends without telling anyone where I was. But there was still no escape from my thoughts. Looking back, I can see how my drinking just covered up the problems I was having.
When my injuries had healed, I was proud to be sent on a senior command course. My career was very important to me, but I quickly realised something was wrong. It was impossible to concentrate on my training. I felt that I was losing my memory. It seemed as though Afghanistan lived in me and owned me. With deep regret, I withdrew from the course.
I had to put my hand up and admit that I needed help. I was diagnosed with Post Traumatic Stress Disorder, but told that I would have wait 8 months until a therapist could see me. Until then, I was left in limbo.
The Royal Marines were supportive and placed me in less stressful roles while I waited for help. When my treatment for PTSD began, I tried everything on offer. I desperately wanted to get back to normal. But although there were times when my symptoms would fade, they always came back: I suffered panic attacks, flashbacks to combat situations and dreadful anxiety.
Then I was told I was unlikely to see further improvement. "You have to learn to live with this for the rest of your life," the doctor said. Hearing that there was no hope was a very low moment.
I was medically discharged from the Royal Marines, and lost the career I had loved. I reached rock bottom, and I'm not ashamed to say that I tried to take my own life.
The Royal Marines Charity reached out to me. They offered me the chance to go on an adventure. With a group of other former marines, all suffering from combat stress, I climbed Mount Kilimanjaro in Tanzania. The last stretch to the summit was a struggle, and some other groups of climbers were giving up in very tough conditions. At dawn, our group made it to the summit. It was an amazing moment. As we stood there, the group leader turned to me and said: "Jamie, the thing you were told was broken just got you to the top of the world's highest free-standing mountain."
Those words made a big impression on me. I realised that my mind wasn't broken after all. I had the same strength inside me that I'd always had. What I needed was to find the right way to get well.
I'd known Jason 'Foxy' Fox – star of the Channel 4 TV show: SAS: Who Dares Wins – since we met a few years earlier on a training course. He had been a member of the Special Boat Service but later, like me, he was medically discharged from the forces. We talked about our experiences and began to spend time together, walking, rowing and enjoying an active outdoor lifestyle. We both noticed real improvements in our mental health.
I met a coach called Malcolm Williams who has pioneered new treatments for post-combat PTSD, including using meditation and mindfulness. I kept an open mind and tried some of these methods, which seemed to help. I started to enjoy music again, and relaxed by playing my guitar. For the first time since my injury in Helmand, I felt a real sense of hope.
Since then I've learned that the clinical treatments help about half of sufferers from combat stress and PTSD. That leaves a lot of people in need of a different approach, but with nowhere to go. So Foxy, Malcolm and I decided to offer what we'd learned to other veterans.
We told our story on a Facebook page, and called it 'Rock2Recovery'. We got a huge response and were invited to speak about what we were doing.
Back then we had no funding – we were just 3 guys, giving as much time as we could.
Our big break came when the Royal Marines charity heard about our work and offered to help. Friends and supporters also raised money, and today Rock2Recovery has 8 clinics across the UK. We run workshops and deliver confidential one-to-one Specialist Change Management Coaching. Our coaches use a wide range of techniques including creative, active and therapeutic methods. We also run mobile clinics for people in crisis. No veteran should have to wait months to get help.
Today we help former members of all services, not just Royal Marines. Our approach is non-clinical, but if our clients want or need to see doctors and therapists, we always arrange it at once.
Edinburgh Napier University is studying our success in treating post-combat trauma. We have an awesome fund-raising arm which we've called Team Fortitude. The Rock2Recovery community is going from strength to strength.
We're proud to be saving lives and changing lives, bringing hope to men and women who served their country and deserve to have a positive future