Hundreds of women are getting crown tattoos as a powerful symbol of self-love and strength.
Australian parenting blogger and über feminist Constance Hall spearheaded the trend when she posted a picture of one of her fan's crown tattoos on Instagram.
She wrote: "One of our Queens got this tattoo to remind herself that she is a fucking Queen even though she's struggling to conceive at the moment and on all sorts of hormone drugs.
"Still a Queen. Always a Queen. I wish her a world of luck and am inspired and thinking that maybe we all need crown tats?"
Hall, who has released a book called 'Like A Queen', also recently had a crown tattoo inked on her finger to show that she too is a queen and deserves to be treated like one.
She shared a picture of her new tattoo on Instagram with the caption: "Being a Queen is not only a commitment to support the shit out of other Queens but also one to yourself. To recognise your inner rad bitch and never stop loving her."
It wasn't long before a number of her 107,000 followers began to jump on the bandwagon, getting crown tattoos for themselves.
Hall has been praised for speaking out against all manner of issues affecting women - from body-shaming to gender bias in parenting.
Earlier this month, she wrote an open letter criticising the way people react when a father looks after the children, compared to when their mother does.
With her latest tattoo campaign capturing attention worldwide, we can't wait to see what she does next.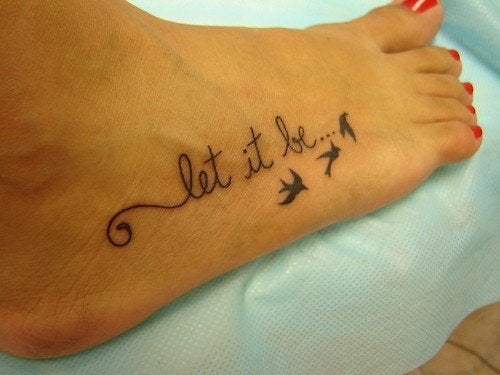 Quote Inspiration For Your Next Tattoo